Spragnieni Klubowicze!! Najwierniejsi fani Ferrego Corsten'a !!
Do tego niesamowitego wydarzenia jakim jest koncert FULL ON FERRY pozostało już 8 dni !!! Impreza odbędzie się na terenie Centrum Stoczni Gdańskiej mieszczącej się przy ul.Wałowej 27.
Poniżej przedstawiamy Wam najważniejsze informacje organizacyjne.
Otwarcie bram:
-standard, bezpłatne, prasa 1930
-VIP 1930
Toalety: bezpłatne
Szatnia: 2zł-kurtki i 5zł-torby/plecaki
Depozyt: 15 zł
Na teren eventu można wnosić tylko nieprofesjonalne aparaty fotograficzne.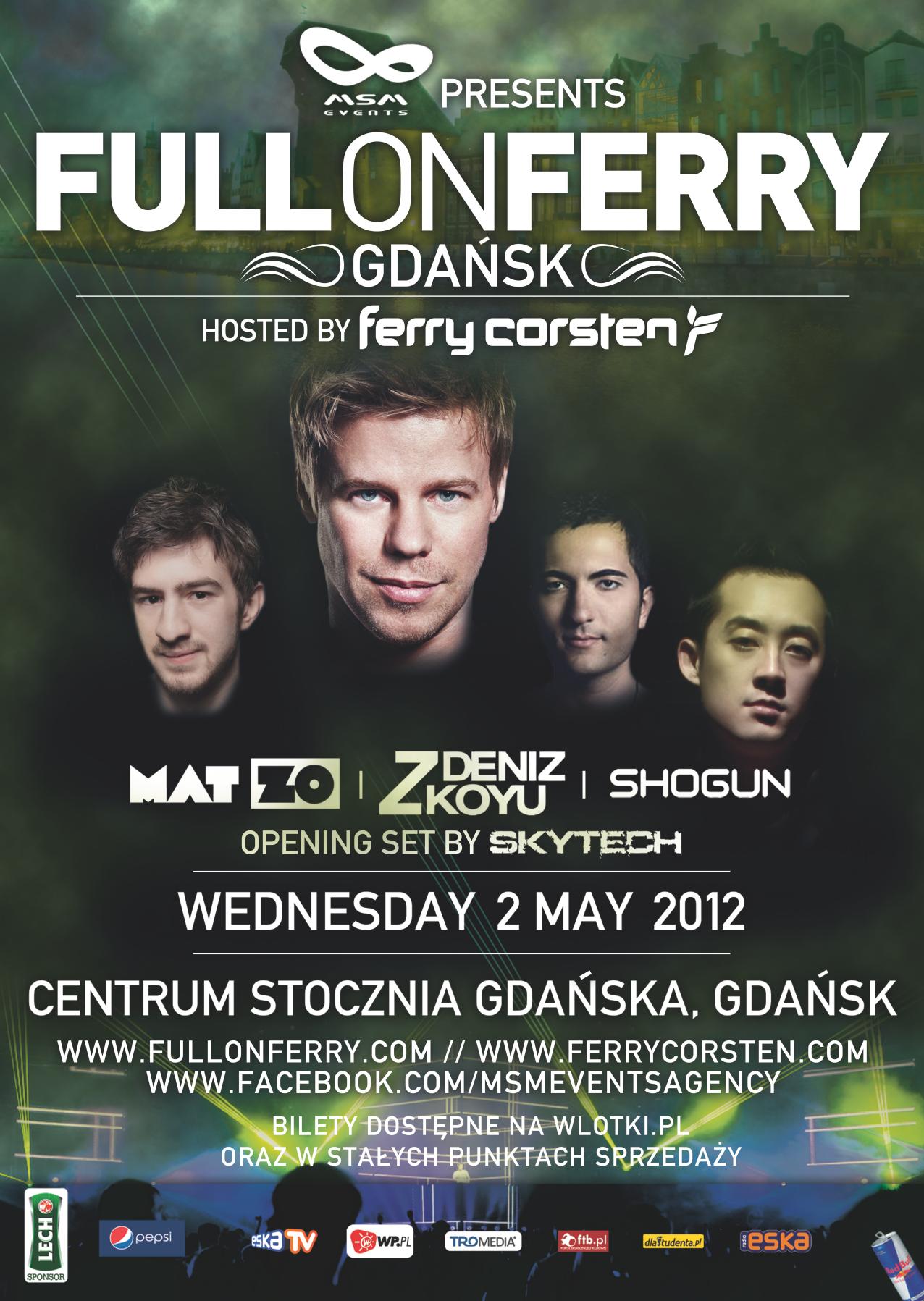 Timetable:

20.00-21.45 Skytech
21.45-23.15 Deniz Koyu
23.15-23.30 Deniz Koyu Back 2 Back with Ferry Corsten
23.30-00.45 Mat Zo
00.45-01.00 Mat Zo Back 2 Back with Ferry Corsten
Indywidualny występ gwiazdy wieczoru odbędzie się w godzinach:
01.00-03.15 Ferry Corsten
03.15-03.30 Ferry Corsten Back 2 Back w Shogun
03.30-05.00 Shogun

Lokalizacja:
CENTRUM STOCZNIA GDAŃSKA znajduje się na terenie historycznej Stoczni Gdańskiej im. Lenina, w bezpośrednim sąsiedztwie Pl.Solidarności (autobusy, tramwaje, taxi), zaledwie 500m od dworca PKP Gdańsk Główny (PKP, SKM) i od Starego Miasta, 8 km od Lotniska im. Lecha Wałęsy w Gdańsku - Rębiechowie (tzw.tanie linie lotnicze, lot itp.). Swoistym udogodnieniem będzie także parking znajdujący się przy ul.Wałowej.
UWAGA!!
Dla osób udających się wieczorem na koncert FULL ON FERRY obowiązywać będzie 20% zniżki w sieci NEPTUN TAXI.
Zamówić taksówkę można pod numerem: 800 170 700, 585 111 555 ; więcej Informacji na http://www.cph.gda.pl/
Dla osób wybierających środki komunikacji miejskiej- dojazd możliwy:
Autobusami nr: 126, 130, 167

Tramwajami nr: 2, 6, 11, 12, 14

SKM
Więcej dostępnych połączeń znaleźć możecie na stronie: www.jakdojade.pl
Dla podróżnych: www.gdanskhostel.com.pl
Informacje inne:
Punkty gastronomiczne wyposażone będą w napoje chłodzące marki PEPSI i RED BULL oraz alkoholowe (piwo Lech, dodatkowo strefa VIP Wyborowa).
Bilety:
-wlotki.pl
-ticketpro.pl
-standard 77zł
-VIP 250 zł
*Każdemu kto zakupi bilet VIP zapewniamy:
-osobne wejście na teren imprezy
-gadżet MSM
-dostęp do specjalnie zaaranżowanej strefy VIP w bardzo bliskiej odległości od sceny głównej z widokiem na DJ'kę
-bezpłatną szatnię
-bezpłatną toaletę
-bezpłatne zimne napoje
-bezpłatne piwo
-4 żetony na bezpłatne drinki alkoholowe w barze VIP (wybór z alkoholi dostępnych w barze)
-bezpłatne przekąski (ilość ograniczona)
oraz w stałych punktach sprzedaży.
-CIM Poznań, ul. Ratajczaka 44
-ROCKLONGLUCK, Poznań ul. Półwiejska 20
-DJ PRO, Poznań ul. Sienkiewicza 20
Bilety w dniu imprezy w cenach: 80zł standard, 260zł VIP