Witam na początek standardowe pytania :

1.Kiedy zaczęła sie Twoja kariera dj-ska

Przede wszystkim słowo kariera to za dużo jeśli chodzi o moją twórczość artystyczną (śmiech :-), ale niech będzie. W ogólniaku , czyli ok 15-tu lat temu, pojawiła się moja fascynacja hip-hopem i płytami winylowymi. Wspólnie z kolegami mixowalismy "czarną muzę" - wyłącznie z trudno w tym czasie dostępnych winyli, inni pisali rymy, a w międzyczasie graliśmy w kosza. Na studiach zainteresowałem się muzyką elektroniczną i clubbingiem. W tym czasie dużo słuchałem muzyki klubowej, ale jakoś nie było okazji jej miksować. 3 lata po studiach objąłem stanowisko Promotora w jednej z dużych firm z sektora FMCG. Moje zadanie polegało na wizytowaniu klubów i dyskotek oraz na organizowaniu eventów. Po kilku miesiącach zawodowego latania po knajpach stwierdziłem, że może by wrócić do grania, ale tym razem wybrałem muzykę elektroniczną. Kupiłem gramofony reloopa i po krótkim przypomnieniu techniki (przez kilka lat w ogóle nie podchodziłem do gramofonów) zaczęły się występy. Później był i Tunnel Electrocity 2007 i poszło z górki :-)


2.Skąd się wziął Twój pseudonim artystyczny muszę przyznać że oryginalny

Pseudonim "u-nick" pojawił się właśnie w okresie Electrocity 2007, w hip-hopie używałem innej ksywki do której nie chciałem wracać. To był czysty przypadek, wspólnie z moją obecną żoną, wtedy dziewczyną, zastanawialiśmy się na pseudo i podczas wieszania prania zobaczyłem t-shirt żony z napisem "I'm unique" i tak wyszedł u-nick :-) choć ostatnio coraz częściej piszę to jako "U-Nick" - tak też zaproponował to beatport.com

3.Pojawiłeś się na większości polskich eventów,który wspominasz najlepiej?

Każdy event daje uczestnikowi i artyście niezapomniane emocje. Pamiętam mój set otwarcia z soboty na Heineken Open'er, gdzie jeszcze przed otwarciem sceny 50, 60 osób oczekiwało na mnie przed namiotem. Podczas Sensation White 2009 grałem back2back wspólnie z Dywizją (dj D'Vision, 001 Records, Lemoniada Club) i nasz występ zbiegł się z megamixem. Przez pierwsze 15 minut graliśmy dla siebie (śmiech), potem ludzi przywiodły na naszą scene dobre rytmy i mieliśmy zabawę do samego końca. Zawsze też będę pamiętać o Electrocity, na którym gram od 2007 roku rok rocznie i które ma niesamowity klimat i doskonałą organizację. Dodam jeszcze tylko enTrance, na który wspólnie z Radim S i Maxxem spóźniliśmy się i wszedłem za djkę 20 minut po czasie :-)

4.Co sądzisz o Polskiej scenie klubowej?

Nie chce się rozwodzić, mądre głowy debatują o tym co rusz. W dwóch zdaniach: scena klubowa była w Polsce 5, 6 lat temu, w czasach szczecińskiego Trezoru i wrocławskiego Radio Baru. Teraz powszechnie dominuje komercja.
5.Wiemy że w dzisiejszych czasach technika daje ogromne możliwości dj-om, jest coraz więcej kontrolerów, sowtów- czy to wszystko idzie w dobrym kierunku wypierając powoli standardy? mam tu na myśli granie z płyt vinylowych.

Od zawsze byłem winylowcem, długo wahałem się nad odłożeniem winyli na półkę, jednak komputer i midi controller dają większe możliwości. Chodzi o to żeby zabłysnąć, mixować inaczej, lepiej. Właściciel klubu, który płaci Ci za granie 1000 zł lub więcej, oczekuje show i my musimy mu ten show dać. Na koniec dodam to, co mówię wszystkim młodym dj'om: "Każdy mysi przejść przez winyle i gramofony, bo od tego sie wszystko zaczęło"


6.Rok 2010 i Twój debiutancki singiel "UP & DOWN" jakie plany na rok 2011. Czego mozemy się spodziewać jeżeli chodzi o produkcje ?

W końcu udało mi się skompletować domowe studio, mam kilka fajnych zabawek z Logiciem na pierwszym miejscu więc wszystko powinno pójść z górki. Na tą chwilę mam prawie skończony kolejny track, "Over & Over" od roku czeka na wydanie, a poza tym od 3 tygodni siedzę wspólnie z Tradeusem w studio i pracujemy nad wspólnym numerem. To bardzo kreatywny producent, wydający głównie trance i progressive, ja zawsze bazowałem na groove, więc z tej mieszanki powinno wyjść coś niezwykłego, zobaczymy.



7.W Twoich setach możemy usłyszeć dobrą dawkę muzyki House bardzo często wyszukane klimaty - skąd czerpiesz inspiracje?

Jestem zakochany w Ibizie i zafascynowany jej brzmieniem. Podczas mojej podróży poślubnej zawitałem z żoną na białą wyspę, byliśmy w Amnesii, Pachy, El Divino, Es Paradis i Privilage. Od tego czasu staram się grać ibizowo, słonecznie. Bazuję przede wszystkim na groove, zmyślnej linii basowej, bębenkach i na prostej melodii (śmiech)

8.Kilka słów do młodych artystów; czym powinni się kierować? Czego mają unikać?

Grajcie ambitnie, jeśli nie my, dj'e, to kto ma kreować kulturę klubową w Polsce. Odradzam sięgania po komputery i controllery na samym początku przygody z dj'ką. W pierwszej kolejności musicie nauczyć się grać z winyla i cd'ka.

9.Czy myślałeś nad stworzeniem własnego projektu imprezy?

Myślałem, w 2009 roku miałem swoją cykliczną imprezę w XO we Wrocławiu pod nazwą Addicted To House, na której wystąpili, między innymi, Messin, V_Valdi, Tribe i inni. Następnie XO zostało zamknięte, impreza odbyła się po raz ostatni w Colombina Club w Polanicy, bodajże w 2010.

10.Ostatnie pytanie. Z kim chciałbyś zagrać B2B w przyszłości i dlaczego ?

Kilkakrotnie grałem b2b z Dywizją (Sensation 2009, I Love New Year 2009/10) oraz we wrocławskiej Lemoniadzie. 19 lutego gramy wspólnie b2b w Colombina Club. W XO zdarzyło mi się też zagrać b2b z V_Valdim, który za każdym razem jak z nim gram mnie zaskakuje. A w przyszłości, może z którymś z duetu Supernova? (śmiech) z polaków - Miqro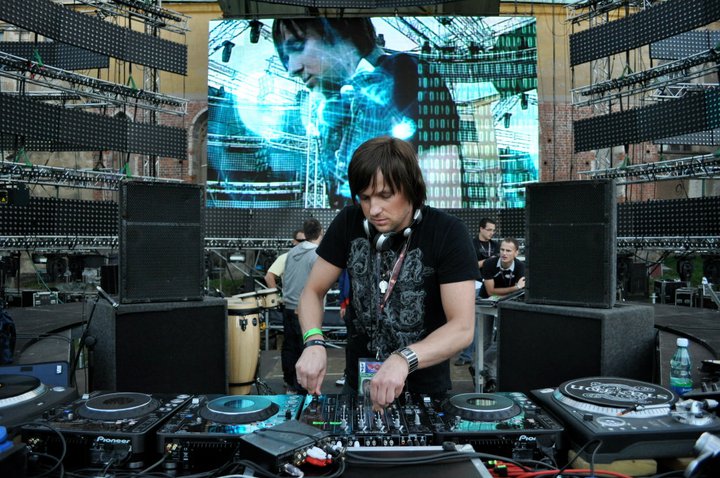 Dziękujemy za wywiad i życzymy kolejnych sukcesów Cubestage.pl

Również dziękuję i do usłyszenia.
Wszystkie prawa zastrzeżone. Kopiowanie i rozprzestrzenianie artykułu bez zgody autora jest zabronione!
Prawo chronione przez ustawę z dnia 4 lutego 1994 r. o prawie autorskim i prawach pokrewnych: Dz.U. z 1994 r. Nr 24, poz. 83.