Ajra: Na dobry początek powiedz, jak określiłbyś minion rok?
Mr. Pit: To był doskonały rok jak i kolejny znaczący krok w mojej karierze jako producenta / dj'a.
W 2011 zmieniłem styl produkcji, starając się opracować nowe elementy, które doskonale dopasują się do typowego trance'owego utworu. Techniki, których używałem zaowocowały mieszanką wielu cech różnych gatunków muzycznych, które bardzo mnie zadowoliły. Mój utwór "Backstage" został zamieszczony w kompilacji Markus Schulz "Prague" 11CD, a "Fugu" podbijało parkiety w pierwszej połowie 2011 roku. Moje remixy dla Markusa Schulz'a cieszyły się wielkim powodzeniem w jego setach, a sam fakt, że fanom również przypadło to do gustu, cieszy mnie jeszcze bardziej. Czym się jeszcze mogę pochwalić? Poza trzema utworami, które pojawiły się w lipcu ubiegłego roku w Coldharbour, stworzyłem również i wydałem jeden jako Adrian Ivan dla Spinnin' Records, oraz dwa wydania dla High Contrast, a także MPT Project – "Injected" oraz owocna współpraca z Mike aka Push więc "Mighty World" wydany został pod szyldem M&A. Jeżeli chodzi o osiągnięcia dla mnie jako dj'a bez wątpienia występ podczas Godskitchen, a także na Global Gathering w Polsce, plus jeszcze moje debiuty w Kanadzie i UK.
Ajra: W ubiegłym roku fani muzyki elektronicznej na wskroś Europy jak i Kanady mieli okazję usłyszeć Cię na wielu imprezach jak i eventach. Jakie dostrzegasz różnice w reakcjach na muzykę podczas Twoich występów?
Mr. Pit: Można powiedzieć, że ludzie zawsze inaczej reagują, jednak za deck'ami obowiązkiem Dj'a jest utrzymanie zaitneresowania prezentowaną muzyką. Mamy jedno zadanie: sprawić aby tańczyli. Podczas moich setów uwielbiam zaskakiwać publikę zaskakującymi utworami, dorzucając do tego bootlegi i mashup'y już dobrze znanych utworów. Na szczęście podczas mojej gry się to sprawdza i oczekuję bardzo pozytywnej reakcji za każdym razem kiedy gram.


Ajra: Z pewnością możesz poszczyścić się wieloma sukcesami podsumowując rok 2011, skróćmy je może do 3 najważniejszych.
Mr. Pit: Poza moim dj'skim debiutem związanym z kilkoma najbardziej znanymi markami w muzyce rozrywkowej, dołączyłem również do Schulz Music Group – teraz jest to mój główny management, który zajmuje się również rezerwacjami moich występów.
Trzecim osiągnięciem, które dla mnie w roku 2011 jest najważniejsze – udało mi się być na bieżąco z nowym materiałem I mam nadzieję – tchnęło to dobre muzyczne pomysły.
Ajra: Twoja kariera nabrała tempa przez ostatnie dwa lata, jak się z tym czujesz?
Mr. Pit: Pracuję ciężko każdego dnia, aby zostawić po sobie mały wkład w przemyśle muzycznym, faktycznie moja kariera pnie się w górę, co jest potwierdzeniem, że jestem na dobrej drodze. Moim celem jest to, aby moi fani byli na bieżąco z moimi osiągnięciami muzycznymi jak i nowymi produkcjami, aby mogli czerpać radość z tego co dla nich tworzę.
Ajra: Czy możemy spodziewać się Twoich setów na wielu imprezach w roku 2012?
Mr. Pit: Na chwilę obecną już mamy wiele dat ustalonych pod szyldem nowych imprez – Coldharbour Night, które pozwolą na lepsze poznanie artystów tworzących Coldharbour Recordings, możecie się spodziewać tego typu imprez na całym świecie.
Ajra: Czy planujesz coś specjalnego dla swoich fanów w 2012 roku?
Mr. Pit: Moje regularne wydania muzyczne ukażą się w Coldharbour Recordings. Niemniej jednak moje klubowe utwory również ukażą się w najbliższych miesiącach. Jednym z moich głównych priorytetów jest tworzenie utworów, które doskonale będą nadawać się do wydania albumu. Planuję wiele niespodzianek dla swoich fanów jak i miłośników muzyki. Wszystkie informacje będą udostępnione, jak tylko zostaną potwierdzone.
Ajra: Czy w Twoim odczuciu wszechobecny kryzys ekonomiczny odcisnął swoje piętno na imprezach masowych?
Mr. Pit: Uważam, że lepiej nie łączyć tego co się dzieje w muzyce z ekonomią. Myślę, że ludzie kochają to co robią i na co się wybierają – bez względu na to jak bardzo uderza w nich kryzys,
Ajra: Dwa lata temu Twoim największym marzeniem było, aby "żadna asteroida nie udeżyła wkrótce w Ziemię" Nadal nic! – Jednak może w 2012 … ;)
Mr. Pit : Dokładnie! To nadal jest moim największym marzeniem!

Ajra: Granie w klubach czy na większych eventach – co osobiście wolisz?
Mr: Pit: Większe eventy!
Ajra: Czy pamiętasz wydarzenie, które na krótką chwilę przed Twoją grą, wprowadziło niesamowite zamieszanie?
Mr. Pit: Na szczęście nic co mogłoby wpłynąć na moją efektywność na scenie nie miało miejsca. Kiedy jestem przed publiką wszystkie moje myśli skupiają się na muzyce.
Ajra: W takim razie, może przywołajmy najbardziej zabawną bądź niewyobrażalną sytuację podczas Twojego występu ;)
Mr. Pit: Ktoś ze strony konkurencji zaczął rozpylać gaz łzawiący – z tego względu, że nasza impreza cieszyła się większym zainteresowaniem – ich nie.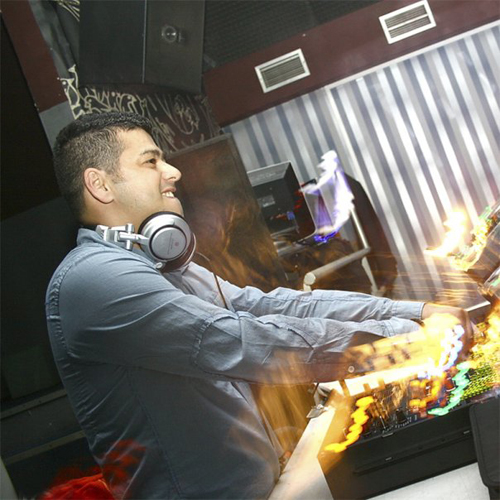 Ajra: Dziękuję Ci bardzo za odpowiedzi, kiedy możemy spodziewać się kolejnego Twojego występu? Polki czekają! ;)
Mr. Pit: Dziękuję również! W sumie grałem w Polsce w 2010, 2011 więc nie chcę przegapić 2012, niech moje coroczne wizyty staną się tradycją! !
Wywiad w języku angielskim !
1.Tell me how can you describe your last year?
It was the perfect year as a next step in my producing/dj career. In 2011 I changed my style of production by trying to develop new elements that could be added in order to fit in a typical trance track. Those techniques I used resulted in a blend of multiple music genres characteristics, which I was very satisfied with. My track Backstage was featured on Markus Schulz' Prague'11 CD compilation and "Fugu" was a dancefloor destroyer during the first half of 2011. My remixes for Markus Schulz were big success in his sets and the fact that music fans still love them makes me even more happy. Besides the 3 tracks EP launched last July on Coldharbour, I had a new Adrian Ivan track released on Spinnin' Records and two releases on High Contrast, MPT Project - "Injected" and the collaboration with Mike aka Push, "Mighty World" released under our M&A alias. As a dj, my highlights were my sets for Godskitchen and the one for Global Gathering in Poland as well as my Canadian and UK debuts.


2.People had an opportunity to hear you on a many gigs in Europe and
Canada last year. What differences in reactions of people have you seen
while your playing?

People react in different way, but behind the decks, the DJ duty is to keep the crowd connected to the music he plays, therefore there is one option for you: to make them dance. During my sets I love to surprise the audience with exclusive tracks or droping personal bootlegs/mashups or some of my most known tracks. Fortunately it works for me and I feel privileged to get very good reactions every time I play.


3.For sure you've had plenty of successes in 2011 tell us about … three
of them.
Besides my dj debut for some of the most known entertaining brands, last year I joined Schulz Music Group, which is my new artist management and booking company. The third achievement for me in 2011 is the most important, I managed to be consistent with new materials and, I hope, good musical ideas.


4.Your career is developing much more faster since those two years – how
do you feel with it?
I'm working hard every day to bring my small contribution to the music industry, the fact my career is growing up is a confirmation that I'm on the good path. Nonetheless my aim is to keep the fans up to date with my latest musical achievements the same way they keep me up to date with their joy for my music.


5.Can we expect your play at many gigs and events in 2012?
We already have set up dates with the new concept Coldharbour Night which will feature Coldharbour Recordings artists, you should expect for many appearance worldwide.


6.What are you planning for your fans in 2012? Something special?
My regular music releases will be shown on Coldharbour Recordings. Even thogh my club tracks will still come over the next months, one of my goals is to produce tracks that might fit perfect for an album release. We plan many good surprises for fans and music lovers, all the info should be available when things are confirmed.


7.Do you think that economic crisis hit hard in gigs and events?
I don't think we should mix musical facts with economic ones. I think people loving what they do have good results no matter how much the crisis hit.


8.Two years ago your biggest dream was : "that no asteroid will fall on
Earth soon". See? Still nothing! But maybe in 2012 .... ;)
Yes, it is still my biggest dream !!


9.Playing in clubs or on a big events - what do you like more?
Big events.


10.Do you remember an event that has become quite a hassle a short while
before you were begin to play?

Never happend to me, nevertheless that would have not affect my performance on stage. When I'm in front of the crowd all my thoughts are focused on the music.


11.And the most hilarious thing which take place while your play was..
Someone from a competition party spray-ing lacrymogen substances due to the fact the place of our party was packed, theirs not. :)


12.Thank you very much for an answers, when we can expect you in Poland?
Polish girls are waiting! ;)

you! Well, I playe
Wszystkie prawa zastrzeżone. Kopiowanie i rozprzestrzenianie artykułu bez zgody autora jest zabronione!
Prawo chronione przez ustawę z dnia 4 lutego 1994 r. o prawie autorskim i prawach pokrewnych: Dz.U. z 1994 r. Nr 24, poz. 83.