mr. Biller: Cześć ? Na wstępie chciałbym zapytać jak minęły Tobie ostatnie trzy imprezowe weekendy?
Fafaq: Cześć. Narzekać nie mogę. Ostatnio grałem na imprezie w warszawskim Platinium z MC Jacobem A ponad 4,5 godziny. Weekend wcześniej w Bydgoszczy, Inowrocławiu i Pile, a jeszcze wcześniej Słupski Szubin. Wszystkie imprezy z pominięciem Inowrocławia (bo tam publiczność nie dopisała) były mega!
mr. Biller: Będzie można usłyszeć Ciebie w okresie Postu. Wiele klubów na ten okres zostaje zamkniętych- z Twojej perspektywy to dobre rozwiązanie?
Fafaq: Nie. Nie jestem za tym, aby zamykać kluby, bo mamy post. To jest każdego indywidualna decyzja, czy chce się bawić czy nie. Głodni imprezy i tak znajdą najbliższą imprezownie, kiedy ich naj-ulubiony /najbliższy lokal jest zamknięty. Swoją drogą, marzec to chyba najgorszy miesiąc dla dj-ów.
mr. Biller: Jeździsz pocałuj Polsce- W jakim regionie gra się najlepiej Trance? Jest w ogóle jakaś reguła odnośnie podziału klubowej Polski na poszczególne gatunki muzyczne?
Fafaq: Nie wiem w jakim rejonie gra się najlepiej Trance, bo ja nie nazwałbym muzyki, którą gram trancem. Ale wydaje mi się, że każdy tranowy dj z naszego kraju powinien zagrać w ostrowskim klubie Protector i kilkaset kilometrów dalej – w Terminalu w Szubinie. tam ten gatunek jest na topie.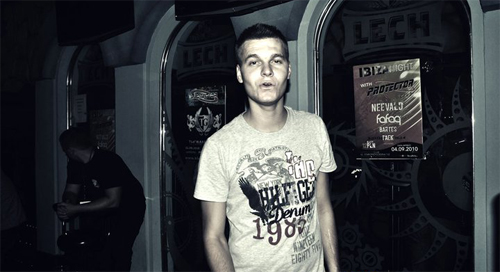 mr. Biller: Jakieś 5 lat temu zapytany o to kto jest Twoim muzycznym idolem odpowiadałeś jednym tchem - Armin Van Buuren. Jestem ciekaw czy na przestrzeni tych 5ciu lat coś się zmieniło?
Fafaq: Patrząc na twórczość artysty powstaje w twojej głowie historia, którą sobie wyobrażasz. Zatem postrzegasz tę postać jako pewnego rodzaju guru. Zdecydowanie kariera Armina van Burena pędzenia 5-tym biegu przez cały ten okres i jest to jeden z wielu artystów o których można powiedzieć głośno i wyraźnie: IDOL. Jest profesjonalistą w każdym calu w tym co robi, dlaczego nie wzorować się na takich osobach? I wcale nie chodzi mi tutaj o to czy Armin robi muzykę transową, housową czy dubstepową. To nie ma znaczenia.
mr. Biller: Przypomniałem Ci to ponieważ Twój styl muzyczny bardzo się zmienił od tamtego czasu. Teraz możemy Cie usłyszeć również w bardziej Housowych odmianach. Uważasz się w dalszym ciągu za dja stricte Trance-owego, który z musu przystosowuje się do Koniunktury panującej w Polskich klubach, czy po prostu grasz w 100% to co lubisz?
Fafaq: Haha. "Z musu przystosowuje się do koniunktury panującej w polskich klubach" – oczywiście to stwierdzenie jest zabawne. Mój styl się zmienił. Człowiek dojrzewa. Upodobania się zmieniają. Nie mówię, że muzyka Trance jest zła. Po prostu nie jara mnie to. Odpowiedź na twoje pytanie czy gram w 100% to co lubię – oczywiście. Zawsze tak było, chociaż sam nie wiem jak określić tą muzykę. Może transo-hałso-progresiw 2.01?Albo Kolorowanka?
mr. Biller: Podobno szykuje się jakiś nowy Realse …… ?
Fafaq: Zaplanowany jest release nowego numeru na początek maja 2012.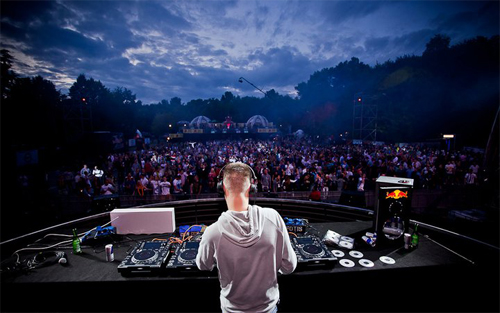 mr. Biller: High Contrast- wytwórnia uważana przez wielu za wylęgarnienie sadowicie wykręconych Electro Tech Trance-owych numerów- czy oprócz remixu do kawałka Artento Divini-ego planujesz jakiś collab z producentem wydającym w Twojej rodzimej wytwórni?
Fafaq: Na temat collabu mi nic nie wiadomo.
mr. Biller: Jaki jest Twój Setup do produkcji?
Fafaq: Setup w moim studio to: komputer, odsłuchy, klawiatura sterująca, virus ti 2 + ableton live 8.
mr. Biller: Uczestniczysz w produkcji największych i najlepszych Polskich Eventów. Jak z perspektywy współorganizatora oceniasz Popyt na muzykę klubową w Polsce?
Fafaq: Z tym nigdy nic nie wiadomo. Zależy jak trafisz w gusta odbiorców z artystami, których zapraszasz. Zależy jaki masz termin imprezy i przede wszystkim gdzie ona się odbywa. Zależy również jak bardzo się starasz, aby potencjalny odbiorca odebrał twój komunikat i przyjechał na event. Popyt na muzykę klubową jest cały czas taki sam, a nawet i większy. Nowych zwolenników klubowej muzyki przybywa z dnia na dzień dzięki artystom, którzy się wyłamali i zaczęli mieszać underground z mainstreamem. Natomiast z perspektywy dj-a, mogę stwierdzić, że w Polsce odbiorca się odrobinę zmienił.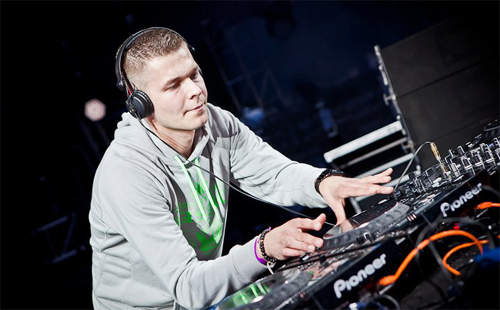 mr. Biller: Jestes w pierwszej dziesiątce najpopularniejszych dj-ów w Polsce. Jako jeden z nielicznych w tej dziesiątce grasz z płyt a nie z komputera. Granie z płyt sprawia Ci większą frajdę?
Fafaq: Przede wszystkim rozrywka. Granie z płyt to klasyczna forma dj-ingu, zaraz po graniu z płyt winylowych. Jeśli ktoś przeszedł tę szkołę, to śmiało może sięgnąć po komputer i kontroler, żeby bardziej ulepszyć swoje sety. Nie oszukujmy się. Z pomocą komputera i kontrolera można zrobić więcej rzeczy i przede wszystkim szybciej. Osobiście nie mam nic do dj-ów, którzy grają sety za pomocą komputera i kontrolera. Ja pozostaje przy odtwarzaczach i mikserze.
mr. Biller: Cofnij się pamięcią do swoich początków. Czy jest jakaś osoba, która walnie przyczyniła się do tego że Twoja kariera muzyczna rozwinęła się tak mocno? Zapadł Ci ktoś taki szczególnie w pamięć, czy wszystko co osiągnąłeś zawdzięczasz tylko sobie?
Fafaq: A więc cofam się i.. ładując pamięć, mogę powiedzieć, że dużo pomógł mi fakt, że w moim rodzinnym mieście był jeden z lepszych klubów muzycznych w Polsce. Zawsze byłem zajarany dj-ką, a tam poznałem rezydenta – Krecika, który dał mi możliwość pomiksowania na początku imprezy. Zatem tam się nauczyłem grać. Później na mojej życiowej drodze pojawił się Cez Are Kane, dzięki któremu dołączyłem do MDT Agency. To na pewno otworzyło wielką furtkę, ale samozaparcie i motywacja do osiągnięcia zamierzonych celów, to już indywidualna kwestia każdego z nas.
mr. Biller: Na koniec zdradź wszystkim Klubowiczom, który z Polskich klubów jest najbliższy Twojemu sercu ?
Fafaq: Jest ich kilka, ale dobrze występuje mi się w moim rodzinnym mieście i okolicy, bo zawsze przychodzi na imprezę pełno znajomych twarzy, a to daje ci niezłego kopa, żeby postarać się o epicki melanż.
mr. Biller: Dziękuje za rozmowę. W imieniu całej ekipy Portalu Imprezowego www.CubeStage.pl życzę Ci samych sukcesów – zarówno bookingowych, jak i tych związanych z organizacją Eventów, oraz Produkcją.
Fafaq: Dziękuję I zapraszam na moje strony
some epic shit is coming!