Pod tajemniczym pseudonimem "W&W" ukrywają się dwaj wyśmienicie wyszkoleni producenci którzy rozpoczęli współpracę ze sobą latem w 2007 roku. Obaj wyśmienici artyści pochodzą z Holandii i obydwaj urodzili się w 1988 roku, ich imiona i nazwiska są bardzo znane na całym świecie "Willem Van Hanegem" jak również drugi artysta "Wardt Van Der Harst".
Cześć chłopaki! Może zaczniemy od początku, przybliżcie proszę naszym czytelnikom waszą historię, jak się poznaliście i skąd pomysł by wspólnie grać i tworzyć?
Poznaliśmy się na forum internetowym i okazało się, że obaj mieliśmy zajawkę na produkcję muzyki. Na żywo po raz pierwszy spotkaliśmy się na Trance Energy 2007 w Holandii. Staliśmy się dobrymi przyjaciółmi i postanowiliśmy razem podbijać studia nagraniowe – tak narodził się projekt W&W.
Jak wygląda Wasza praca w studiu? Jak dzielicie między siebie Wasze obowiązki?
To zależy, większość czasu obaj eksperymentujemy z nowymi dźwiękami i sprawdzamy nowe rzeczy. Łączymy nasze pomysły i realizujemy w formie pasującej do W&W.
Mieliście okazję grać ostatnio na Tomorowworld, jak wam poszło? Czy set, jaki zagraliście był porównywalny z tym, jaki zaprezentowaliście nam na Tomorrowland?
Tommorowworld było szalone! Świetnie się tam czuliśmy. Tłum był niesamowicie energetyczny i z chęcią zagralibyśmy tam znowu.
Widziałem was wiele razy na scenie live, często zmieniacie style, czy to nie jest tak, że boicie się eksperymentować gdy podróżujecie i gracie na wschodzie?
Cały czas staramy się rozwijać i eksperymentujemy z nowymi dźwiękami. Wschodnia Europa bardzo przywykła do naszego określonego brzmienia, które im się podoba, a my chcemy ich oczywiście zadowolić!
Wasza kompilacja Mainstage Vol 1 z 2012 była świetna, czy macie jakiekolwiek plany na wypuszczenie kolejnego albumu?
Dziękujemy! Mamy mnóstwo nowych pomysłów na 2015. Nie wiemy czy będzie to akurat album, ale ludzi z pewnością zaskoczą nasze nowe kolaboracje i inne projekty związane z W&W. Zobaczymy co z tego wyjdzie!
Jesteśmy słuchaczami waszego podcastu – Mainstage, który od niedawna zresztą można usłyszeć w każdy piątek na Slam.fm, na początku audycja jest przeważnie spokojna można usłyszeć płynące wokale, natomiast koniec jest mocniejszy nawet hardstylowy, dodatkowo coraz częściej współpracujecie z headhunterz znanym właśnie ze sceny hardstyle. Skąd wasze zainteresowanie mocniejszą muzyką?
Jeśli chodzi o muzykę, staramy się mieć otwarte umysły. Podoba nam się wiele różnych stylów i staramy się eksperymentować z innymi gatunkami. Jeśli akurat mamy dzień na tworzenie czy granie czegoś w innym stylu to po prostu to robimy.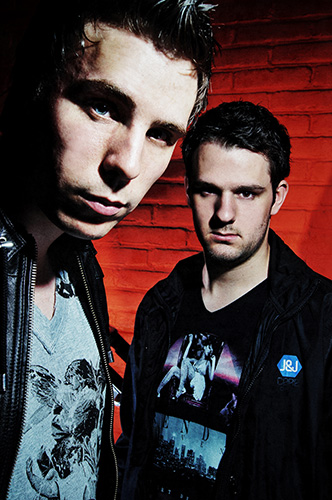 Gracie, produkujecie, latacie po całym świecie. Jak radzicie sobie z JetLagiem i jak godzicie Pasje i swoja pracę z życiem prywatnym? Bo na nudę narzekać nie możecie.
Przywykliśmy do podróżniczego stylu życia, ale może on być nieco męczący. W czasie podróży również sporo pracujemy i staramy się znajdować czas dla rodziny i przyjaciół, na tyle, na ile jesteśmy w stanie. Problemy takie jak jetlag również mogą być dość dokuczliwe, na szczeście granie i podróże nam to wynagradzają.
Zbliża się koniec 2014 roku. Krótkie podsumowanie, jaki był dla was ten rok? Osiągnęliście to, co zaplanowaliście? Czy może nawet więcej?
2014 był świetny. Współpracowaliśmy ze wspaniałymi artystami i czujemy rozwój jako muzycy / producenci. Mamy nadzieję utrzymać ten rozwój i jesteśmy ciekawi jaki będzie 2015. A wszystko z miłości dla naszych fanów!
Widzieliśmy, iż szykuje wam się dłuższe tourne po Australii. Listopad i grudzień to świetny czas na ewakuacje do ciepłych krajów ;) Macie może w niedalekich planach w zamiarze zawitać do Polski?
Tak, zbliża się nasza podróż do Austalii i jesteśmy tym bardzo podekscytowani bo uwielbiamy ten kraj! Na pewno to będą niezapomniane dni. A Polska? Z pewnością pojeździmy nieco po Europie w 2015, więc kto wie?
Dzięki serdeczne za poświęcony czas. Jesteście wielcy i nie tylko w Centymetrach ;) Życzymy wam wszystkiego najlepszego w 2015 roku. Jakieś ostatnie słowa dla czytelników Cubstage.pl?
Haha, dziękujemy za ten wywiad! Chcielibyśmy gorąco pozdrowić czytelników Cubestage i wszystkich naszych fanów w Polsce. Kochamy Was!

Autor:
Aleksandra Młoda (CubeStage.pl)
Wojciech Kmiecik (CubeStage.pl)
Tłumaczenie:
Zbigniew "Emill" Pławecki (CubeStage.pl)