Hello, Giuseppe. Thanks for finding for us some time in Your busy calendar. At first, tell us something about Your DJ career?
Well what can I say, I've been around for about 13 years already and I'm lucky enough to say that I'm still feeling so excited about this job like the very first time. It's such a pleasure to share my love for the music with all of you guys and I do believe the best is yet to come.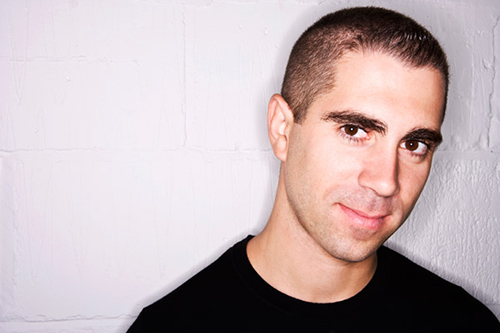 Can You tell us something about Your studio?
I'm a kind of an old school guy when it comes to the studio and I use pretty much hardware more than software even if I have to admit that sometime I need to find a balance between what I'm used to and the digital era. If you check out my facebook page and scroll down a bit you'll find all he pictures of my studio www.facebook.com/giuseppeottaviani
A lot of fans surely recognizes "GO" album from 2009. After 5 years break we have Magenta Live. Both albums came out in two, completely different labels "GO" in Vandit and Magenta... in Black Hole Recordings. I'd like to ask You why did You decided to transfer to another label?
As it was 5 years since my last album GO was released, I really wanted to get Magenta released as soon as I finished it. Between all involved parties it was decided that the best way was to join Black Hole for this and I'm really happy I did, love the guys.
A year after first version, 2CDs edition of Magenta Live came out. It contained some exclusive material, recorded during Your world tour. Would You like to share with our readers some other info about this album? Eg. how long did it took to create both versions?
It took some time. I've been playing the original Magenta tracks for a year as the album came up last year. When I play my music live I always try to find new melodies and experiment new sounds. After almost a year of performing the Magenta tracks with those new melodies and ideas I actually realized I had enough material to remix the entire album myself rather than having other producers remixing it. And so I did. I have reworked and remixed 11 tracks from the original album and I made 3 brand new track for the Live edition. It's called Magenta Live because each melody I used to remix the album comes from a live experience.
Was it hard for You to select tracks for Your compilation?
Not really, I just went through my demos and selected my favorites ones, the ones that I was feeling that they could bring some fresh touch to the album.
Very few artists play live instruments on stage these days. Tell us something about Ottaviani Live Set? What hardware do You use?
I do use two laptops running Ableton Live, two keyboards, few midi controllers, a DJ mixer and a mess of cables ;) It's a very flexible setup that allows me to improvise on stage and not simply playing a track as it is originally. Above all it's all stuff which is fun to play with.
What is Your favourite track from the ones You play?
At the moment I'm really enjoying "Passion" which is the first single off the album. Such an energetic track and great melody, people love it.
What do You feel in front of all Your fans, when You know that they love You as an artist?
It feels special because they are really enjoying your own music and not just going crazy because you play the best hits of the moment, if you know what I mean. They follow you, they know your music and this is different from being a DJ. I don't really call myself a DJ, definitely feel more like an artist and performer.
Did You had any moments of disbelief in Your passion towards music?
No never, this comes from the heart and I would make music even if it wasn't my primary job. It's a "Passion" at the end of the day.
There are a lot of people, that want to be an artists, with better or worse results. What would be Your advice to them?
Find your own sound, stay away from presets and fashion, keep pushing.
I'm sure that as an Italian, You love the food in Your country – pizzas and pastas. Do You know any polish meal that You would recommend in Italy?
Oh boy I love your food I just can't name any ;) I only had great experiences with food in your country so I would probably recommend Italian to come there and visit.
What is Your favourite artist from EDM world and why?
It really depends on what you mean for EDM, if you mean what I call "the sound of now" then ummmm not sure about the name, maybe none of them. On the other hand I think the new Deadmau5 album sounds great. Did you hear it?
What is Your favourite activity in free time?
You had a couple opportunities to play in Poland, how do You remember that time? What do You think about polish fans, polish women ( ;) ) ? Do You have any plans to visit us again?
I always had great time there and indeed it's been a while since my last visit, I really hope to come back soon. Need some great party in your country.
I must say that I'm a great fan of Yours, so I have to ask about "Through Your Eyes". I remember the moment when I heard it for the first time in one of the polish clubs. It's 8 years since that moment and it still makes me euphoric. Tell us what was Your inspiration for it and how did you managed to include so much energy in it?
Well it was my second big release after the split up with NU NRG in 2005 and it was a very inspirational moment as I started my solo career. I was playing The Love From Above in Berlin with Paul van Dyk at that time and I was super excited because it was the first time that I was playing for him as a solo artist. Once back home I've put that energy I have experienced in Berlin into Through Your Eyes. It really brings back memories ;)
What was the most important moment in Your DJ career?
I have two actually. The first one is when I've got signed as NU NRG to Paul van Dyk's label Vandit in 2001 thanks to a track called "Dreamland". The second is when I've got signed again as solo artist after the split up, and the track that allow me to do so was "Linking People".
What can we expect from You in incoming months?
I'm currently working on my new GOONAIR compilation due at the end of September. It's gonna be a double CD with all new exclusive music taken from my label GOONAIR Recordings. You can stay up to date here www.goonair.net
Even more exciting is a new project called PureNRG. It's a new live act concept between myself and Solarstone, it's a B2B taken to the next level, we like to call it M2M. Checkout www.purenrglive.com to stay up to date with the latest news ;)
Thanks for Your time and hope to see You in Poland very soon. :)
Thank you and see you soon on the dance floor
Author:
Matthew Szubert (CubeStage.pl)
Translation:
Zbigniew "Emill" Pławecki (CubeStage.pl)