Gala 16 dorocznych DJ Awards Pacha Ibiza, prowadzona tym razem przez Des Paula I DJ Lora, jak co roku zaprezentowała światu artystów sceny klubowej, którzy wywarli największy wpływ na scenę muzyki elektronicznej. Tym razem rozdano między innymi 11 nagród specjalnych, przyznanych przez niezależne jury, oraz 9 w których głos decydujący mieli klubowicze. A decydowano w szerokim spektrum styli muzycznych, od trance przez techno, tech house po deep house.
Tegoroczną galę uświetniły dwa doskonałe wystepy na żywo – Kathy Sledge z jej "We are family" oraz wykonane przez Francesco Rossi'ego oraz Matta Henry'ego "Paper Aeroplane".
W tym roku po raz pierwszy pojawiła się nagroda za najlepszy label, którą odebrało szefostwo Crosstown Rebels, dla których był to zapewne miły prezent z okazji 10 urodzin wytwórni.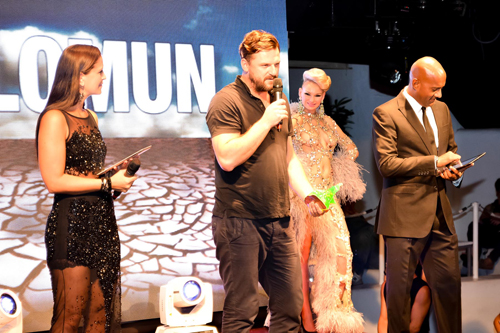 Luciano odebrał nagrodę w kategorii artysta tech house, w deep house najlepszy okazał się Solomun. Za najlepszy występ elektroniczny uznano Hot Natured, oni również otrzymali nagrodę DJ Awards Kryptonite.
Cristian Varela otrzymał nagrodę w kategorii Techno, najlepszą nową twarzą klubowej sceny został wybrany Uner, Armin van Buuren natomiast otrzymał podwójny laur – w kategorii trance oraz najlepszy międzynarodowy DJ. Najlepszym w kategorii electro house został wybrany Hardwell.
Jedną z nagród specjalnych otrzymał Jerry Greenberg, za to, że jako najmłodszy (32 lata) został prezesem dużej wytwórni i podpisał kontrakty między innymi z Nilem Rodgersem, Dr Dre i Easy E.
Willie Graff otrzymał laur najlepszego Dja Ibizy, Boiler Room TV to najlepsze klubowe media jako najlepszy międzynarodowy festiwal został uznany BPM Festival w Meksyku.
Meksyk został także doceniony za najbardziej imprezowy kraj świata, a jako producent roku wyróżnienie otrzymał Maceo Plex.
Jak na porządne afterparty przystało, nagrodzeni świętowali do późnych godzin porannych, a odpowiedzialni za nie byli między innymi Guy Gerber, Wisdom of the Glove, Audiofly, Lee Curtiss, Lawrence, Bill Patrick, Mayan Nidem, DJ Tennis, Shaun Reeves, Mo Funk/Dazzla, Willie Graff oraz Graham Sahara. Jedyne co pozostało organizatorom to podziękować za wsparcie klubowiczom z całego świata i zaprosić na przyszłoroczną edycję!

Laureaci 2013

ELECTRO HARDWELL
TRANCE ARMIN VAN BUUREN
TECHNO CRISTIAN VARELA
NOWA TWARZ UNER
DUBSTEP/DRUM&BASS KNIFE PARTY
ELEKTRONIKA NA ŻYWO HOT NATURED
DEEP HOUSE SOLOMUN
TECH HOUSE LUCIANO
DJ MIĘDZYNARODOWY ARMIN VAN BUUREN
MEDIA BOILER ROOM TV
IBIZA DJ WILLIE GRAFF
IBIZA NIGHT ENTER
NOWE TECHNOLOGIE PIONEER CDJ2000nexus
IMPREZOWY KRAJ MEXICO - HECTOR
LABEL CROSSTOWN REBELS
PRODUCENT MACEO PLEX
TRACK SEZONU PAPER AEROPLANE FRANCESCO ROSSI
PRZEŁOMOWY ARTYSTA tINI
MIĘDZYNARODOWY FESTIVAL BPM FESTIVAL
WKŁAD WŁASNY KATHY SLEDGE
ŻYCIOWE OSIĄGNIĘCIE JERRY L. GREENBERG
Tłumaczenie:
Zbigniew "Emill" Pławecki (CubeStage.pl)
Wszystkie prawa zastrzeżone. Kopiowanie i rozprzestrzenianie artykułu bez zgody autora jest zabronione! Prawo chronione przez ustawę z dnia 4 lutego 1994 r. o prawie autorskim i prawach pokrewnych: Dz.U. z 1994 r. Nr 24, poz. 83.