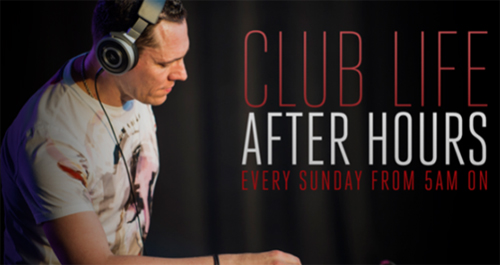 Dla Tiesto prawdopodobnie nie ma rzeczy niemożliwych. Po wydanej niedawno EPce w klimatach trapowych oraz wcieleniu się w rolę urzędnika stanu cywilnego w Las Vegas, teraz po raz pierwszy próbuje swoich sił jako selekcjoner najlepszych kawałków deep house'owych w ramach audycji "Club Life After Hours". Nowa wersja show będzie emitowana każdej niedzieli na falach radia SiriusXM i, chociaż Holender nie będzie własnoręcznie miksował każdej audycji, to na początek usłyszymy jego 2-godzinnego seta. "Deep house to wspaniałe klimaty do słuchania w domu czy w samochodzie, albo w trakcie niedzielnego popołudnia na grillu." - jak powiedział w wywiadzie dla magazynu Billboard. Poniżej link do pierwszego z serii deep house'owych setów wraz z tracklistą.
1) Destiny's Child, "Say My Name" (Cyril Hahn Remix)
2) Framewerk, "As If"
3) Phoenix, "Lisztomania" (Vanilla Bootleg)
4) Monkey Safari, "Hi Life" (Cheeky Bold Cover)
5) Hells Kitchen feat. Irina Makosh, "I Close The Door" (Walkboy Remix)
6) Yoachim, "EHC" (Oliver Schories Remix)
7) Miyagi, "Woodpeckers Love Affair" (Sascha Braemer & Dan Caster Remix)
8) Stefan Biniak, "The Read All About It Bootleg"
9) Him Self Her, "Gone Too Long"
10) Fatso, "Empathy"
11) Jan Blomqvist, "I Don't Think About You"
12) Daughter, "Youth" (Alle Farben Remix)
13) Art Of Shades feat. Soukaina, "All Away"
14) DSF, "Private Thoughts"
15) Goldroom feat. Chela, "Fifteen" (Rotkraft Remix)
16) Finnebassen, "You're Not Cool Enough"
17) Audiofly feat. Fiora, "6 Degrees" (Tale Of Us Remix)
18) Fabo feat. Angela Sheik, "Can't Decide" (Flow & Zeo Remix)
19) Vario Volinski, "Falling In Love"
20) Luomo, "Good Stuff" (Dave DK Remix)
21) Dinka, "Polarity" (DBMM Superlove Remix)
22) Luis Leon, "Love Is A Lie"
23) Made To Move, "Perfect Lady"
24) Tube & Berger, "Imprint Of Pleasure"
Autor:
Zbigniew "Emill" Pławecki (CubeStage.pl)
Wszystkie prawa zastrzeżone. Kopiowanie i rozprzestrzenianie artykułu bez zgody autora jest zabronione! Prawo chronione przez ustawę z dnia 4 lutego 1994 r. o prawie autorskim i prawach pokrewnych: Dz.U. z 1994 r. Nr 24, poz. 83.