ROYAL VIP po raz ósmy!
Od pierwszej edycji wyróżniała nas dbałość o szczegóły oraz o miejsce, w którym uczestnicy imprezy oraz Artyści mogą spokojnie się zrelaksować degustując wyśmienite potrawy oraz drinki. Może się wydawać, że czołowi Artyści, których gościmy, widzieli już wszystko. Siedem poprzednich edycji Electrocity pokazało, że jednak są elementy na imprezie, które mogą zaskoczyć każdego. Royal Vip – królewska uczta, której legenda znana jest już chyba w każdym zakątku imprezowego świata. Przepiękne malowidła, rzeźby zdobione ornamentami roślinnymi, zwierzęcymi. Anioły, demony, wszystko w jednym a to w zestawie z wyśmienitą kuchnią i prawdziwie profesjonalną obsługą barmańską.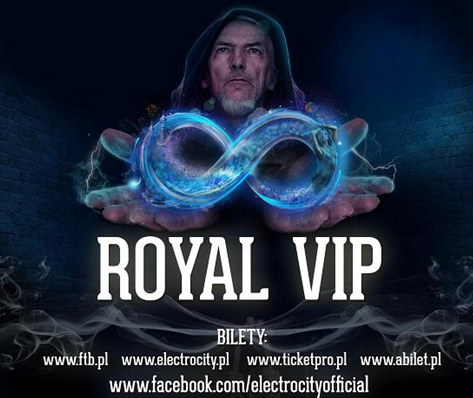 W trosce o dobro pomnika historii, jakim jest Opactwo, postanowiliśmy w tym roku strefę Royal Vip urządzić również w Jadalni Opata. Całość podzielona jest na trzy pomieszczenia, gdzie każde ma swój bogato wyposażony bar. Dla entuzjastów drinkowych eksperymentów przygotowaliśmy bogate menu, gdzie każdy powinien znaleźć swój ulubiony trunek.
Uczestnictwo w królewskiej uczcie to również możliwość spotkania tych, którzy są sprawcami całego zamieszania na Electrocity. Można w spokoju porozmawiać, zrobić zdjęcie czy zadać nurtujące pytanie Artystom, którzy tej nocy wystąpią w Lubiążu. Niewątpliwie jest to jedna z niewielu stref Vip na świecie gdzie jest tak swobodny dostęp do Artystów. Jeśli chcecie więc sobie lub swoim bliskim zrobić wyjątkowy letni prezent, bez wahania powinniście zaopatrzyć się w bilet Royal Vip.
CENA BILETU ROYAL VIP: 500 zł
III pula biletów nadal dostępna jest w cenie 107 zł za pośrednictwem www.ftb.pl , www.ticketpro.pl , www.abilet.pl i www.electrocity.pl .
W cenie biletu uczestnik dostaje:
- Alkohol bez ograniczeń (w wydzielonej strefie)
- Posiłki ciepłe, zimne bez ograniczeń (w wydzielonej strefie)
- opaskę uprawniającą do przebywania w wydzielonych strefach
SZWAJCAR WYŚMIENITY
ESKALOPKI KSIĄŻĘCE
RUMSZTYK STAROPOLSKI
SZASZŁYK SZLACHECKI
SZASZŁYK Z BARANINY
KURCZE ZŁOCISTE
KOTLET KRÓLEWSKI
KOTLET GORDON BLUE
MEDALION Z PIECZARKAMI
SZNYCEL WYBORNY
ROLADKI WOŁOWE W SOSIE MYŚLIWSKIM
GOLONKA DWORSKA
FILET Z MORSZCZUKA PO GRECKU
FILET Z MINTAJA
PSTRĄG KRÓLEWSKI
ŁOSOŚ NORWESKI
OWOCE MORZA
WYROBY PIECZONE:
KARKÓWKA PIECZONA W SOSIE ZAZIKI
ROLADA Z BOCZKU
SCHAB NADZIEWANY ŚLIWKAMI
SZYNKA PIECZONA
SAŁATKI:
SAŁATKA ORIENTALNA
SAŁATKA FIŃSKA
SAŁATKA WEGETARIAŃSKA
SAŁATKA GRECKA
SAŁATKA OWOCOWA
SAŁATKA Z KAWIOREM
SAŁATKA DROBIOWA
FRYTKI
RYŻ Z KURKUMĄ
ZIEMNIAKI PIECZONE
PIECZYWO
CIASTA
DANIA STAROPOLSKIE:
BIGOS STAROPOLSKI
GULASZ WĘGIERSKI
ŻUREK ŚLĄSKI Z JAJKIEM
WIELOWARZYWNA
BURACZKI
PEKIŃSKA
PAPRYKA
OGÓREK
PIECZARKI
WARZYWA GOTOWANE (KALAFIOR, MARCHEWKA, FASOLKA SZPARAGOWA, BROKUŁY)