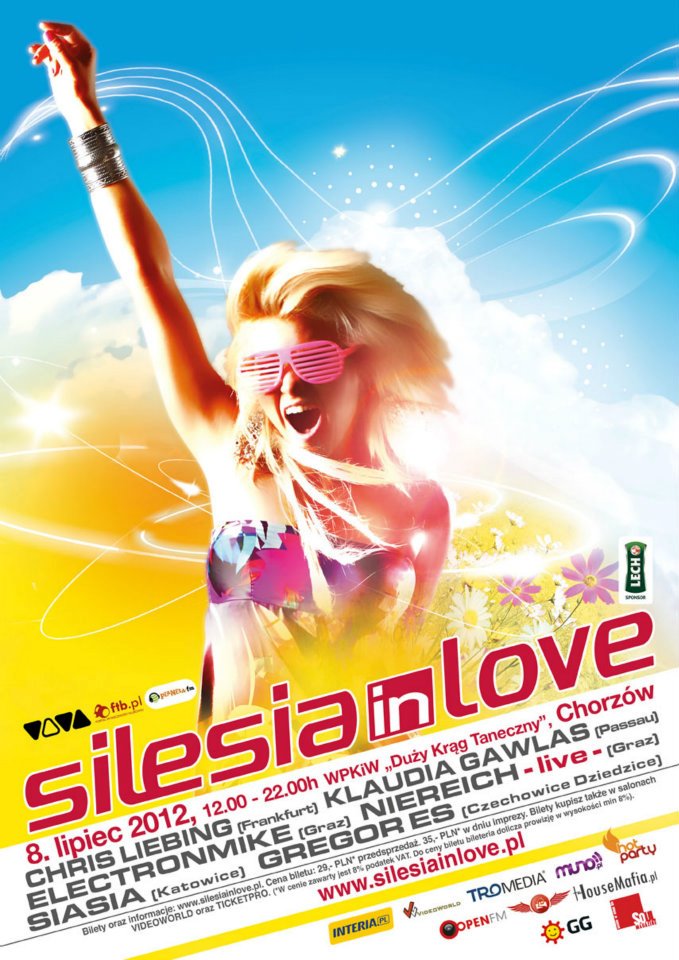 Duży Krąg Taneczny - Park Śląski / Chorzów
8.07.2012
Start 12:00
End: 22:00
www.silesiainlove.pl

TIME TABLE

MAIN FLOOR

12:00 - 13:30 Gregor Es
13:30 - 15:00 Siasia
15:00 - 16:30 Electronmike
16:30 - 17:30 Niereich -live-
17:30 - 19:00 Klaudia Gawlas
19:00 - 22:00 Chris Liebing

ELECTRIC MYSTERY

14:00 - 16:00 G.M.R.
16:00 - 18:00 Djemba
18:00 - 20:00 Cherry BreakNtune
FIGHT FOR TECHNO
14:00 - 15:00 Freejay
15:00 - 16:00 Nexy
16:00 - 17:00 Lukash Andego
17:00 - 18:30 Hellboy
18:30 - 20:00 Arthur Crag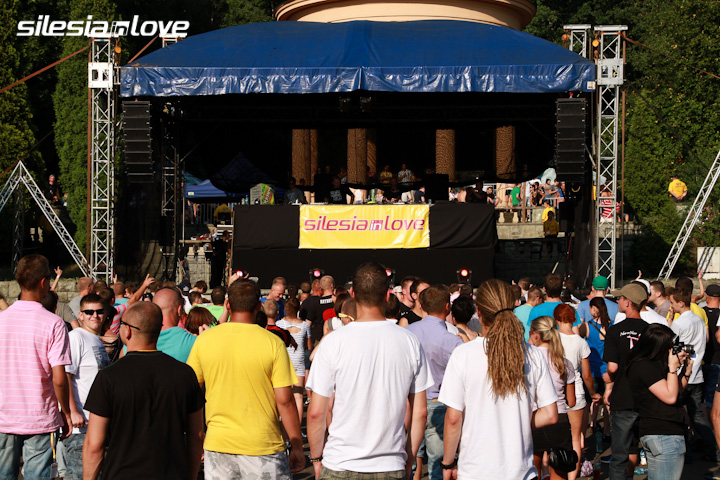 Ogłaszamy konkurs dla naszych fanów na Facebook'u!

Wszyscy którzy do 1.07 kupią bilet/y na SILESIA IN LOVE w naszym sklepie internetowym
– mają jedyną i niepowtarzalną szansę – zamienić go na wyjątkową wejściówkę VIP.

Spośród wszystkich zamówień wybierzemy jedną osobę- która w dniu imprezy w zamian za bilet zwykły - otrzyma od nas bilet VIP.

Biletów VIP nie ma w żadnej sprzedaży. Nie można ich kupić.
Osoby, które z takim biletem wejdą na imprezę to bardzo ścisłe grono:
Organizatorzy, sponsorzy, Artyści, Managerowie i Ty.

Strefa VIP na SILESIA IN LOVE to miejsce- gdzie przebywają WSZYSCY ARTYŚCI występujący podczas imprezy. Możesz z nimi porozmawiać, zrobić sobie zdjęcie…
Darmowe drinki, napoje, przekąski –wszystko w zasięgu ręki!
10 godzin na backstage'u…. z Klaudią, Chrisem, ElectronMike'm, Niereich'em, GregoremEs, Siasią oraz artystami scen Fight For Techno I Electric Mystery.
Brzmi znakomicie, prawda?

BILET ZWYKŁY 29,00 - BILET VIP BEZCENNY

Zatem:
1.Kup bilet w naszym sklepie internetowym.
2.Jako swoje zdjęcie profilowe na swoim Facebook'u ustaw zdjęcie z naszego profilu
3.Na swojej tablicy udostępnij wydarzenie Silesia In Love (http://www.facebook.com/events/322719421100181/)
4.2.07 szukaj wyników konkursu na naszym Facebook'u

UWAGA:
Zwycięzca będzie miał możliwość wskazać swoja osobę towarzyszącą ( podać imię i nazwisko) której bilet zwykły również zamienimy na wejściówkę VIP.
Bilet zwykły osoby towarzyszącej musi być również kupiony w naszym sklepie internetowym.

Wszystko jasne?
Do dzieła! Zapraszamy do naszego sklepu I życzymy Wam powodzenia!