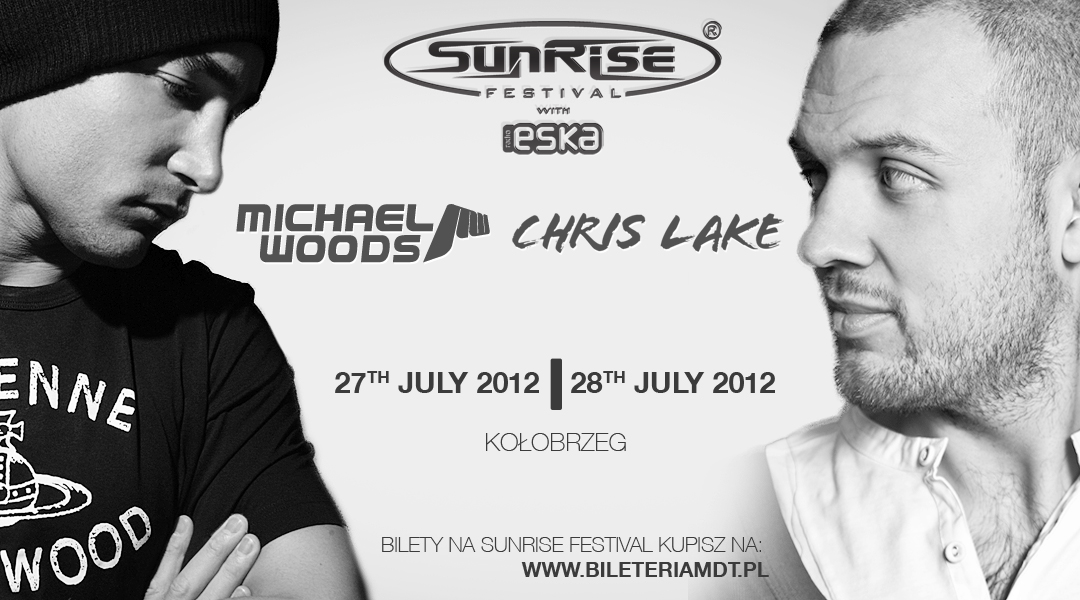 Chris Lake i Michael Woods na Sunrise Festival 2012!
Między 20 a 29 lipca w Kołobrzegu odbędzie się 10. Sunrise Festival. Lista gwiazd, które wystąpią na imprezie jest oszałamiająca. Kolejnymi artystami, których usłyszą uczestnicy imprezy to – Chris Lake i Michael Woods.
Ostatnie kilka lat z życia Chrisa Lake'a, to sen na jawie. Jego produkcje dostrzegli najwybitniejsi na tym rynku, natomiast talent dj-ski przykuł uwagę największych promotorów na naszym globie. Utwory takie jak "Changes", "Only One", "La Tromba" czy "Secrets In The Dark" sąwizytówką Brytyjczyka. Jak dobrym DJ-em jest Chris świadczy o tym fakt, że od kilku latbył jednym z rezydentów imprez Deadmau5 & Friends w klubie Amnesia na Ibizie. Polscy klubowicze będą mogli jeszcze bardziej przybliżyć sobie profil muzyczny Chrisa na Sunrise Festival 2012.
Michael Woods to sympatyczny człowiek, który oprócz robienia muzy uwielbia jeść pizzę, ćwiczyć na siłowni i wyprowadzać psa. Sam podkreśla, że podczas wypadów spacerowych ze swoim psem zdobywa mnóstwo inspiracji do tworzenia nowej muzyki. Słynie przede wszystkim z takich utworów jak: "No Access", "Nitro", "Dynamic", "Bullet" i świetnych remiksów dla Deadmau5'a i Moguaia. Michael Woods to również właściciel wytwórni Diffused. Na Sunrise Festival w Kołobrzegu wystąpi po raz pierwszy!
Obok ChrisaLake'ai Michaela Woods'a w Kołobrzegu usłyszymy także wielką gwiazdę Davida Guetta oraz Armina van Buurena, Paula Van Dyka, Ferry Corstena, Fedde le Granda, Chuckiego, Sandera van Doorna i innych. Bilety na imprezie można zamówić na stronie organizatora – www.BileteriaMDT.pl.
SUNRISE FESTIVAL
20-29/07/2012
KOŁOBRZEG


http://www.facebook.com/sfmdt
http://www.bileteriamdt.pl

Music Defeats Time Production Team