Uwielbiamy pomagać i chcemy Was również tym zarazić. Dlatego w związku z licznymi pytaniami o możliwość spotkań z artystami w strefie VIP postanowiliśmy połączyć jak to mówią "przyjemne z pożytecznym" i przygotowaliśmy kilkanaście limitowanych zaproszeń "Meet & Greet".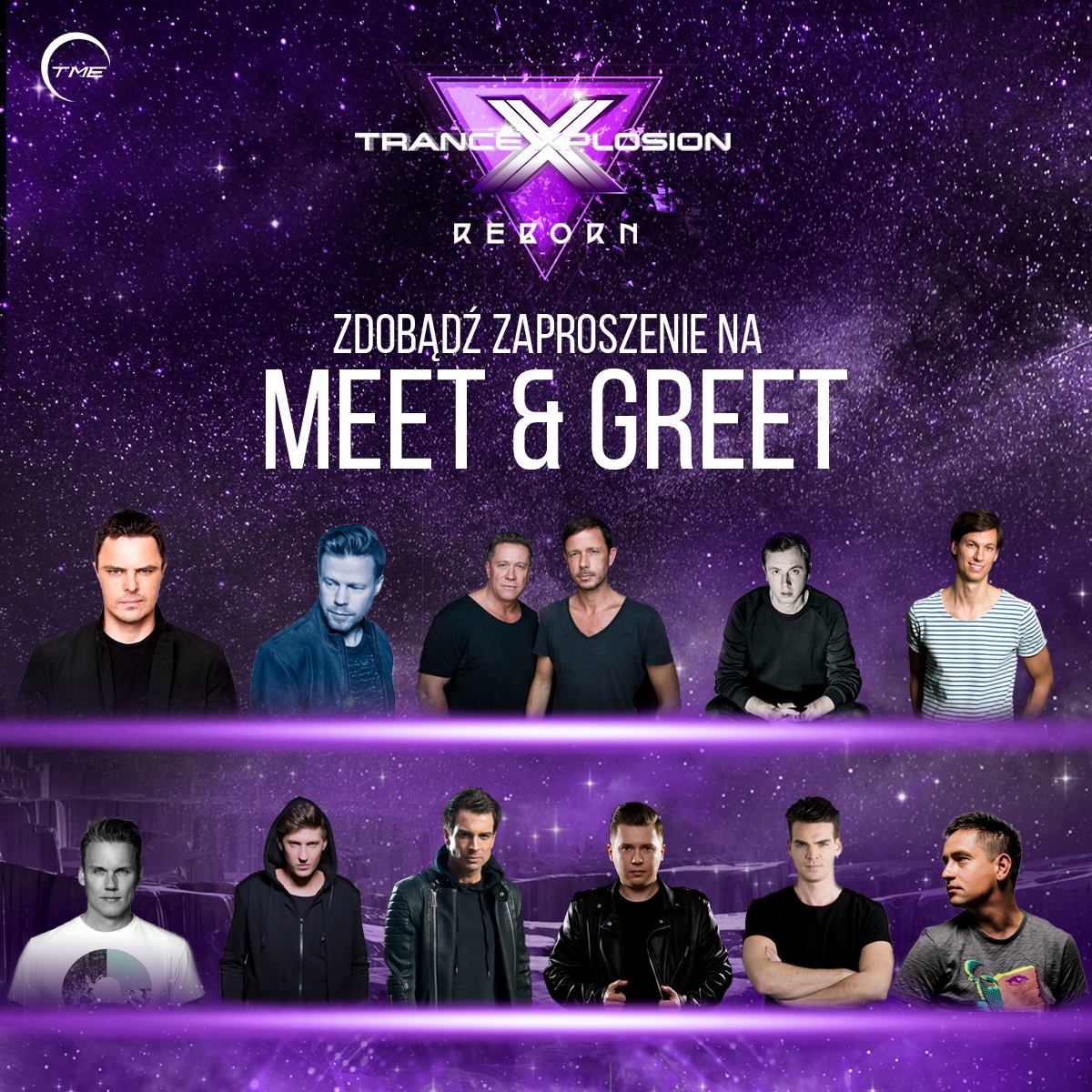 Dzięki nim będziecie mieli szansę na wyjątkowe spotkania ze wszystkim artystami, którzy wystąpią podczas Trance Xplosion Reborn 9. grudnia w gdańsko-sopockiej ERGO ARENIE, a także okazję do wsparcia tych, którzy potrzebują naszej pomocy.
UWAGA! Cały dochód ze sprzedaży zaproszeń "Meet & Greet" zostanie przeznaczony na cele charytatywne. Całą akcję wspierają:
- bileterie: FTB.pl , 4clubbers.com.pl, Abilet.pl oraz wlotki.pl które zrezygnowały z prowizji ze sprzedaży zaproszeń,
- Sony Music Poland i ProLogic Music przekazując bezpłatnie albumy głównych gwiazd TX, których jest wydawcą w Polsce.
Ale zaczynając od początku...
Sprzedaż zaproszeń "Meet & Greet" zaczniemy dziś o godzinie 21:00 na stronie abilet.pl oraz portalach wlotki, FTB oraz 4clubbers.
Ilość biletów jak już wcześniej pisaliśmy jest ograniczona.
Zaproszenie "Meet & Greet" gwarantuje Wam spotkanie się ze wszystkimi artystami, którzy zagrają na tegorocznej edycji Trance Xplosion Reborn. Co więcej zapewnimy Wam opiekuna, który będzie do Waszej dyspozycji podczas koncertu, zadba o Wasz komfort podczas czasu przeznaczonego na spotkanie z artystami. Spotkania z artystami będą odbywać się według wcześniej ustalonego time table.
Cena pojedynczego zaproszenia "Meet & Greet" to jedyne 1500 zł. Zdajemy sobie sprawę, że cena nie należy do niskich, jednak cel jest naprawdę szczytny! Cały dochód z ich sprzedaży przekażemy fundacjom, a Was natomiast poprosimy o pomoc przy ich wyborze.
Zaproszenie "Meet & Greet" gwarantuje Wam również:
➡️ wejście do strefy VIP,
➡️ osobne wejście na teren festiwalu,
➡️ osobną darmową szatnię,
➡️ wejście do wyjątkowej strefy z miejscami siedzącymi i najlepszym widokiem na scenę.
➡️ darmowy posiłek w formie bufetu szwedzkiego,
➡️ nielimitowany dostęp do napojów bezalkoholowych oraz wody w strefie VIP,
➡️ możliwość zrobienia sobie zdjęcia i rozmowy z artystami,
➡️ płytę CD z autografem artysty,
➡️ możliwość przebywania na backstage w określonym czasie podczas występów artystów,
➡️ zniżkę, którą możecie wykorzystać na 5 gwiazdkowy hotel w Trójmieście wskazany przez Agencję TME,
➡️ T-Shirt Trance Xplosion Reborn.
Kochani na koniec również ważna informacja. W październiku przedstawimy Wam listę kilku fundacji, z których wybierzecie DWIE, na które przekażemy wszystkie pieniądze zebrane podczas sprzedaży tych wyjątkowych zaproszeń.
Agencja TME, to nie tylko doskonałe eventy, które przygotowujemy dla Was z wielką pasją, ale przede wszystkim zgrany zespół ludzi z bagażem doświadczeń zdobytym przy produkcji dużych festiwali muzycznych w Polsce i Europie. Agencja TME to również ogromne serce, którym chcemy dzielić się z innymi przy każdej okazji.
Tych, którzy również chcieliby wesprzeć naszą akcję informujemy, że podczas festiwalu pojawią się wolontariusze wybranych fundacji.
Bądźcie czujni - liczymy na Was.
Informacja prasowa TME.