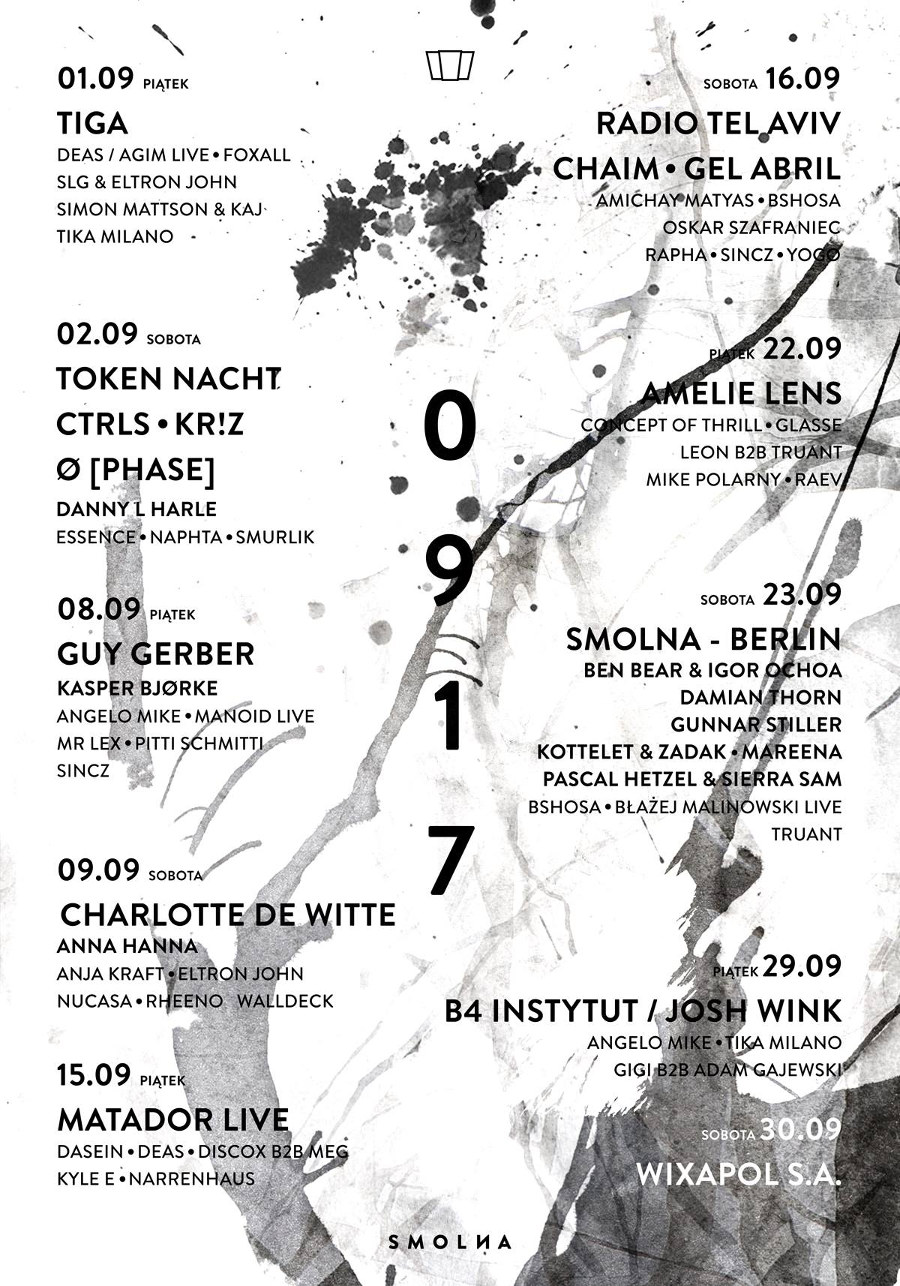 Niedawno poznaliśmy sylwetki artystów, którzy wystąpią na Smolnej w nowym sezonie A/W 2017, a teraz przyszedł czas na kompleksowy program muzyczny na wrzesień.
Pierwszy weekend w nowym sezonie klubowym uświetni swoją obecnością legenda sceny elektronicznej – Tiga, który nie tylko z sukcesami prowadzi swoją wytwórnię Turbo Recordings, ale również przemierza światowe parkiety taneczne, wprowadzając w ekstazę nawet najbardziej wymagających słuchaczy. Dzień później ukłon w kierunku fanów mocniejszych brzmień, bo stolicę odwiedzi ekipa belgijskiej wytwórni Token Records, prowadzonej przez Kr!z. Wesprą go Ø [Phase], Ctrls oraz w roli lokalnego supportu – Essence z Technosoul. Wydarzenie będzie tym bardziej atrakcyjne, gdyż to pierwszy wytwórniany showcase w tej części Europy, zaś wcześniej podziwiać ich mogła jedynie publika, zgromadzona podczas ADE czy Sonar Festival.
Tydzień później weekend rozpocznie niekwestionowany lider izraelskiej sceny muzycznej – szef RUMORS i stały rezydent w klubie Destino Ibiza – Guy Gerber – który przy wsparciu Kasper Bjorke powalczy o Wasze uznanie i spróbuje udowodnić, że nie trzeba grać ani szybko, ani mocno, żeby porwać do tańca. Wydarzeniem kończącym wystawę fotografii Sven Marquardt będzie wizytacja dwójki silnych i niezwykle utalentowanych kobiet. Pierwsza z nich to młoda, belgijska gwiazda sceny techno Charlotte de Witte, zaś druga – litewska animatorka i promotorka Anna Hanna, która zamknie główną scenę ze specjalnym extended set w parze z Rheeno.
W ramach światowej trasy koncertowej londyńskiego klubu EGG LDN do Polski zawita Matador LIVE, który przy wsparciu rezydentów klubu, a także rezydenta wyżej wspomnianej miejscówki – Kyle E – udowodnią, że brzmienia z pogranicza mini-malu i techno mają się ciągle bardzo dobrze. Na Patio kuratelę obejmie ekipa promotorska krakowskiego Prozak 2.0 – Meg, Discox & Narrenhaus, którzy pokażą energię historycznej stolicy Polski. Dzień później kolejna edycja Radio Tel Aviv, który na celu ma przybliżenie brzmień słonecznego Tel Awiwu. Po sukcesie pierwszej odsłony przyszedł czas na podwyższenie jakości oraz poziomu muzycznego. W tym celu klub Smolna zaprosił dwójkę najbardziej uznanych artystów z tego bajecznego miasta: Chaim i Gel Abril, a żeby tego było mało Patio całą noc animować będą Oskar Szafraniec, wydający wspólne produkcje z Ricardo Villalobos, a także rezydenci jednego z najlepszego klubów na świecie The Block: Amichay Matyas, Yogo i Rapha, prezentujący najnowszy materiał z ich wytwórni Bauhaus Records.
Miesiąc wrzesień na Smolnej żegnać będziemy w doborowym towarzystwie, bo w piątek 22 września swój polski debiut będzie miało największe objawienie ostatnich miesięcy na światowej scenie elektronicznej – Amelie Lens, zaś dzień później zostanie złożony ukłon w kierunku Berlina. W nowym cyklu na Smolnej całonocny line up, ułożony będzie z najbardziej uznanych i prężnie działających animatorów berlińskiej kultury klubowej. Tym razem padło na Damian Thorne z IPSE, Sierra Sam & Pascal Hetzel z Suicide Circus Berlin, duet Kottelet & Zadak z KaterBlau, bezkompromisową Mareena z Tresor, Ben Bear & Igor Ochoa z nowo otwartego klubu Anomalie, a także luźno związany z Watergate - Gunnar Stiller.
Wrześniowy program zamyka się z porównywalnym hukiem, co otwiera, a będzie to oficjalny "Before Instytutu", który przy współpracy ze Smolną z tej okazji zaprosił legendę undergroundu – Josh Wink. Artystatej nocy zaprezentuje niezwykle wyjątkowy set, przygotowany specjalnie na wizytę w Warszawie.