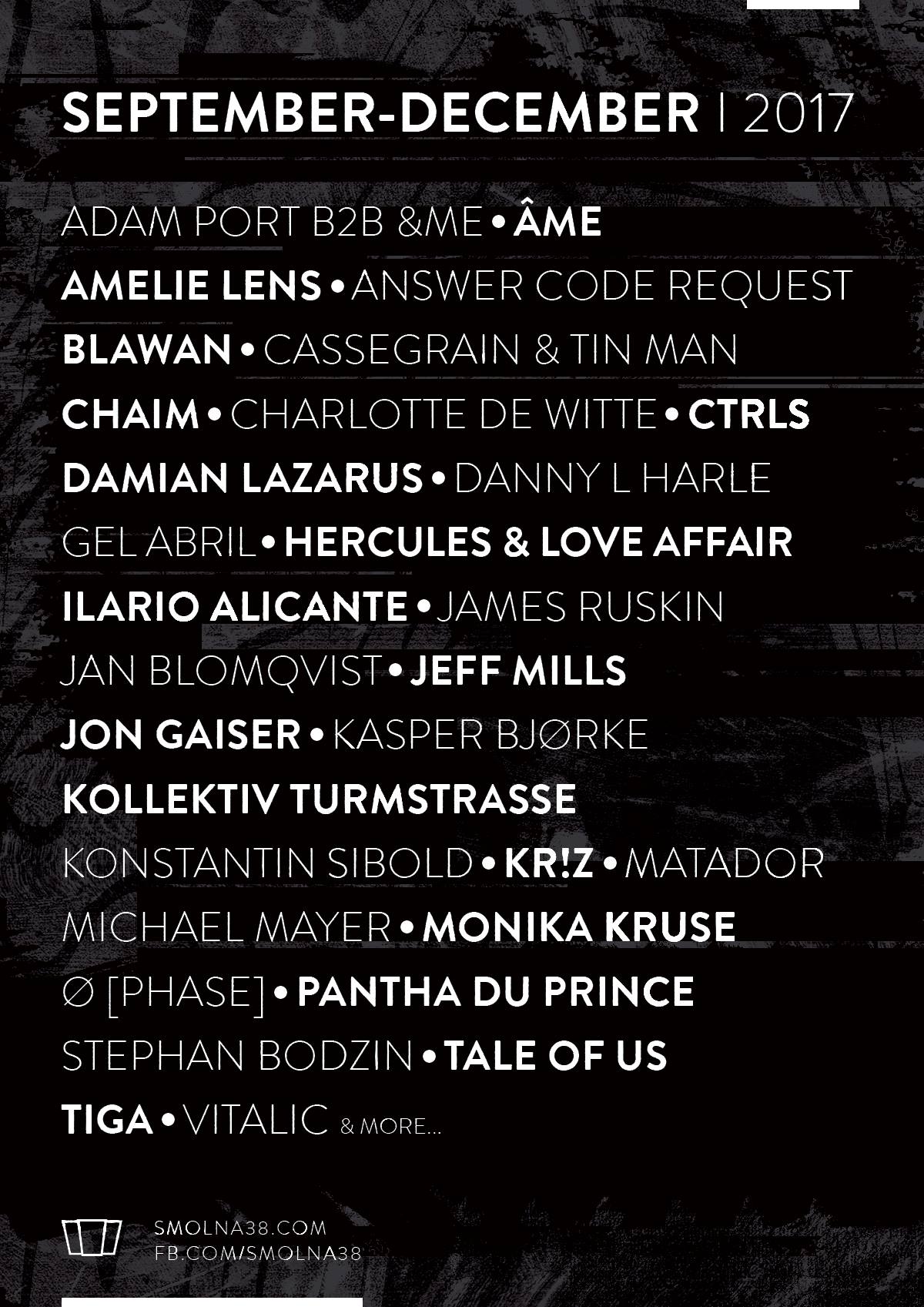 Stołeczny klub Smolna ogłasza program muzyczny na kolejny sezon bookingowy – wrzesień-grudzień 2017, który nie tylko powala ilością, ale przede wszystkim jakością ogłoszonych nazwisk.
Jeszcze nikt w historii klubowej Polski nie prezentował tak mocnego programu na ostatni kwartał roku. W nadchodzącym czasie będziecie mogli posłuchać i obejrzeć w Warszawie takie postaci jak: szefa wytwórni Keinemusik Adam Port w specjalnym, pięciogodzinnym secie "back2back" z &ME, którego w lipcu podziwiać mogła publika, zgromadzona na Sun/Day Audioriver Festival, wracający po 3 latach do Polski projekt AME Live. Po raz pierwszy w Polsce pojawią się również: największe objawienie ostatnich miesięcy belgijska DJ'ka i producentka, związana z Second State – Amelie Lens, izraelski reprezentant RUMORS – Chaim, piękna i zdolna Charlotte de Witte, przedstawiciel PC MUSIC – Danny L Harle w didżejskim secie, legenda izraelskiej sceny elektronicznej Gel Abril, którego produkcje zdobią katalogi takich wytwórni jak Be As One czy OVUM Recordings.
Ukontentowani będą też wszyscy miłośnicy cięższych brzmień, bo na Smolnej w nowym sezonie nie zabraknie również bezkompromisowego techno, a wszystko to za sprawą wizytacji: rezydentów Berghain/Panorama Bar – Answer Code Request, uwielbianych w Polsce Blawana w duecie z James Ruskin i Cassegrain & Tin Man w formule LIVE, a także za sprawą wytwórnianej nocy TOKEN NACHT w jej najmocniejszej konfiguracji: CTRLS, Kr!z & Phase.
Nie będą rozczarowani również wszyscy ci, którzy w muzyce szukają harmonii i melodyjności, bo to zapewnią: fantastyczny Vitalic LIVE, szefowie Afterlife – Tale of Us, charyzmatyczny Stephan Bodzin LIVE, Michael Mayer z 5-godzinnym, winylowym setem, Konstantin Sibold, Kollektiv Turmstrasse, kopenhaski producent i multiinstrumentalista Kasper Bjorke oraz szaman Damian Lazarus, którego występy na żywo to jedno z najbardziej pożądanych wydarzeń na całym klubowym świecie.
Jesień i zima na Smolnej upłynie również pod znakiem historycznych wizyt: po raz pierwszy w klubowej przestrzeni pojawi się Monika Kruse, supergrupa Hercules & Love Affair live, a także Pantha Du Prince. Całości dopełnią minimalowi pionierzy ze stajni M_NUS: Jon Gaiser LIVE oraz Matador LIVE, który odwiedzi Smolną w ramach światowej trasy EGG LDN, a także ostatni z wymienionych, ale o największym ciężarze gatunkowym: Ilario Alicante w ramach Cocoon Night i ojciec chrzestny gatunku – Jeff Mills. Jesteśmy przekonani, że tak zróżnicowany i atrakcyjny program trafi w gusta nawet najbardziej wymagających słuchaczy.