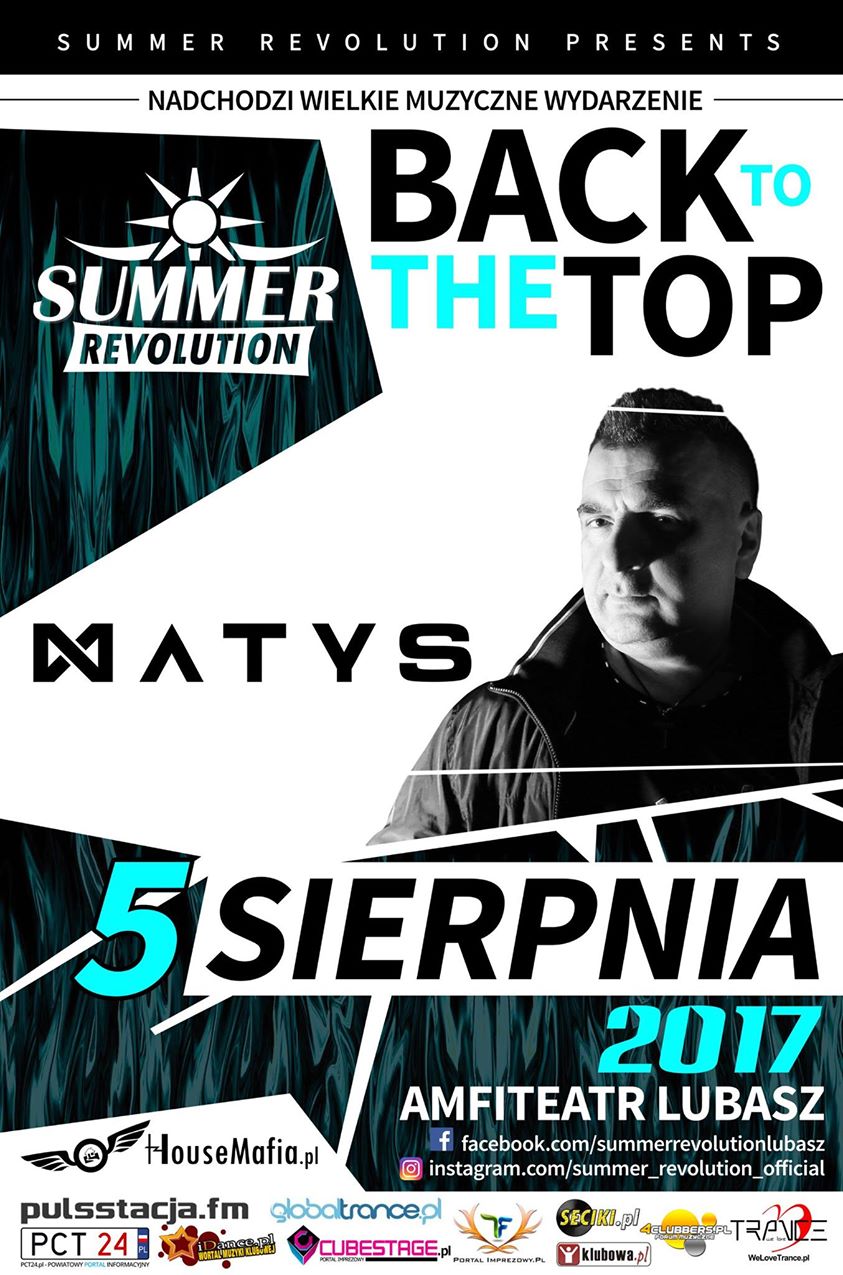 Czas na drugiego headliner'a Summer Revolution "Back To The Top", a jest nim doskonale wszystkim znany dj Matys
Legenda Polskiej sceny klubowej! Uczestnik największych Polskich eventów oraz festiwali.
Dj Matys - czyli Jacek, tej postaci w Polskiej scenie klubowej nie musimy chyba nikomu przedstawiać. No może dzisiejszej młodzieży zakochanej w rytmach elektroniki... Starsi klubowicze nie mogą zapomnieć Jacka pochodzącego ze Sląska, który jako jedyny Polak doczekał się współpracy z największymi jak na owe czasy artystami! Pierwsze kroki w dj'ce stawiał w małych klubach w towarzystwie bardziej doświadczonych przyjaciół. Wytrwałość ta przyczyniła się do obsady rezydentury w klubie "Galeria". To w tym miejscu nastąpiła jego największa przemiana Za sprawa zaproszenia do Polski w 2002 roku niemieckiego producenta, gwiazdy wielkiego formatu na owe czasy, a mianowicie Marc'a Van Linden'a Zwykły support za konsola przerodził się w coś więcej. Tak narodziła się dobra przyjaźń, a także partnerstwo. Co w efekcie przyniosło wspaniale produkcje. Swoje pierwsze kroi produkcyjne Jacek zaczynał w studio Marc'a van Lidena, a w późniejszym czasie już stworzył swoje własne. Któż z Nas nie pamięta takich klasyków jak "Orgazm The Flight" czy "Am2Pm", które stały się sztandarowymi kawałkami, znanymi m.in. z Sunrise Festival. Do dziś to muzyczna "lektura obowiązkowa" na najlepszych imprezach.
Media:
https://www.facebook.com/matysdj
https://www.youtube.com/user/micomiss/featured
https://soundcloud.com/matys-music
Link do wydarzenia: Summer Revolution
Przypominamy że przedsprzedaż biletów rusza 15 maja.
I pula (15.05-16.07) - 20 zł
II pula (w dniu imprezy) - 30 zł