Śmiało można stwierdzić, że na swoją 10 rocznicę istnienia Tomorrowland przygotowało naprawdę niesamowity lineup na każdą ze scen, jeszcze raz potwierdzając tym samym, że tego lata kierunek na Belgię będzie jedynym słusznym.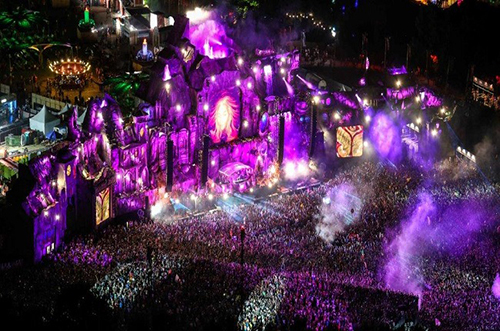 Tegoroczna, obejmująca dwa weekendy, edycja będzie po brzegi wypełniona świetnymi występami, nie tylko artystów grających solo, ale również z partnerami w b2b. To nie pierwszy raz kiedy na imprezie artyści występują ramię w ramię z innymi producentami i DJami. Tegoroczne zapowiadają się bardzo intrygująco, a uczestnicy obu weekendów nie będą mieli powodów do narzekania. Oto rozpiska tego, czego będzie się można spodziewać po każdym z nich:
7. Shermanology b2b Bassjackers (Weekend 2)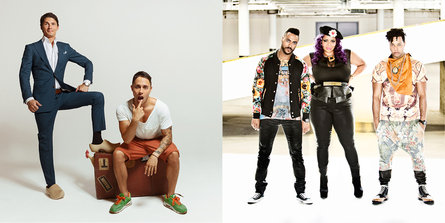 Dla wielu nie ma nic lepszego niż b2b holenderskich w klimatach dutch, wypełniony mocnym electro-house i wokalami. Takie wrażenia zapewnią uczestnikom Shermanology oraz Bassjackers. Rodzeństwo Sherman z pewnością zagra swoje produkcje, takie jak "Who we are" oraz "Can't stop me". A dla chłopaków z Bassjackers 2014 obowiązkowym będzie ich najnowszy remiks dla "Derp" oraz zremiksowany przez Garrixa "Crackin'". Tak więc belgijski b2b będzie tu wisienką na torcie i ukoronowaniem dokonań. Wszystko to na scenie Smash the House w niedzielę.
6. Felix Cartal b2b Autoerotique (oba weekendy)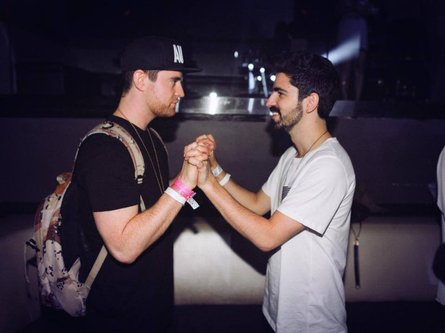 Ten specjalny b2b ekipy Dim Mak wyciśnie z Was siódme poty. Producent Felix Cartal to mistrz remiksów, najbardziej znany z tych dla Zedd "Clarity" oraz "Light Em' Up" The Loops of Fury. Z drugiej strony pochodzący z Toronto Autoerotique mają już spore doświadczenie na scenie, jako, że produkuje od 17 roku życia. Swój przełom zaliczyli w 2009 ze swoim hitem "Gladiator". Czyli znowu set wypełniony electro-house i wyrazistymi trackami autorstwa obu ekip, jak na przykład "Alarm". Miejscem obu setów będzie scena Dim Mak w piątki.
5. Endyminion b2b Frequencerz (Weekend 1) & Endyminion b2b Ran-D (Weekend 2)
Q-Dance zdecydowało się pokazać na tegorocznym festiwalu 2 unikalne sety. Endyminion rozgrzewać będzie publiczność w oba weekendy tracklistą z utworami takimi jak "Inexcusable" oraz "Antidote". Oba tracki zostały stworzone wspólnie z ich partnerami w b2b - Frequencerz oraz Antidote. Wszystkie trzy ekipy dzielą pasję do hardstyle i grały już w całej Europie. Jeśli więc oczekujecie na chwilę "wytchnienia" przy hardstyle, to będą sety warte uwagi w obie festiwalowe niedziele.
4. Aly & Fila b2b John O'Callaghan (oba weekendy)
Punkt obowiązkowy trasy zwiedzania dla każdego miłośnika trance. Egipscy książęta, Aly & Fila po raz kolejny połączą siły z irlandzkim producentem, Johnem O'Callaghanem na oba weekendy festiwalu. Egipcjanie są doskonale znani ze swojego radioshow "Future sound of Egypt", a na scenie działają już od 2002 roku. Ich "We control the sunlight" zostało w 2011 roku wybrane przez Armina van Buurena utworem roku, a panowie od 2008 roku nieustannie plasują się na szczycie plebiscytu DJ Maga. John O'Callaghan ma podobne osiągnięcia - utwór roku 2007, współpraca z takimi artystami jak Bryan Kearney i Leon Boiler. Oto międzynarodowe gwiazdy trance, które w obie soboty pojawią się na scenie Full On Ferry'ego Corstena.
3. Trzy legendy - Steve Aoki, Dimitri Vegas, & Like Mike (oba weekendy)
Kolejny unikalny b2b, tym razem na mainstage to 3 legendarne postaci tej imprezy: szef Dim Mak - Steve Aoki oraz niezwykle znany w Europie duet Dimitri Vegas i Like Mike. Cała trójka doskonale się zna, współpracując chociażby przy trackach takich jak "Feedback". Wspólny projekt całej trójki miał się pojawić już w Miami, ale w ostatniej chwili trzeba go było przełożyć na późniejszy termin. Wystąpią na scenie głównej, dla Steve'a będzie to kolejny występ "z kimś" po dobrze odebranym secie wspólnie z Afrojackiem pod Aliasem Afroki. Dla Dimitri Vegasa i Like Mike'a będzie to 3 występ na scenie głównej festiwalu, ale pierwszy b2b z innym artystą.
2. Sander Van Doorn b2b Yves V (oba weekendy)
Kolejne mocne zestawienie gwarantujące epickie wrażenia. Szefowie Doorn Records i V Sessions zagrają na swojej scenie. Dla Sandera kariera na dobre rozpoczęła się w 2008 roku od otrzymania nagrody dla "Najbardziej obiecującego młodego DJa". Już w 2011 roku był headlinerem wielu festiwali, takich jak EDC, Mysteryland czy Sensation i twórcą hitowych "Koko" i "Nothing Inside". Yves V jest dobrze znany w Europie, ale i na świecie jego dokonania nie przeszły bez echa po hicie "Cloudbreaker". Sety obu panów w obie niedziele na scenie Doorn Records & V Sessions.
1. Hardwell b2b Tiesto (oba weekendy)
Prawdopodobnie największe wydarzenia obu weekendów czyli wspólny set DJa #1 na świecie - Hardwella i prawdziwej legendy - Tiesto. Dla Hardwella pomiędzy jednym Tomorrowland a drugim był to iście nieprawdopdoobny rok, począwszy od seta na scenie głównej festiwalu w 2013 roku, który zobaczyły miliony ludzi. Postaci Tiesto przedstawiać nie trzeba. Zapowiada się naprawdę spektakularny moment festiwalu, tym bardziej, że obaj panowie mieli już nie raz okazję pracować wspólnie, że wspomnę tylko ich produkcję "Zero 76" z 2011. B2B prawdopodobnie wypełnią nowe utwory, występny gościnne innych artystów i specjalnie na tę okazję przygotowana pirotechnika.
Autor:
Zbigniew "Emill" Pławecki (CubeStage.pl)

Wszystkie prawa zastrzeżone. Kopiowanie i rozprzestrzenianie artykułu bez zgody autora jest zabronione! Prawo chronione przez ustawę z dnia 4 lutego 1994 r. o prawie autorskim i prawach pokrewnych: Dz.U. z 1994 r. Nr 24, poz. 83.