Oto ciekawostka dotycząca Massachusetts Institute Of Technology (M.I.T.) oraz Sierra Leone w Afryce i w pewnym sensie tematu bycia DJem, tyle, że radiowym. Ciekawe połączenie? Otóż, pewien nastolatek z Serra Leone miał okazję brać udział w warsztatach zorganizowanych przez M.I.T. Zainspirowało go to do dłubania w elektronice na własną rękę i z tak zwanych elektronicznych śmieci, zebranych na okolicznych złomowiskach stworzył coś, co odmieniło życie jego wioski.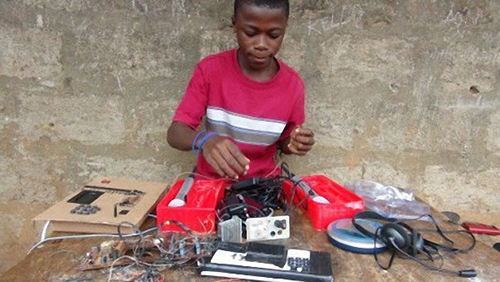 Otóż, po odświeżeniu zebranych części i przy wykorzystaniu wiedzy nabytej w warsztacie powstało przenośne źródło prądu, generator i przekaźnik fal radiowych FM. Tym samym uruchomił pierwszą w okolicy rozgłośnię radiową, a sam stał się w niej DJ Focusem. Oto krótki film jak DJ Focus na zaproszenie M.I.T. przybywa do Stanów i pracuje nad kolejnymi wynalazkami.
Autor:
Zbigniew "Emill" Pławecki (CubeStage.pl)

Wszystkie prawa zastrzeżone. Kopiowanie i rozprzestrzenianie artykułu bez zgody autora jest zabronione! Prawo chronione przez ustawę z dnia 4 lutego 1994 r. o prawie autorskim i prawach pokrewnych: Dz.U. z 1994 r. Nr 24, poz. 83.