Przyszła pora na dawkę kolejnych newsów związanych z tegorocznym, dwudniowym wydarzeniem Electrocity, które już 15 i 16 sierpnia ponownie zawita do Klasztoru Cystersów w Lubiążu. Zgodnie z obietnicą mamy dla Was szczegóły dotyczące pola namiotowego, także dwudniowe imprezowanie nie będzie stanowić dla Was problemu. Ponadto informacje o terminie drugiej puli biletów i to, na co chyba wszyscy czekamy, pierwsze nazwiska Electrocity 9. Ujawnianie line-upu zaczynamy od powracającej sceny Gate To Hell!
POLE NAMIOTOWE
Jak informowaliśmy niedawno, na terenach przyległych klasztorowi zorganizowane będzie pole namiotowe, aby jak najwięcej z Was mogło bawić się przez całe dwa dni nie martwiąc się o bazę noclegową.
Agencja Soundtrade we współpracy z firmą TOI TOI Polska przygotowała dla Was TOI Camp, w którym w dniach od 14 do 17 sierpnia, będziecie mogli rozbić własne namioty nie martwiąc się m.in. o prysznice, toalety, bezpieczeństwo czy dostęp do jedzenia. Pozwoli to Wam w pełni skupić się tylko i wyłącznie na zabawie. Oto szczegóły:

Dostępność TOI Camp:
Od 14.08.2014 (czwartek) od godziny 17.00 do 17.08.14 (niedziela) do godziny 14.00

Udogodnienia:
- Ogrodzony i oświetlony teren,
- Całodobowa ochrona,
- Punkt gastronomiczny z napojami i ciepłymi posiłkami,
- Węzeł sanitarny zapewniający prysznice i umywalki z gorącą wodą,
- Kontenery z toaletami,
- Boisko do piłki siatkowej,
- Basen,
- Depozyt (opcja dodatkowo płatna),
- Możliwość podłączenia urządzeń elektrycznych do prądu (opcja dodatkowo płatna),
- Oznakowane miejsce na namiot,
- Punkt medyczny,
- Obsługa pracowników TOI Camp.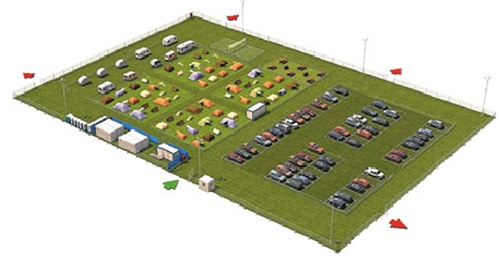 Cennik:
1 doba z 14 na 15 sierpnia – 30zł/osoba
1 doba z 15 na 16 sierpnia – 35zł/osoba
1 doba z 16 na 17 sierpnia – 40zł/osoba
Pełny pakiet (3 doby) – 65zł/osoba
Bilety dostępne od 31 marca od godziny 20.00 na www.toicamp.eu/rezerwacje.php. Liczba miejsc ograniczona.

Uwaga! Osoby wykupujące pobyt na polu namiotowym mają gwarantowany wstęp na darmowy event Electrocity hosts Aly & Fila pres. FSOE 350 w dniu 15 sierpnia 2014. W przypadku pozostałych uczestników obowiązuje zasada "kto pierwszy ten lepszy" i w momencie gdy teren imprezy wypełni się uczestnikami do granic pojemności, będziemy zmuszeni zaprzestać wpuszczania chętnych.
DRUGA PULA BILETÓW
Sprzedaż biletów pierwszej puli w cenie 89zł zakończy się 26 marca o godzinie 22.00 (środa), więc są to ostatnie dni kiedy możecie je kupić po możliwie najniższej cenie. Druga pula biletów na Electrocity 9, które odbędzie się 16 sierpnia na terenie Klasztoru Cystersów w Lubiążu, pojawi się w sprzedaży 31 marca w cenie 109zł. Sprzedaż niezmiennie będzie się odbywać za pośrednictwem portalu FTB.PL
1 pula biletów na Electrocity 9 (89zł): www.wlotki.pl/zamow_bilet/577/electrocity-9.htm
POWRÓT SCENY GATE TO HELL
Podczas Electrocity 9 znów stanie piekielna scena Gate To Hell! Klasztorne mury ponownie dostaną porządną dawkę mocnego uderzenia. Będzie to jedna z niewielu okazji aby fani muzyki Hardstyle znów spotkali się w jednym miejscu na całonocnym szaleństwie. Tylko w Lubiążu! Tylko podczas Electrocity 9! Za scenę Gate To Hell odpowiedzialni w tym roku będą:
- Alpha2
- Toneshifterz
- Driver
- Digital Abuse
- Regain
- Outworld
- Overbizz
- Q-Factor
Aby być na bieżąco ze wszystkimi, nawet tymi najmniejszymi, newsami koniecznie zaglądajcie na www.facebook.com/electrocityofficial. Kolejnye newsy już wkrótce. Do zobaczenia w Lubiążu!