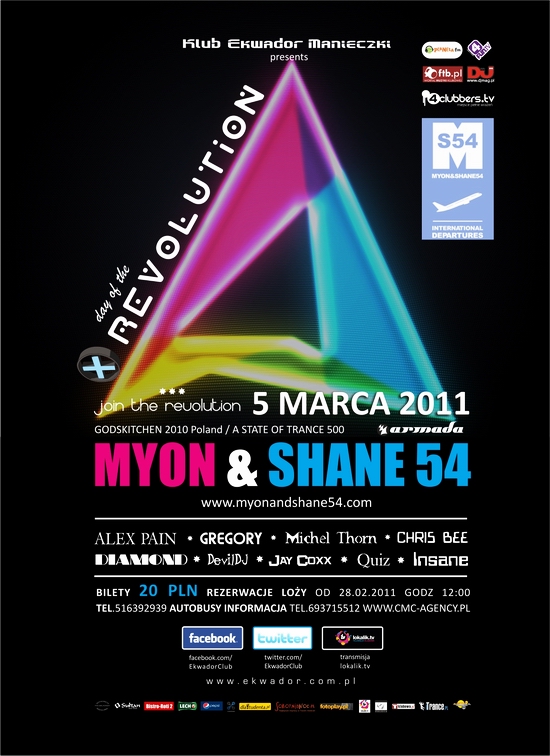 Myon & Shane 54 może i nie mają długiej historii, ale zdołali osiągnąć, godny uwagi sukces, dzięki produkcjom i remiksom, które stworzyli.W pierwszej kolejności, duet rozpoczął działać osobno, chociaż Shane 54 & Myon generalnie istniał.
Remiksy dla Paula Oakenfolda, Above & Beyond oraz wytwórni Vandit – to z jednej strony. Z drugiej jednak trzykrotne wydawnictwa dla Black Hole Recordings. Panowie faktycznie rozpoczęli pracę jak prawdziwy zespół, a nie tylko dwóch gości, którzy zdecydowali się współpracować przez kilka miesięcy.
"Posiadamy tę niesamowitą więź muzyczną" – mówi Myon, 24-letni Węgier, pochodzący z południa (Szeged). "Kiedy jeden z nas rozpoczyna "muzyczne zdanie", drugi je zakańcza, tak jak to powinno być. Trochę to dziwaczne, ale bardzo pożyteczne: razem jesteśmy bardzo efektywni."
Muzyka mówi sama za siebie;  remiks "Andy Moor & Carrie Skipper – So Much More (Myon & Shane 54 Remix)" zdobył pierwsze miejsce w jednym z najbardziej znanych, internetowych "sklepów muzycznych" – Beatport.com.
W ciągu kilku tygodni trzy remiksy w ich wykonaniu zostały wybrane jako "Record Of The Week", w cotygodniowej audycji Above & Beyond – Trance Around The World. W tejże audycji mieli okazję wystąpić, a jak się później okazało, 30-minutowy set został okrzyknięty jako "Guestmix Of The Year". Nawiasem mówiąc wywołało to wyraźne poruszenie na forum Anjunabeats.
Jeden z ich autorskich utworów – "Not A Lot Left", również okazał się wielkim w wytwórni Anjunabeats: znalazł się on bowiem na kompilacji Above & Beyond – "Anjunabeats Vol. 6". Autorzy sami twierdzą, że tamtego lata, to właśnie ten kawałek był ich najlepszą produkcją.  Tak więc co tu dużo mówić: duet został bardzo dobrze przyjęty i polubiony przez trio ;)
Ale to był dopiero początek: po tym jak "zagościli" na kompilacji Armin'a van Buuren'a – "A State Of Trance 2008" (oraz niezliczoną ilość razy w jego audycji radiowej), Myon & Shane 54 zostali poproszeni o zremiksowanie "Never Say Never" do nowego albumu Armina – "Imagine The Remixes".
Obecnie chłopaki znów pracują nad czymś wielkim: zaoferowano im zmiksowanie kompilacji dla Armady, kapitalnej wytwórni Armin'a van Buuren'a. Tracklista jest pełna ekskluzywnego materiału, w większości kawałki lubiane przez Myon'a i Shane'a, niektóre zaś nigdy nie słyszane lub nie będące wcześniej dostępne.
Tak więc pozostaje cierpliwie czekać na ich występ LIVE w klubie Ekwador podczas Day of the Revolution – 5 Marca.