Nadchodzi dzień rewolucji !!! Początek roku dla Ekwadoru okazał się tektonicznym wydarzeniem, które wstrząsnęło wszystkimi muzycznymi sektorami polskiej sceny klubowej: Andy Moor, Richard Durand, Ummet Ozcan,Mike Shiver,Ben Nicky sprawili, że od ich bitów zabawa sięgała sufitu Ekwadoru! Teraz przyszła kolej na noc, która na zawsze przejdzie do historii muzyki klubowej w Polsce jako muzyczne objawienie trance & progressive, które sprawi,  że weźmiecie udział w międzyplanetarnym odlocie z najlepszymi pilotami jakimi poszczycić się może globalna scena muzyczna: MYON & SHANE54 – gwiazdy ASOT 500 tylko w Ekwadorze!
Duet, który znalazł sobie specjalizację: mistrzowie mashupów i remixów. Ich praca nie jest instrumentalna, oni dyrygują całą orkiestrą muzycznych brzmień i konwersji, które doprowadzają do muzycznego obłędu i podziwu takie gwiazdy jak Armin Van Buuren, Tiesto czy Above & Beyond.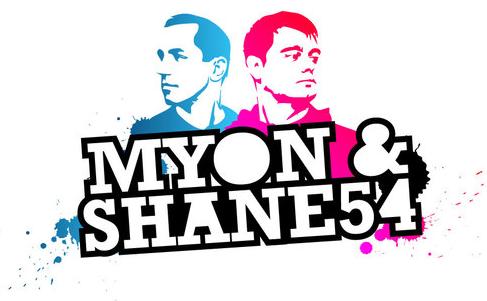 Formacja słynie z gigantycznego zaufania wśród artystów na całym świecie. Rzadko kiedy się zdarza, aby to sami artyści udostępniali innym producentom swoje wokale po to aby stworzyli oni mashupy ich przebojów. Tak jest w przypadku Myon & Shane54, którzy mają praktycznie nieograniczony dostęp do wszystkich wokali, które im się podobają i wobec których mają koncepcję na połączenie dwóch, albo i więcej numerów z jeszcze innymi wokalami. Bardzo często jest też tak, że po wykonaniu przeróbki otrzymują propozycję aby stała się ona oficjalnym remixem, albo ich praca jest inspiracją dla innych artystów. Takie były losy mashupu Oceanlab On a Good Day z Gareth Emery Metropolis, który pierwotnie stworzyli Myon & Shane54, a który ostatecznie został wydany jako kolaboracja Above & Beyond z Garethem Emery.
Ale Myon & Shane54 słyną nie tylko z mistrzoskich remixów i mashupów, ale również z techniki miksowania i intensywności ich setów. Ostatnie tygodnie pokazały, że artyści potrafią dokonać nie lada wyczynu i podczas swojego 60-minutowego wystąpienia zmiksowali łącznie 100 produkcji! Z całą pewnością wyznacza to nową jakość zarówno w obszarze wystąpień DJ, jak i samej technice miksowania! I to właśnie ta nowa jakość będzie rewolucją w Ekwadorze już 5 marca, kiedy to Myon & Shane54 dokonają marcowego trzęsienia ziemi w Manieczkach!
Tej nocy sporo również świeżej i młodej krwi. Gościem specjalnym będzie również były rezydent klubu Terminal – Alex Pain, którego mamy nadzieję przyjmiecie z ogromnym szacunkiem.
Tak więc pozostaje cierpliwie czekać na ich występ LIVE w klubie Ekwador podczas day of the Revolution.
Line up:
MYON & SHANE 54
Alex Pain (ex resident Terminal Club)
Michel Thorn
Gregory
Chris Bee
Diamond
Devil DJ
Quiz
Insane
Data imprezy
5.03.2011 Sobota
start godz. 21:00
koniec 5:00
bilety 20 zł
w kasie klubu
Rezerwacje loży
Od Poniedziałku 28 Lutego
godz 12:00
Tel 516 39 29 39
Planeta FM – oficjalny patronat
Codziennie Godz 19:00
Program Ekwador Time
90,6 oraz 99,4
Wejściówki do wygrania również na
4Fun.Tv
Bądź na bieżąco – wygrywaj wejściówki
Wyślij sms o treści Ekwador na numer 516392939.
Będziesz informowany na bieżąco o imprezach w Ekwadorze.
Bierzesz udział w losowaniu co imprezę darmowych wejściówek.
SMS wysyłasz raz ! więcej info na www.ekwador.com.pl/sms
Usługa darmowa, koszt wysłania sms według stawki operatora.
Autobusy z Poznania oraz Leszna
Info tel:693715512
Lokalizacja:
Klub Ekwador
Manieczki
Ul. Wybickiego
www.ekwador.com.pl/forum