Nazwa imprezy: Essential Vibes pres. Polish Talents Night vol. 3
Data imprezy: 22.06.2013
Lokalizacja: Klub K8 – Warszawa, ul. Kolejowa 8/10
Start: 21:00
Cena: 25 PLN
Wydarzenie: https://www.facebook.com/events/150868551764421/

Przed nami okres letni. Zarówno dla was jak i dla nas jest to czas odpoczynku, relaksu i regeneracji. Zanim jednak wszyscy udamy się na zasłużone urlopy, ekipa Essential Vibes postanowiła pożegnać się z wami mocnym akcentem. Organizując nasze wydarzenia zawsze staramy się kłaść nacisk na Dj'ów i producentów z Polski. Uważamy, że w niczym oni nie odbiegają od lansowanych zagranicznych nazwisk a nawet w wielu przypadkach przerastają ich umiejętnościami. Niestety nie wszyscy to doceniają i dlatego właśnie po raz trzeci organizujemy cykl imprezy Polish Talents Night. Line Up otwiera wszystkim doskonale znany Skytech – Polska perełka w stajni Coldharbour, mający za sobą występy obok największych gwiazd światowego formatu jak i supporty największych producentów naszego globu. Naszymi kolejnymi gośćmi którzy zagrają w warszawskim klubie K8 będzie poznański duet Purple Stories. Chłopaki mają już za sobą pierwszą oficjalną epkę we wcześniej już wspominanym Coldharbour ale również i szereg innych bardzo dobrych produkcji w takich labelach jak Flashover czy In Trance We Trust. Uważamy że jest to aktualnie jeden z najszybciej rozwijających się projektów muzycznych w naszym kraju. Naturalnie na imprezie Essential Vibes nie może zabraknąć reprezentanta klimatów UK/Tech Trance. Tym razem będzie to Cristian Ketelaars. Mimo młodego wieku ma na swoim koncie bardzo dużą ilość remixów, mash'upów i reworków, jak i również występ na jednym z większych festiwali w Argentynie. Skład domyka dwójka przedstawicieli Essential Vibes: Paul Cogito, który na tej imprezie wystąpi w bardziej progresywnej odsłonie oraz Matthew Pear dbający zawsze o dobre mocne brzmienia z rodziny 140bpm. Naturalnie nie zabraknie debiutu młodego talentu. Tym razem zagra świetnie zapowiadający się producent Abandoned Rainbow. Jak widać powyżej skład prezentuje szerokie spektrum muzyki Trance w którym każdy znajdzie coś dla siebie. Po wakacjach mamy wiele planów, ale jak wiecie możliwość ich realizacji weryfikujecie WY! Zapraszamy serdecznie!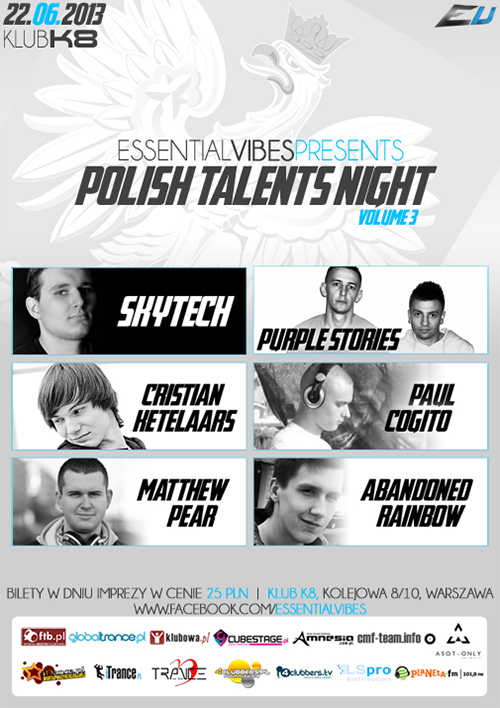 Line up:
Skytech
Purple Stories
Cristian Ketelaars
Paul Cogito
Matthew Pear
Abandoned Rainbow