Nazwa imprezy: We Love Ultra Music Festival
Data imprezy: 24.05.2013
Lokalizacja: Klub Miami-Nice - Słupsk, Al. Jedności Narodowej 4-5
Start: 21:00
Cena: Panie: 5 PLN do 22:00, potem 10 PLN
Panowie: 10 PLN
Pary (Pan+Pani): 15 PLN

Kiedy spoglądasz za okno, a tam szaro i ponuro. Kiedy stwierdzasz, że przydałoby się w Słupsku trochę słońca i pozytywnej energii... PRZYCHODZIMY Z POMOCĄ!
Na pewno kojarzysz największe światowe festiwale takie jak: Tomorrowland, Ultra Music Festival. Zawsze w Twojej głowie pojawiały się myśli: Też chce się tak bawić, ale nie mam gdzie, Brakuje dobrych imprez... W piątek 24 maja, wszystko to stanie się już historią.
24 maja w Klubie Miami-Nice przy ul. Jedności Narodowej 4-5 w Słupsku, odbędzie się pierwsza z cyklu fan-impreza pod hasłem "We Love Ultra Music Festival". Na tym evencie, nie zabraknie muzyki, przy której ciało samo zaczyna tańczyć!
Jeżeli jesteś za pan brat z House, Electro-House, Dutch-House, Progressive-House czy też Progressive Trance..
Jeżeli lubisz się dobrze bawić i lubisz dobrą muzykę...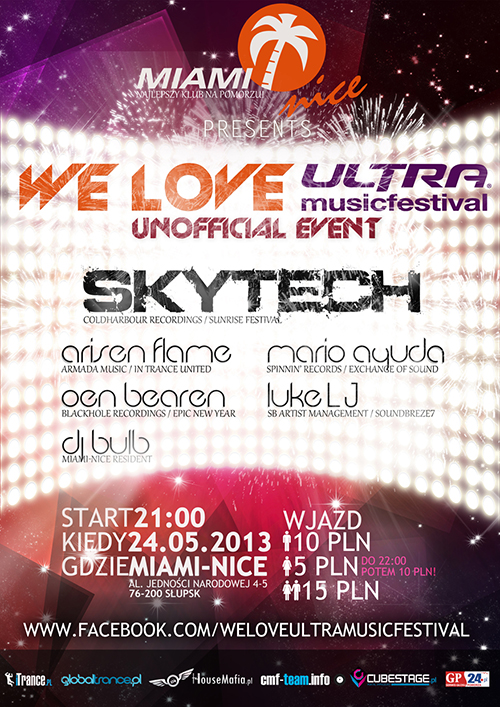 Ta impreza jest właśnie dla Ciebie!

Specjalnie dla Ciebie, przyjadą zauważeni na światowej scenie EDM (Electronic Dance Music) artyści tacy jak:
Skytech (Coldharbour / Sunrise Festival)
Przedstawiciel polskiej branży muzyki elektronicznej w kategorii mosiężnych, progresywno-trance'owych zajawek. Można było go usłyszeć na Sunrise Festival, jak i na enTrance! Zadebiutował już także w USA i UK. Jego produkcje podbijają serca nie tylko polaków ale fanów na całym świecie!
Arisen Flame (Armada Music / In Trance United)
Człowiek, który jest nową ostoją progresywnego transu. Jego utwór 'Concept' dostrzeżony przez samego Armin'a Van Buuren'a, był grany na każdym evencie z cyklu ASOT. To osiągnięcie mówi samo za siebie - nie mamy doczynienia z nowicjuszem!
Mario Ayuda (Spinnin' Recordings / Exchange Of Sound Festival)
Bez swojej ciężkiej pracy nie osiągnął by nic. Jednak została ona doceniona m.in. przez Dash'a Berlina, Markusa Schulz'a, Leon'a Bolier'a czy słynny label Armada Music. Jak dotąd wystąpił np. na Exchange Of Sound Festival!
Oen Bearen (Blackhole Recordings / Epic New Year)
Spontaniczny i nieprzewidywalny - zarażający pozytywną energią. Tak mówili o nim po jego festiwalowym debiucie na Epic New Year w Bydgoszczy. Rodem ze Słupska, nigdy nie przestał wierzyć w pozytywną energie swoich produkcji i to doprowadziło go do sławetnego Blackhole Recordings!
LukeLJ
Nowa krew na polskiej scenie Electro Housowej. Z zamiłowania DJ z marzeniami o produkcji muzyki. W swoich setach stawia na polot, którego mu nie brakuje! Sami poczujecie w swoich lędźwiach, jak to jest być podczas jego setu na parkiecie!
Dj Bulb
Rezydent klubu, który bezbłędnie poprowadzi Warm Up imprezy!
To i jeszcze więcej, zobaczysz w Klubie Miami-Nice!
Do zobaczenia!