12.02.2011 – XIII Urodziny klubu Ekwador.
Na rok 2011 Ekwador ogłosił ambitny plan przekroczenia wszelkich możliwych granic w rozwoju clubbingu i nie tylko ugruntowania swojej pozycji lidera wśród klubów w Polsce, ale także postawienie Ekwadoru w jednym szeregu pod kątem jakości gwiazd występujących w klubie z największymi eventami i festiwalami w naszym kraju! Osiągnięcie poziomu zachwytu polskich klubowiczów, dzięki któremu będą oni generować 23 tysiące megawatów pozytywnej energii trance'owej Ekwador zapowiada "tak szybko jak to możliwe"!
Aby ten cel osiągnąć Ekwador już teraz zawarł szereg kontraktów z gwiazdami, które mają wystąpić w 2011 roku w klubie. O tym, że klub pracuje od kilku ostatnich miesięcy nad przygotowaniem miażdżącego cały sektor klubowy w Polsce lineupu na nadchodzący sezon, który zaskoczy nie tylko globalnym formatem gwiazd, ale także debiutami w Polsce DJ-ów z czołówek rankingów popularności, a którzy jeszcze nie mieli okazji występować dla polskiej publiczności! Bez żadnych wątpliwości i szybciej niż ktokolwiek mógłby sądzić w tej chwili Ekwador jest uważany za najbardziej zaawansowany pod kątem dostarczanej klubowiczom jakości gwiazd i tym samym poziomu euforii i zadowolenia z ekwadorskich eventów.
Dotychczasowa koncepcja urodzinowych eventów w Ekwadorze skupiała się na zapraszania DJ-skich duetów – w akcji widzieliśmy już Blank & Jones, Cosmic Gate, czy Kyua & Albert. W tym roku zdecydowano się odejść od utartego schematu i dokonać zmian, by móc wymóc tym samym realizację kolejnego etapu rozwoju klubu. Dlatego już dzisiaj Ekwador ujawnia gwiazdy, które wzbogacą urodzinowe szaleństwo, tym samym wyjaśniają się wszystkie niewiadome dotyczące programu urodzinowego klubu! Gwiazdorskie rewelacje, połączone z doniesieniami z różnych portali clubbingowych w Polsce, rozwiązują zaniepokojenie klubowiczów dotyczących tego, czy i tym razem urodziny Ekwadoru nuklearnymi bitami zmiotą z powierzchni globu wszystkie inne imprezy tego typu. To są największe trance'owe urodziny w historii Ekwadoru!
To nie jest impreza urodzinowa. To Birthday Event, festiwal trance w Ekwadorze, na którym wystąpią: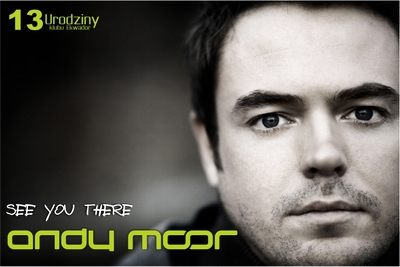 Andy Moor
Gdziekolwiek nie wystąpi, czy to na A State of Trance 450 we Wrocławiu, czy na czeskim flagowym festiwalu Trancemission to jego sety zawsze zostają okrzyknięte najlepszymi eventu! Jego kolaboracje z Above & Beyond czy Markusem Schulzem do dzisiaj uchodzą za najlepsze niszczyciele parkietów!
Mike Shiver
Jest gwiazdą, która lśni na globalnej scenie już od dawna. Ciągle wschodzi, a dzięki nieustannemu rozwojowi swojej kultury muzycznej nieustannie znajduje się w czołówce sceny Trance. Mike Shiver jest jednym z najczęściej komentowanych talentów w przeciągu ostatnich lat. Od momentu wdarcia się na scenę w 2003r z jedną z najbardziej ekscytujących produkcji roku był: 'Mike Shiver – Feelings (Lost Language)', Mike pracował z takimi wytwórniami jak Armada Music, Nebula Records, Euphonic Records, Lost Language, czy Coldharbour a lista wciąż pozostaje otwarta. Poprzez wspaniałe remixy dobrze znanych numerów takich jak Solarstone, Ronski Speed (Sun Decade), Mike Koglin, Lost Witness, Alex M.O.R.P.H, Markus Schulz, David West (Antiloop), Darude, Mark Pledger (Smith & Pledger), i Benno De Goeij (Rank 1) utrzymują się one przez długi czas w unowocześnionych wersjach, przy pomocy świeżego materiału.
Ben Nickey (PIERWSZY RAZ W POLSCE!)
Międzynarodowa wschodząca gwiazda sceny trance, który bardzo dobrze jest już kojarzony w zachodniej Europie, Rosji, USA, Malcie, Niemczech, Tunezji czy też na białej wyspie - Ibizie. Brytyjczyk, niedawno został okrzyknięty przez Armina Van Buurena jako "obecnie najciężej pracujący nad swoją karierą i rozwojem talentu DJ z brytyjskiej sceny trance". Jego talent zostały docenione przez Armada Music, dla której wydaje i produkuje remiksy, ale także i przez znanych artystów jak Calvin Harris, Giuseppe Ottaviani czy First State. Jest DJ-em, który regularnie występuje jako support takich gwiazd jak Paul Van Dyk, Above and Beyond, Ferry Corsten, Eddie Halliwell, Markus Schulz & Pete Tong.
Tych nie dwóch jak dotychczas, ale trzech artystów, przejmie całkowitą kontrolę nad Ekwadorem i dokona swoistej tranceowej masakry, której skala euforii przekroczy znacznie poziom grubości absolutnej wprowadzając tym samym jakość urodzinowego eventu klubowego na jeszcze wyższy poziom!
Ponadmaksymalna zabawa za minimalną cenę: Ekwador przekracza granice i pokazuje, że można organizować eventy za które nie trzeba płacić 100 czy 200zł. ANDY MOOR, MIKE SHIVER & BEN NICKEY wystąpią dla Was w cenie 25zł!
Trance'owa grubość absolutna może się wydarzyć tylko w Ekwadorze!
To będzie event urodzinowy, który będziecie opowiadać wszystkim swoich znajomym z wielką euforią i zadowoleniem zaczynając relację do słowa: MASAKRA!!!!
Ekwador nie organizuje imprez. Od tego są dyskoteki. Ekwador organizuje eventy.
Relację Video przeprowadzi 4clubbers.tv
Line up:
Andy Moor
Mike Shiver
Ben Nicky
Support:
Fafaq
Thruggar
Oen Bearen
MdK
Quiz
Insane
ANDY MOOR
MIKE SHIVER
Data imprezy
12.02.2011 Sobota
start godz. 21:00
koniec 5:00
bilety 25zł
w kasie klubu
Rezerwacje loży
Od Poniedziałku 7 Lutego
godz 12:00
Tel 516 39 29 39
Planeta FM – oficjalny patronat
Codziennie Godz 19:00
Program Ekwador Time
90,6 oraz 99,4
Wejściówki do wygrania również na
4Fun.Tv
Bądź na bieżąco – wygrywaj wejściówki
Wyślij sms o treści Ekwador na numer 516392939.
Będziesz informowany na bieżąco o imprezach w Ekwadorze.
Bierzesz udział w losowaniu co imprezę darmowych wejściówek.
SMS wysyłasz raz ! więcej info na www.ekwador.com.pl/sms
Usługa darmowa, koszt wysłania sms według stawki operatora.
Autobusy z Poznania oraz Leszna
Info tel:693715512
Lokalizacja:
Klub Ekwador
Manieczki
Ul.Wybickiego
www.ekwador.com.pl/forum