Nazwa imprezy: WE LOVE TRANCE 250
Data imprezy: 16.03.2013
Lokalizacja: Klub TUNEL - Poznań, ul. Wrocławska 4 (wejście od ul. Koziej)
Start: 21:00
Cena: 10 PLN
Wydarzenie: www.facebook.com/events/564624326899691/?ref=ts&fref=ts
Historia lubi się powtarzać? Nie u nas! Ubiegłoroczne świętowanie 200 audycji We Love Trance w Poznaniu zakończyło się ogromnym sukcesem. Tamtej marcowej nocy klubowicze dopisali w 100%, a w line-upie znalazło się aż dziewięciu djów. Rok później uderzamy nie z podwójną, a potrójną mocą!
Tym razem parkietów oraz djów będzie aż trzykrotnie więcej - to wszystko z okazji We Love Trance 250!
16 marca to dzień, w którym na antenie radia Planeta Poznań usłyszycie 250 wydanie audycji Next DJa – We Love Trance. Wystartowała ponad pięć lat temu, od blisko trzech lat co tydzień pojawia się na falach najbardziej klubowego radia w tej części Polski. Aktualnie możecie jej słuchać zawsze z piątku na sobotę od 1:00 do 2:00 – w Poznaniu na 90.6 FM, w Wielkopolsce na 99.4 FM, na całym świecie na www.poznan.planeta.fm.
Klubowe edycje We Love Trance odbywają się regularnie już od dwóch lat w rozmaitych lokalizacjach. Tym razem, kilkanaście godzin po premierze 250 wydania audycji, rozpocznie się wielkie świętowanie w zupełnie nowym miejscu – w samym sercu Poznania, dosłownie kilkanaście metrów od Starego Rynku. Tunel Club (ex IQ) to miejsce, w którym znajdziecie aż trzy parkiety taneczne – wszystkie zostaną wykorzystane już 16 marca, w czasie imprezy We Love Trance 250.
Do udziału w wydarzeniu zostało zaproszonych aż 27 djów – w żadnym innym polskim klubie nie usłyszycie jednej nocy tylu transowych djów! Wśród artystów, którzy pojawią się tej nocy w Tunelu,
znajduje się spora liczba utalentowanych producentów i remikserów, których poczynania doceniane są przez największe światowe gwiazdy muzyki trance, z Arminem van Buurenem na czele! Dwie główne gwiazdy We Love Trance 250 to Tiddey oraz A.R.D.I.

Tiddey jest weteranem polskiej sceny trance – miał okazję stanąć za konsoletą podczas takich wydarzeń jak Sunrise Festival, Global Gathering, enTrance, Revolution, Independance, Welcome To Amnesia Ibiza, Dancetination, Creamfields, Electrocity czy Stadium Of Sound. Grał w wielu zakątkach świata, jednak największym sukcesem jest zdecydowanie występ na holenderskim Trance Energy. Remix Orjana Nilsena do jego produkcji "Keep Waiting" w ciągu dwóch tygodni emisji w audycji Armina van Buurena zdobył zarówno miano "Tune Of The Week", jak i "Future Favorite". Kilka miesięcy później Armin sięgnął po niego miksując "A State Of Trance Year Mix 2011". Tiddey ma na koncie również autorski album "Life Goes On…", wydany w Sony Music.
www.youtube.com/watch?v=fuqMnMEm0W0
A.R.D.I. to 21-letni mieszkaniec Lublina. Choć produkować na szeroką skalę rozpoczął niespełna trzy lata temu, jego kariera z dnia na dzień nabiera coraz większego rozpędu. W ubiegłym roku Armin van Buuren bardzo mocno supportował jego produckję "Premoniton" – zarówno podczas imprez na całym świecie, jak również w swojej audycji A State Of Trance, gdzie zdobył zaszczytny tytuł "Tune of the Week". Pojawił się także na kompilacji "A State Of Trance Year Mix 2012". Najnowszy singiel "Hopeful" również można było usłyszeć w ASOT, a także znaleźć go w trackliście kompilacji "Pure Trance", zmiksowanej przez Solarstone. Dotychczas miał okazję grać już między innymi w Czechach, na Węgrzech oraz na Ukrainie.
www.youtube.com/watch?v=KIrhGfC8uSU
To nie koniec producentów w line-upie We Love Trance 250! Cristian Ketelaars od lat specjalizuje się w tworzeniu reworków znanych produkcji, zajmuje się także remiksami oraz produkcją autorskich numerów. Występował już na Słowacji, w Czechach i Irlandii, a już wkrótce zagra również w Argentynie. Aly & Fila, Markus Schulz czy Giuseppe Ottaviani, to tylko pierwsze trzy nazwiska długiej listy djów, którzy grają produkcje duetu Blue Silence – panowie zadebiutują za konsoletą już w sobotę 16 marca w Tunelu. Mike van Fabio & X-Thoff to kolejny duet djsko-producencki z ciekawymi osiągnięciami na koncie – te pseudonimy pojawiały się już przy okazji ogłoszenia zwycięskiego remiksu w konkursie Tritonal, a także w tracklistach takich artystów jak Armin van Buuren, Aly & Fila, Roger Shah czy Manuel le Saux.
To zaledwie kilka nazwisk z ogromnego line-upu, który został przygotowany na sobotę 16 marca do poznańskiego klubu Tunel. Zapisujcie w kalendarzach, informujcie znajomych – niech padnie kolejny rekord frekwencji. Niech muzyka nas łączy!
UWAGA!
W trakcie imprezy odbędzie się zbiórka pieniędzy na rzecz Zuzanny Szkudlarek.
Więcej informacji: www.zuzannaszkudlarek.jms.pl

Podczas We Love Trance 250 swoje urodziny będzie świętował Arusha!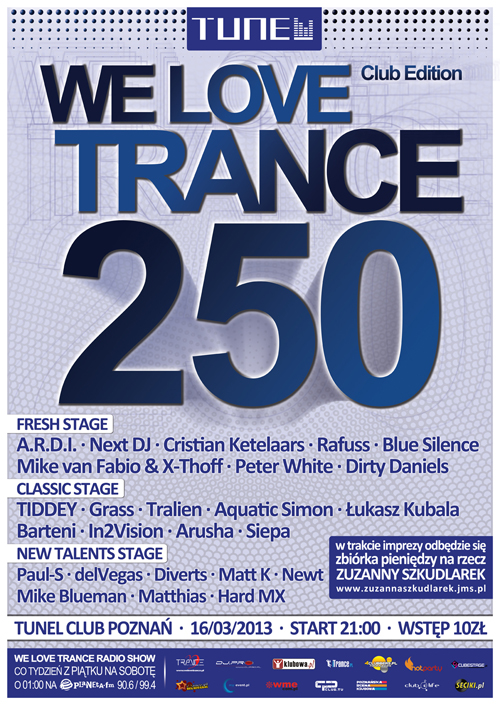 LINE-UP
FRESH STAGE:

A.R.D.I.
www.fb.com/pages/ARDI/196234323745617?ref=ts&fref=ts
Next DJ
www.fb.com/nextdjofficial
Cristian Ketelaars
www.fb.com/cristian.ketelaars
Rafuss
www.fb.com/deejayrafussofficial
Blue Silence
www.fb.com/officialbluesilence
Mike van Fabio & X-Thoff
www.fb.com/MikeVanFabioMusic
www.fb.com/xthoff
Peter White
www.fb.com/djpeterwhite
Dirty Daniels
www.fb.com/djdirtydaniels

CLASSIC STAGE:

Tiddey
www.fb.com/TiddeyMusic
Grass
www.fb.com/djgrassproject
Tralien
www.fb.com/tralienofficial
Aquatic Simon
www.fb.com/AquaticSimon
Łukasz Kubala
www.fb.com/kubalalukasz
Barteni
www.fb.com/DjBarteni
In2Vision
www.fb.com/in2visionofficial
Arusha
www.fb.com/arushaofficial
Siepa
www.fb.com/siepamusic

NEW TALENTS STAGE:

Paul-S
www.fb.com/paulsofficial
delVegas
www.fb.com/delVEGasMusic
Diverts
www.fb.com/DjDiverts
Matt K
www.fb.com/DjMatk
Newt
www.fb.com/newtmusic
Mike Blueman
www.fb.com/michal.lis.92
Matthias
www.fb.com/maciej.matthiasmikolajewski1
Hard MX
www.fb.com/DJ.HARD.MX