Nazwa imprezy: CAFE MIĘSNA - TECHNO MATTERS vol. 7 with SIASIA
Data imprezy: 02.03.2013
Lokalizacja: Cafe Mięsna - Poznań, Garbary 62
Start: 22:00
Cena: 10 LN / 15 PLN *PO 23:30
Wydarzenie: https://www.facebook.com/events/160403154109356/?fref=ts
Klub Cafe Mięsna oraz poznański kolektyw Blair Bitch Project we współpracy z Tralienem zapraszają na kolejną edycję cyklicznej imprezy pod hasłem Techno Matters. Tym razem pełna petarda. Siasia, człowiek, którego techno maniakom przedstawiać raczej nie trzeba. Dj i producent, który grał na takich imprezach jak: Mayday, Love Parade, Sunrise Festival, Soundtropolis i wielu wielu innych, a już 02.03 zaszczyci nas swoją obecnością w klubie Cafe Mięsna. Prócz niego cała śmietanka poznańskiego techno: Yan Koveeaq, Carl Xim, Tralien, Thomas Palec, Vista, Nick Nade, Tayler, Urszula Skurat, Teston, Tawbaq oraz Blair Bitch Project. Na poprzedniej edycji zamknęliśmy parkiet w Mięsnej o 7:30, mam nadzieję, że tym razem pobijemy ten rekord.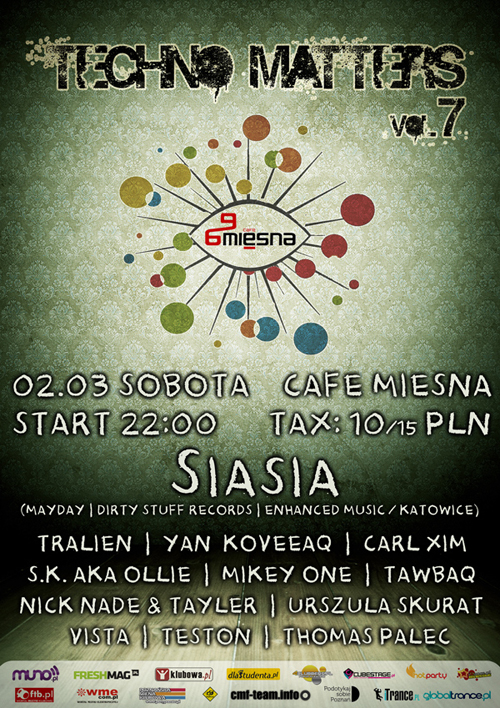 LINEUP:
► SIASIA (Mayday | Dirty Stuff | Enchanced Music / Katowice)
https://www.facebook.com/Siasia.DSR
► Tralien (Magnetic Sounds)
https://www.facebook.com/tralienofficial
► Yan Koveeaq (Poznań)
https://soundcloud.com/rave7
► Carl Xim (DI.fm)
https://www.facebook.com/carlxim
► Nick Nade & Tayler (Berlin, Poznań)
https://www.facebook.com/NickNade
► Tawbaq (Dirty Stuff Rec)
https://www.facebook.com/TawbaqOfficial
► Vista
https://www.facebook.com/vista.dj
► Teston
► Thomas Palec (Poznań)
https://www.facebook.com/thomaspalecofficial
► S.K. aka oLLie (Blair Bitch Project)
https://www.facebook.com/BlairB.Project
https://soundcloud.com/stanakaollie
► Mikey One (Blair Bitch Project)
https://www.facebook.com/BlairB.Project
► Urszula Skurat (Poznań)

Klika słów o gwieździe:
Człowiek-instytucja, prawdopodobnie najważniejsza persona na technicznej mapie Polski. Właściciel prężnie działającej wytwórni Dirty Stuff, promotor, producent ale przede wszystkim twórca niezliczonej ilości niezapomnianych setów – Siasia. To właśnie dzięki nim Siasia podbił techniczne serca Polaków, stawiając go na szczycie najlepszych polskich djów. Niebezpieczne, hipnotyczne, szczere Techno podane ze szwajcarska precyzją – to właśnie Siasia".

Występy w klubach całej Polski a także poza nią: Niemcy, Irlandia, Szkocja, Anglia…
Występy na najważniejszych eventach: Love Parade 2006 w Berline; Mayday Polska 2002, 2006, 2012; Soundtropolis PL 2005,2006,2007,2011; Creamfields PL 2006; Nature One PL 2007; Tunnel Electrocity 2008; Sunrise Festival 2010
DJ, producent, promotor, właściciel wytwórni (Dirty Stuff Records). Pochodzący z Katowic, Siasia to bez wątpienia jedna z najdłużej działających i najbardziej rozpoznawalnych postaci na polskiej scenie muzyki elektronicznej. Zadebiutował w 1996r jako 13 latek w lokalnej rozgłośni radiowej w audycji "Zerwij Sufit". Od tej pory zaczął regularnie grywać w klubach całego Śląska. Siasia bardzo szybko zaczął zdobywać uznanie. Zaledwie 2 lata później był już rezydentem słynnego nie tylko w kraju ale także poza jego granicami klubu "Kanty" w Jaworznie z którym związany był do końca 2004r. Po rozstaniu z klubem Kanty, Siasia zajął się organizacją własnych imprez. Wraz z przyjaciółmi z ówczesnej agencji K.O. Booking wziął pod swoje skrzydła klub Ego (Katowice). Pod koniec 2005r związał się z agencją Substanz Art. We wrześniu 2006 dołączył do katowickiego Inq w ktorym rezyduje i organizuje imprezy do dnia dzisiejszego. Od listopada 2012 mozecie sluchac jego autorskiej audycji radiowej 'Dirty Stuff with Siasia' w RMF Club.