Nazwa imprezy: Jody Wisternoff aka Way Out West
Data imprezy:13.12.2013
Lokalizacja: Klub Minus Music, Warszawa, ul. Chmielna 9
Start: 21:00
Cena: 20 / 25 PLN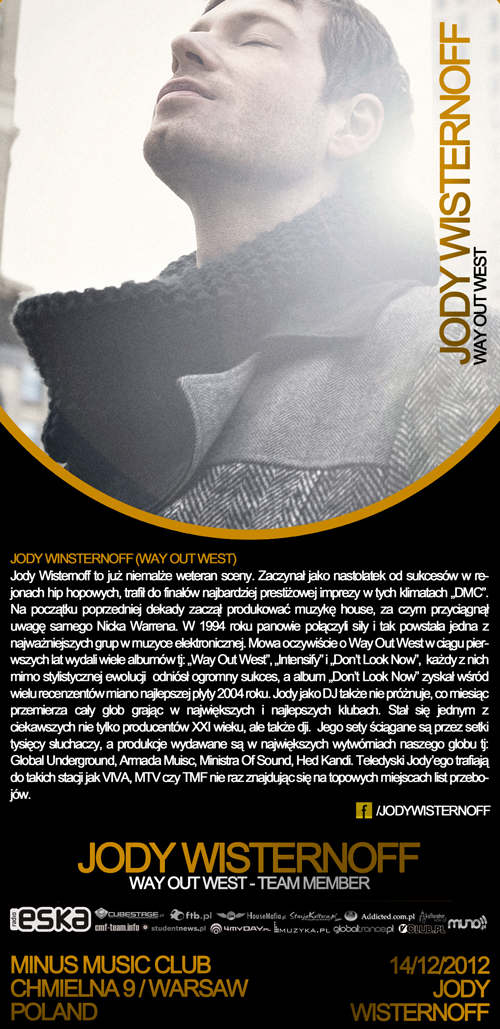 Jody Wisternoff to już niemalże weteran sceny. Zaczynał jako nastolatek od sukcesów w rejonach hip hopowych, trafił do finałów najbardziej prestiżowej imprezy w tych klimatach "DMC". Na początku poprzedniej dekady zaczął produkować muzykę house, za czym przyciągnął uwagę samego Nicka Warrena. W 1994 roku panowie połączyli siły i tak powstała jedna z najważniejszych grup w muzyce elektronicznej. Mowa oczywiście o Way Out West w ciągu pierwszych lat wydali wiele albumów tj: "Way Out West", "Intensify" i "Don't Look Now", każdy z nich mimo stylistycznej ewolucji odniósł ogromny sukces, a album "Don't Look Now" zyskał wśród wielu recenzentów miano najlepszej płyty 2004 roku. Jody jako DJ także nie próżnuje, co miesiąc przemierza cały glob grając w największych i najlepszych klubach. Stał się jednym z ciekawszych nie tylko producentów XXI wieku, ale także dji. Jego sety ściągane są przez setki tysięcy słuchaczy, a produkcje wydawane są w największych wytwórniach naszego globu tj: Global Underground, Armada Muisc, Ministra Of Sound, Hed Kandi. Teledyski Jody'ego trafiają do takich stacji jak VIVA, MTV czy TMF nie raz znajdując się na topowych miejscach list przebojów.
Najnowszy klip od Jody'ego: http://www.youtube.com/watch?v=s75Y-WcAyvA
Support Dj's:
Cbass
Peres
Rafael Sane