Nazwa imprezy: Grand Thursday
Data imprezy: 13.12.2013
Lokalizacja: Klub Platinium, Warszawa, ul. Fredry 6
Start: 21:00
Cena: Standard 70 PLN
Czegoś takiego jeszcze nigdy nie było w Polsce!
Na scenie wystąpi kilka gwiazd światowego formatu w tym jeden Headliner z wysoką pozycją w tegorocznym TOP100 DJ MAG, a do tego światowy Live Act! Artyści to jedno...ale show! Przygotowaliśmy atrakcje które przeniosą was w Magiczny świat. Po raz pierwszy w Polsce wszystkie elementy będą ze sobą zintegrowane.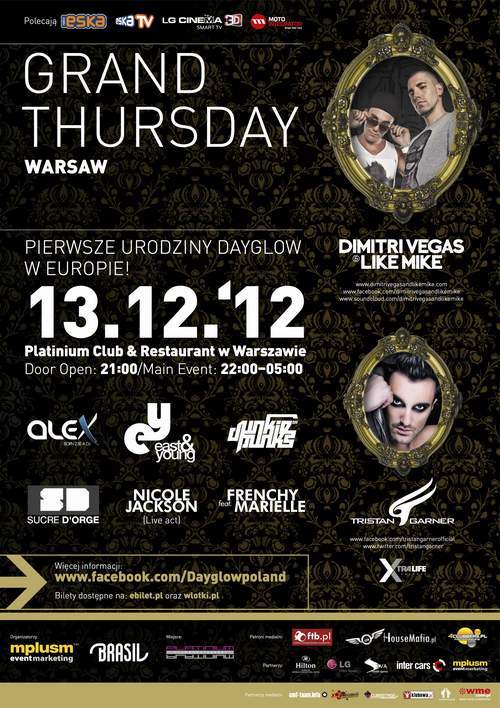 Największa impreza Klubowa w tym roku w Polsce!
Największy Line-up Klubowy w Historii!
Impreza ma charakter zamknięty. Limitowana sprzedaż biletów, gdyż wiele zaproszeń trafia do wyjątkowych Gości. Będą nimi nasi Partnerzy, Sponsorzy, Media, znane osobistości świata mody, kultury i sztuki. To będzie niezapomniana noc...noc cudów...noc która jest dla nas początkiem wielkich rzeczy, których będziecie świadkami w 2013 roku. Będzie to również impreza urodzinowa DAYGLOW. Tak, mamy już roczek w Europie. Zjemy więc wspólnie tort ;)
najgłośniejszy | najładniejszy, | najzabawniejszy | najseksowniejszy
najmodniejszy | must have
Line Up:
Chyba nikomu nie trzeba przedstawiać tego DUO. Dla wielu osób znani są przede wszystkim jako Ambasadorzy Tomorrowaland, na którym od kilku lat występują jako jedni z Headlinerów. Ich wysokie miejsce w tegorocznym DJ MAG TOP 100, jest potwierdzeniem ich popularności. Dla fanów, to gwarancja, że tego wieczoru na scenie będą się działy niesamowite rzeczy, a szampan będzie się lał strumieniami.
Producent oraz DJ z ponad 15 letnim stażem za konsoletą. Wieloletni rezydent jednego z największych klubów dolnego śląska. Przygodę z muzyką rozpoczął od nauki gry na pianinie lecz z biegiem lat czując niedosyt spróbował czegoś więcej… Gdy pierwszy raz stanął po "drugiej stronie", od razu wiedział że mixowanie muzyki dla ludzi jest jego przeznaczeniem... W 2011 roku został nr 2 rankingu FTB.pl jednak dla tysięcy fanów jest niekwestionowanym numerem 1. Słynie z nienagannej techniki oraz uniwersalności. Potrafi rozpalić publiczność grając Trance, ale i zaskoczyć Housowym repertuarem. Co nam zaprezentuje w Warszawie, biorąc pod uwagę pozostały skład? Przekonamy się już 13 grudnia!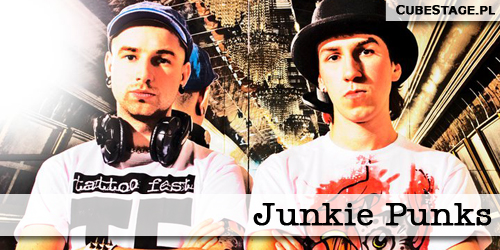 Kiedyś dwójka, obecnie trójka didżejów, promotorów, producentów z południowej części Polski. W przeciągu krótkiego okresu działalności mają na swoim koncie występy na takich festiwalach jak Heineken Opener Festival, No Border Music Festival, , goszcząc w najróżniejszych zakamarkach naszego kraju dzieląc scenę z takimi artystami jak Steve Aoki, The Bloody Beetroots, Gooral, Novika, Kamp!, Rebeka…
FACEBOOK: http://www.facebook.com/junkiepunksdj
SOUNDCLOUD: http://soundcloud.com/junkie-punks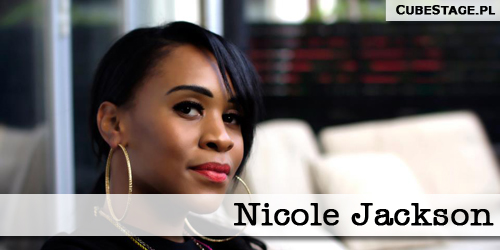 Młoda wocalistka o oryginalnym głosie. Kiedy Nicole pojawia się na scenie, serca panów zaczynają bić szybciej. Rozgłos przyniósł jej występ w programie X-Factor. W opinii sędziów była faworytką do wygranej…Kolejnym krokiem w jej karierze był kontrakt z grupą Redlight i właśnie z tym repertuarem zobaczymy ją w Warszawie.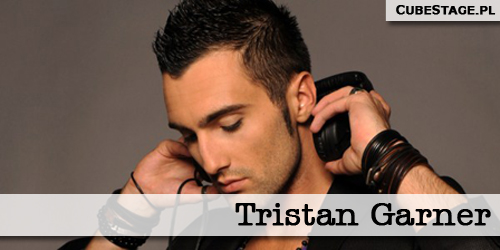 Po raz pierwszy w Polsce gościł za sprawą Dayglow w Warszawie.
Jego set został oceniony przez gości jako najlepszy. Niespotykana energia na scenie, wyczucie czasu, niesamowity kontakt z publicznością. Właśnie tym skradł serca Polskiej publiczności. Od 2011 roku Tristan nagrał kilka oryginalnych produkcji. Możemy więc być pewni, że na scenie czekają nas ostre turbulencje!
Można śmiało określić ich mianem "młodzi zdolni". Ich kariera nabrała już dużego rozpędu. Ich produkcje były grane przez największe nazwiska EDM, m.in. przez samego Tiesto. Ich obecność ma zagwarantować nam powiem świeżości oraz niezapomnianą przygodę na scenie!
Facebook: https://www.facebook.com/eastandyoung
WWW: http://www.eastandyoung.com/
Soundcloud: http://soundcloud.com/eastandyoung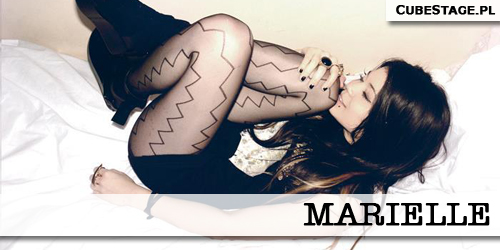 Jest zwariowaną, pełną zapału, gotową do ciężkiej pracy dziewczyną, która bardzo poważnie myśli o karierze muzycznej i cały czas rozwija się w tym kierunku. Chciałaby dzielić się swoją twórczością i miłością do muzyki i wie, że uda jej się to osiągnąć.
Facebook: https://www.facebook.com/MarielleBoguckaOfficial
Marc aka Frenchy. Jego pasję do muzyki możemy oglądać w Warszawskich klubach, gdzie występuje jaki HOST lub Raper. Od kilku lat pisze własne teksty, a próbkę swoich możliwości zaprezentował w nowym utworze Sucre D'orge.
W tym roku rozkochał w sobie Polskę biorąc udział w produkcji TVP "Bitwa na Głosy"
Facebook: https://www.facebook.com/pages/Frenchy/132027906833256?fref=ts
http://www.tvp.pl/rozrywka/programy-muzyczne/bitwa-na-glosy/wideo/kulisy/frenchy-i-mr-krowa/8730716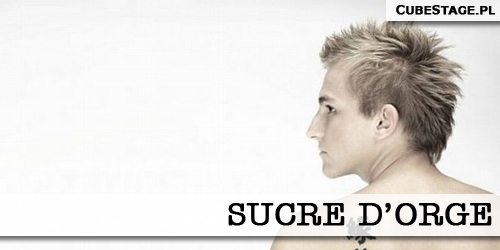 Przykład na to jak ciężką pracą można wywalczyć sobie miejsce na scenie. Rok 2013 będzie wielkim sprawdzianem dla Sucre. Rusza na podbój Europy.
Podczas Grad Thursday zobaczymy całkowicie nowe show, nad którym pracował.
Podczas występu będą mu towarzyszyć : Frenchy & Marielle, z którym nagrał swój nowy track. Jego premierę zapowiedzieli właśnie na 13.12.2012
Facebook: https://www.facebook.com/sucrepoland
Soundcloud: http://soundcloud.com/sucrepoland
Bilety:
http://wlotki.pl/bilety/impreza/28759/grand-thursday.htm
http://apps.facebook.com/ticketplanet/tickets.asp?iid=28759
Promotorzy w całym kraju
"Bootle Service" – strefa stolikowa – rezerwacje:
mailowo: Ten adres pocztowy jest chroniony przed spamowaniem. Aby go zobaczyć, konieczne jest włączenie w przeglądarce obsługi JavaScript.
Manager strefy: Monika 500 008 500
Zapraszamy do udziału w wydarzeniu: https://www.facebook.com/events/398722453531542/