Start imprezy godz. 20:00
31 Grudnia odbędzie się najważniejsza impreza sylwestrowa tego sezonu. Przywitanie nowe roku dla prawdziwych klubowiczy ma znacznie tylko i wyłącznie w Ekwadorze. Ten sezon obfituje w różne oferty, ale Ekwador stawia na sprawdzone i uwielbiane, przez miłośników klubu i zarówno trance'u i house'u, marki muzyki elektronicznej: pozdrawiający z Amsterdamu PERAN VAN DIJK oraz Gregory, który swoim house'owym show rozgrzewał Was na największych polskich festiwalach i eventach!
Ekwador jest niepowtarzalny i ciągle stanowi fundament polskiego clubbingu! Do tego specyficznego klubu o obłędnym klimacie i najlepszych klubowiczach w Polsce na NEW YEAR with EKWADOR przybędą gwiazdy, z którymi spędzicie niezapomniane godziny!  Dla wszystkich tych, którzy ponownie decydują się spędzić tę noc właśnie z nami. A także dla wszystkich tych, którzy się jeszcze wahają przygotowaliśmy wiele niespodzianek na tę noc! Jedzenie? Jak zwykle mamy dla Was przygotowany szwedzki stół wliczony w cenę biletu, nie zabraknie szampana dla każdego! A tuż po północy za deckami tego klubu po długiej nieobecności stanie jedyny Holender tak silnie emocjonalnie związany z tym miejscem – Peran Van Dijk, który wprowadzi Was z impetem w nowy klubowy sezon, w którym wszyscy będziecie chcieli być wolni i wyzwoleni od trosk życia codziennego!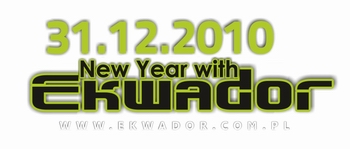 Już od kilku miesięcy dzwoni telefon klubowy z pytaniami o to, co tym razem przygotowano w Ekwadorze na Sylwestra. Z całą pewnością nie chcecie dłużej czekać i przekonać się jaką imprezę proponujemy Wam w tym roku ? Od lat spotkamy się tej szalonej nocy w Ekwadorze. Od lat też zachęcamy Was do zabawy w naszym kultowym klubie, a przecież doskonale wiecie, że to właśnie Ekwador ma największe w branży doświadczenia w organizowaniu klubowego sylwestra!
Peran Van Dijk swoją karierę DJ'a rozpoczął w Amsterdamie w 1997 roku, chociaż jego przygoda z muzyką zaczęła się już w 1994 roku. Swoje pierwsze kroki jako DJ stawiał amsterdamskim klubie iT. W owych latach był to jeden z najbardziej znanych klubów muzycznych na świecie. W tym samym czasie zajął się również produkcją muzyki klubowej, rozwijając swoje legendarne brzmienie. Był to okres świetności klubu iT. W niedługim czasie muzyka trance stała się popularnym gatunkiem muzycznym na całym świecie, dzięki czemu Peran zyskiwał coraz większą sławę. Po pewnym czasie wpadł na pomysł wyprawy dokoła świata, z realizacją którego nie miał najmniejszych problemów. Tworzenie remixów dla znanych artystów, umożliwiło mu pokazanie się w wielu miastach świata, jako znany amsterdamski producent/DJ. Swoją podróż rozpoczął w Los Angeles, którą kontynuował w Japonii, Południowej Ameryce, Azji, Izraelu, Niemczech, Hiszpanii, Polsce i trwa ona do dziś. W międzyczasie razem z DJ Jean'em stworzył utwór "Let yourself go", który przez kilka miesięcy utrzymywał się na szczytach list przebojów muzyki dance.
Jednak jego pierwszym międzynarodowym hitem był kawałek "Good time" z 2001 roku, który wspinał się prosto na szczyt brytyjskiej TOP 40. Utwór ten do dziś przez wielu uważany jest za hymn muzyki trance. Dużą publiczność Holender zdobył dzięki pomocy przyjaciół, takich jak DJ Jean czy DJ Delmundo oraz wielkiej wytwórni nagraniowej "Spinning records". Jako producent progressive house i trance, odwiedził Azję, Stany Zjednoczone, Europę. Najchętniej jednak gra
na dużych europejskich festiwalach, skupiających 10 000-20 000 tłum. Występował on wielokrotnie w Polsce na takich wydarzeniach muzycznych jak Amsterdam Dance Mission 2004, Sunrise Festiwal 2004, Beach Party Sopot.
Muzyczna machina czasu zostanie odpalona na ten wyjątkowy i niepowtarzalny wieczór. Po niewątpliwym sukcesie na imprezie z cyklu BTON otrzymaliśmy od Was sporą ilość maili, aby w line upie tegorocznej imprezy sylwestrowej pojawił się ten człowiek . Gregory ! Potrafi rozbawić nie tylko klubowiczów i entuzjastów muzyki : Disco House / Electro / House. Kiedy wraca do domu najczęściej słucha bluesa, muzyki pop, no i oczywiście muzyki klubowej. Muzykę jak mówi lubił od dziecka. W szkole podstawowej Gregory sam organizował i prowadził wszystkie szkolne imprezy. Dziś nie wyobraża sobie by mógł zajmować się czymkolwiek innym, niż prezentowaniem muzyki, która była, jest i będzie całym jego życiem.
W tym roku dwóch artystów występujących podczas Sylwestra w Ekwadorze swojego seta prezentują również w innych miejscach (Gregory, Insane) dlatego już dziś ogłaszamy oficjalny Time Table tej imprezy :
Time Table
20:00-00:30 Quiz
00:30-02:00 Peran Van Dijk
02:00-03:30 Gregory
03:30-05:00 Insane
Data imprezy
31.12.2010 Sobota
start godz. 20:00
koniec 5:00
bilety 29 zł
w dniu imprezy
w kasie klubu
Rezerwacje loży
Tel 516 39 29 39
Loże – (wraz z jedzeniem)
Cena loży – 5 osobowe 150zł oraz 8-9-12 osobowe 200 zł ,Vip 200 zł– płatne na konto bankowe
Wpłaty należy dokonywać na konto podanie w smsie po ustaleniu telefonicznym.
W tytule przelewu imię oraz nazwisko oraz numer loży np. Jan Kowalski "33"
Za wpłatą po uzgodnieniu telefonicznym klub Ekwador czeka 7 dni roboczych. Jeśli do tego czasu nie zostanie dokonana wpłata na konto które otrzymasz w smsie loża trafia do dalszej odsprzedaży.
Więcej informacji na www.ekwador.com.pl oraz www.ftb.pl
Planeta FM – oficjalny patronat
Codziennie Godz 19:00
Program Ekwador Time
90,6 oraz 99,4
Wejściówki do wygrania również na
4Fun.Tv
Bądź na bieżąco – wygrywaj wejściówki
Wyślij sms o treści Ekwador na numer 516392939.
Będziesz informowany na bieżąco o imprezach w Ekwadorze.
Bierzesz udział w losowaniu co imprezę darmowych wejściówek.
SMS wysyłasz raz ! więcej info na www.ekwador.com.pl/sms
Usługa darmowa, koszt wysłania sms według stawki operatora.
Autobusy z Poznania
Info tel:693715512
Lokalizacja:
Klub Ekwador
Manieczki
Ul.Wybickiego
www.ekwador.com.pl/forum