24.11.2012 Andrzejki – Największe trancowe wydarzenie w tym roku w Ekwadorze.

Pamiętacie Andrzejki 2008 jak po raz pierwszy w Ekwadorze zagrał Dash Berlin ? W tym roku postanowiliśmy powrócić do formuły imprezy i zaprosić gwiazdę która swoim formatem nie odstaje od największych trancowych królów tego gatunku muzycznego. To musiał być ktoś wyjątkowy kto jeszcze nie grał w tym miejscu. Udało się. Przedstawiamy wam gwiazdę TRANCE ONE- GIUSEPPE OTTAVIANI Live. Zaczął wydawać produkcje w labelu Paula Van Dyka - Vandit, w 2001 roku. Od tego właśnie czasu uważany jest za jednego z bardziej utalentowanych i wpływowych producentów muzyki Trance.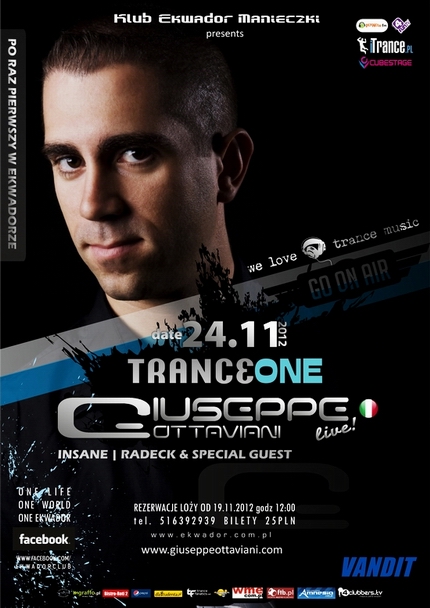 Pierwszy kontakt z edukacją muzyczną Giuseppe miał w wieku 4 lat, kiedy to rozpoczął naukę gry na pianinie. Po szkole muzycznej oraz studiach (w kierunku muzyki klasycznej), odkrył muzykę elektroniczną oraz zaczął zabawę jako DJ, grając w okolicznych klubach i w lokalnych stacjach radiowych.Wielki entuzjazm do wszelkich nowinek technicznych sprawił, że Giuseppe zaczął używać komputera do wszelkich prób robienia muzyki. W 1999 roku poznał Adrea Ribeccę, entuzjastę muzycznego i również DJa, z którym rozpoczął współpracę tworząc dobrze znany projekt Nu-NRG. Od tego czasu spod rąk Ottavianiego wychodziły wielkie klubowe hity, takie jak "Dreamland", "Butterfly", "Casino", "Connective" oraz "Free Fall".
Projekt został także dwukrotnie nagrodzony podczas Trance Award, jako najlepszy live-act (w 2004 i 2006 roku). Od 2005 roku Włoch rozpoczął także solowe występy oraz produkcję, która zaowocowała takimi przebojami, jak "Linking People", czy "Through Your Eyes". W dalszym ciągu jednak artysta bardzo ceni live-acty. Jak sam twierdzi, występ na żywo, w formie koncertu, pozwala na stworzenie prawdziwej więzi z publicznością, która może naprawdę poczuć muzykę.
We wrześniu 2009 roku Giuseppe Ottaviani wydaje swój debiutancki album zatytułowany "GO!", którym podsumowuje swoją dotychczasową, solową karierę DJa i producenta.
Mamy 2012 Rok a o Giuseppe od Listopada jest bardzo głośno, dlaczego ? może za sprawą ostatnich jego produkcji. Nie macie jeszcze planów na Andrzejki ? to chyba idealna propozycja.

Line Up

Giuseppe Ottaviani Live act
Radeck
Insane
Special guest
Data imprezy:
24.11.2012
start godz. 21:00
koniec 5:30
bilet:25zł
Rezerwacje loży
Od Poniedziałku 19 Listopada godz 12:00
Tel 516 39 29 39
Lokalizacja:
Klub Ekwador
Manieczki
Ul.Wybickiego
www.facebook.com/EkwadorClub
www.ekwador.com.pl