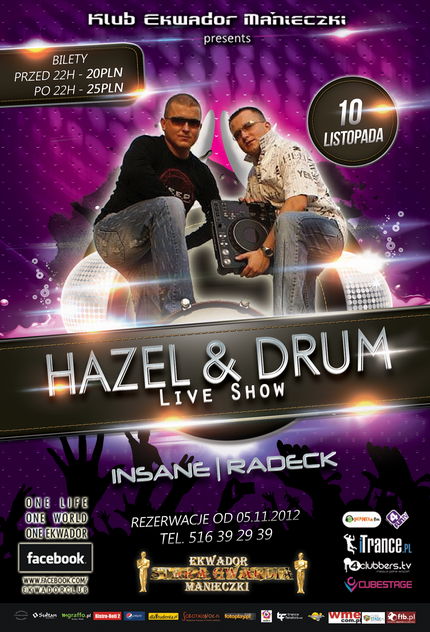 10.11.2012 Hazel & Drum Live Show.
Listopad to miesiąc bez względnie co roku należący do Ekwadoru, dlaczego, może dlatego iż w Andrzejki zawsze w Ekwadorze gościła mega gwiazda z najwyższej półki. Tym razem mamy rozgrzewkę przed tym co wydarzy się 24 Listopada.
10 Listopada z wielkim show po blisko 4 latach, powracają Hazel & Drum. Duet który został zapamiętany mocno po Sunrise with Ekwador w 2004. Dużo osób prosiło by to oni właśnie zagrali w Ekwadorze. Specjalnie przygotowana scena, klimat w który Was wprowadzą będzie z pewnością wyjątkowy . Wraz z nimi za deckami Ekwadoru dj Radeck, który powrócił na dobre oraz Insane – rezydent klubu Ekwador.
Wiele osób się zastanawia czy w końcu wystąpi ta mega gwiazda ? i czy jeszcze w tym roku ?
Odpowiadamy, tak tuż po imprezie Hazel & Drum widzimy się ponownie 24 Listopada.
Line Up
Hazel & Drum Live Show
Radeck
Insane
Special guest
Data imprezy:
10.11.2012
start godz. 21:00
koniec 5:30
bilet:20zł do 22:00
po 22:00 25zł
Rezerwacje loży
Od Poniedziałku 5 Listopada godz 12:00
Tel 516 39 29 39
Lokalizacja:
Klub Ekwador
Manieczki
Ul.Wybickiego
www.facebook.com/EkwadorClub