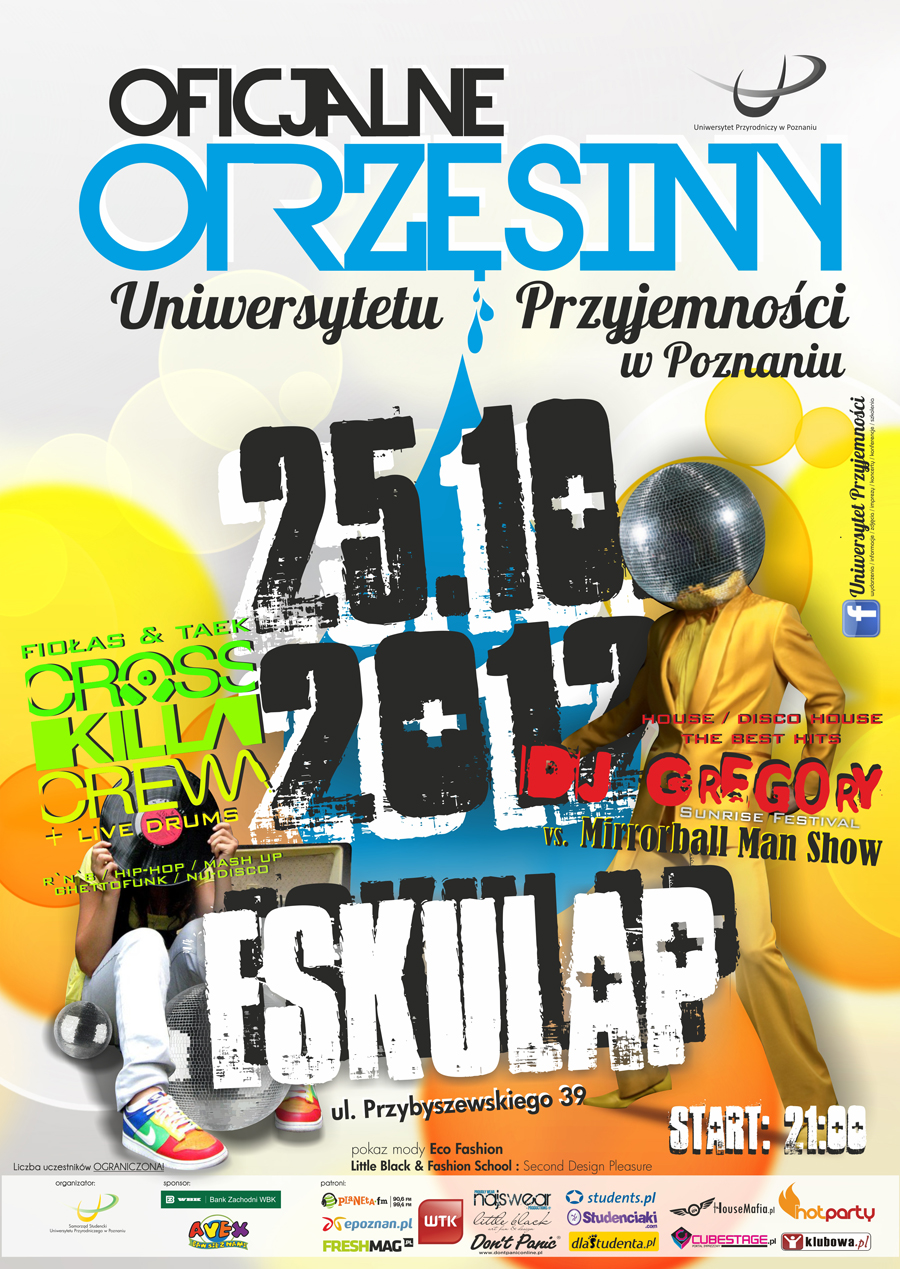 "Poznań - miasto doznań", czyli studencka stolica Wielkopolski, jak co roku przyciąga zastępy maturzystów chcących kontynuować edukacje na najlepszych uczelniach, najciekawszych kierunkach i w dodatku w najlepszym klimacie życia studenckiego. W związku z tym Samorząd Studentów Uniwersytetu Przyrodniczego w Poznaniu przygotował nie lada gratkę dla młodych żaków.

Jak pokazują ostatnie Imprezy organizowane przez UP, takie jak AGRONALIA 2012, również tym razem możemy się spodziewać olbrzymiej muzycznej petardy. Wielkie Otrzęsiny Przyjemności, już 25 października w legendarnym poznańskim Akademickim Centrum Kultury Eskulap, o pojemności prawie 1500 osób, po raz kolejny będziemy mogli bawić się na największym balecie w tej części roku akademickiego – Otrzęsinach Przyjemności! Zapewniamy masę atrakcji dla "świeżaków", a przede wszystkim gwarantujemy dobrą zabawę przy najlepszej muzyce granej na żywo oraz przez Dj-ów. Ponad 7 godzin solidnej zabawy w dwóch salach pozwoli nam godnie rozpocząć kolejny rok akademicki 2012/2013.


Na deskach Eskulapa będziemy gościć m.in.:
dolna sala: r`n`b / hip-hop / mash up/ ghettofunk / nu-disco

Dj Taek oraz DJ Fiołas + live drums - czyli CKC - oraz ich cykl autorskich imprez pt. "Loose Control" to nowy wymiar klubowych nocy w całym kraju, przy których Projekt X to balanga jak po komunii :) Noce z piątku na niedziele, wmawianie sobie `już więcej nie pije` oraz zakwasy, a na starość żylaki - to jedynie skutki uboczne.

Cross Killa Crew oraz ich Loose Control to audio & video show, podczas którego Taek i Fiołas miksują klipy i muze tylko w dobrym smaku.
Cross Killa Crew to projekt dwóch poznańskich DVj`ów, którzy na różnych frontach z muzyką działają od wielu lat. "


górna sala: electro, house, disco house, the Greatest Hits
Gregory vs. Mirrorball Man Show + gość niespodzianka.

DJ Gregory - w krótkim czasie zdobył serca rzeszy klubowiczów, stał się jednym z najbardziej popularnych i medialnych DJ-ów w Polsce. Showman, prezentujący szeroki wachlarz muzyczny, mistrz konsolety o nieprzewidywalnych możliwościach, człowiek o wielu twarzach z nieograniczoną liczbą pomysłów. Wylansował się na DJ serwującego niepowtarzalne tranceowo-houseowe mixy, którym zawsze towarzyszy wspaniała, światowa oprawa. Do największych i najbliższych sercu sukcesów zalicza niezapomniane, krajowe trasy koncertowe wraz z DJ-ami: Westbam, Blanc & Jones, ATB. oraz imprezy Sunrise Festiwal. W roku 2008 otrzymał nagrodę podczas Sunset Music Awards dla największego SHOWMENA na polskiej scenie klubowej. Swoim graniem rozgrzewa, inspiruje i zachwyca nie tylko w Polsce, z powodzeniem i ogromną sympatią został przyjęty także poza granicami kraju. Jest częstym gościem brytyjskich klubów, można go spotkać i posłuchać w Manchesterze - Tangled Club i Boulevard Club Carnival.

Tego wieczoru nie zabraknie emocji, konkursów oraz energii.
Symulator RODEO Avex, bitej śmietany nie powinno zabraknąć dla nikogo! ;)

Zaproszenia dostępne w Klubie w dniu imprezy:
5zł – I rok UP (do 22:30, po 10zł) - za okazaniem legitymacji/zaświadczenia
10zł – I rok Reszty Świata (do 22:30, po 15zł)
10zł – pozostali z UP
15zł – Reszta Świata
(Wstęp od 18 roku życia + obowiązek posiadania przy sobie dowodu osobistego)
Liczba uczestników OGRANICZONA.