Bemowo Surround Sound Festival – Warszawa 22.09.2012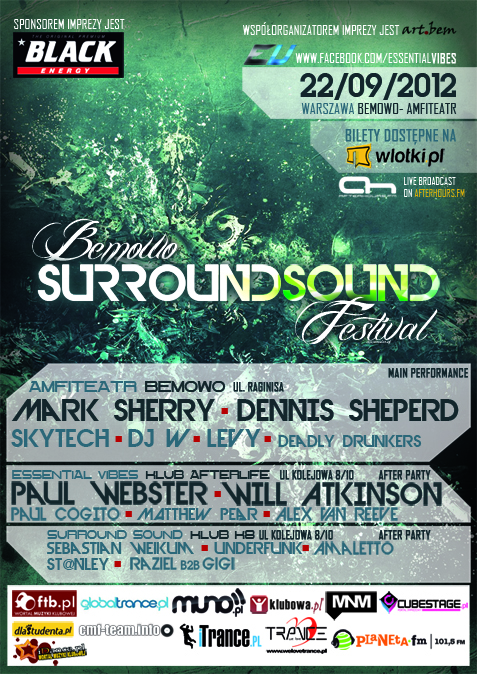 Kolektyw Essential Vibes wraz z zespołem Surround Sound mają zaszczyt zaprosić na unikalną imprezę na warszawskiej scenie klubowej. Dzięki współpracy z Bemowskim Centrum Kultury Artbem podnosimy poprzeczkę względem naszych poprzednich imprez i prezentujemy Bemowo Surround Sound Festival. Impreza ta będzie składała się z dwóch części – dziennej oraz nocnej. Za dnia zapraszamy do nowoczesnego amfiteatru na warszawskim Bemowie gdzie pierwsi artyści rozpoczną festiwal już od godziny 15.30. Daje to możliwość przybycia na to wydarzenie rodzinom z dziećmi - młodych adeptów muzyki elektronicznej, trzeba szkolić od dzieciństwa :). Część dzienna w amfiteatrze będzie trwać do godziny 22:30 natomiast już od 22:00 startuje część nocna. Odbędzie się ona w dwóch klubach przy ulicy Kolejowej 8/10 – Afterlife oraz K8, które zostaną połączone tej nocy. Stawiamy jak zawsze na niesamowity klimat i zaspokojenie potrzeb muzycznych wszystkich naszych gości. Dlatego właśnie zaprosiliśmy na to wydarzenie 4 gwiazdy zagraniczne oraz wiele renomowanych polskich artystów. Niesamowitych wrażeń dostarczą nam producenci wydający w takich wytwórniach jak Spinnin, High Contrast Recordings czy Armada. Tak właśnie prezentuje się Line up:
Mark Sherry (UK)
Dennis Sheperd (DE)
Paul Webster (IRE)
Will Atkinson (UK)
Skytech
DJ W
Levy
Deadly Drunkers
Paul Cogito
Matthew Pear
Alex van Reeve
Sebastian Weikum
Underfunk
Amaletto
Raziel b2b Gigi
Dla tych, którzy nie będą mogli uczestniczyć w imprezie osobiście – nic straconego! Transmisję live przeprowadzi dobrze znane wszystkim radio Afterhours.fm
Bilety do nabycia w cenie 40 zł w serwisie wlotki.pl oraz w kasach Art Bem.
Bilet upoważnia do wstępu zarówno do amfiteatru jak i do obu klubów.
UWAGA ! Amfiteatr ma ograniczoną pojemność w związku z czym zalecamy nie zwlekać z nabyciem wejściówek.
Info: https://www.facebook.com/EssentialVibes
Sponsorem imprezy jest BLACK ENERGY DRINK - http://www.blackpower.pl/
Wpółorganizatorem imprezy jest art.bem - http://artbem.pl/
Partnerzy:
FTB.pl – www.ftb.pl
Global Trance – www.globaltrance.pl
Muno.pl – www.muno.pl
Klubowa.pl – www.klubowa.pl
Mówią Na Mieście – www.mowianamiescie.pl
Cube Stage – www.cubestage.pl
iDance – www.idance.pl
dlaStudenta.pl – www.dlastudenta.pl
CMF Team – www.cmf-team.info
iTrance – www.itrance.pl
We Love Trance – www.welovetrance.pl
Planeta FM – www.planeta.fm