11 Sierpnia – Benassi Bros feat. Dhany – LIVE.
11 Sierpnia w Ekwadorze spotykamy się ponownie. Okres wakacji , na który co roku zamykaliśmy klub w tym roku był by bardzo długi a spora ilość maili aby zorganizować w Wakacje imprezę w Ekwadorze spowodowała iż mamy nadzieję iż tym razem ponownie stanęliśmy na wysokości zadania. Pamiętacie występ Live Emmy Hewitt oraz Evelyn w tym roku, które cieszyły się największym zainteresowaniem a co za tym idzie osiągnęły najlepszą frekwencję. Podobne przeżycia czekają Was już 11 Sierpnia. Tego dnia na specjalnie przygotowanej scenie wystąpi dla Was bardzo atrakcyjna i utalentowana wokaliskta, której występ w Ekwadorze będzie miał miejsce po raz pierwszy. Wszyscy klubowicze na pewno kojarzą ją z takich utworów jak Every Single Day, Satisfaction, Hit Me Heart i wielu innych. To właśnie Bennasi Bros feat Dhany wystąpi dla Was w Ekwadorze.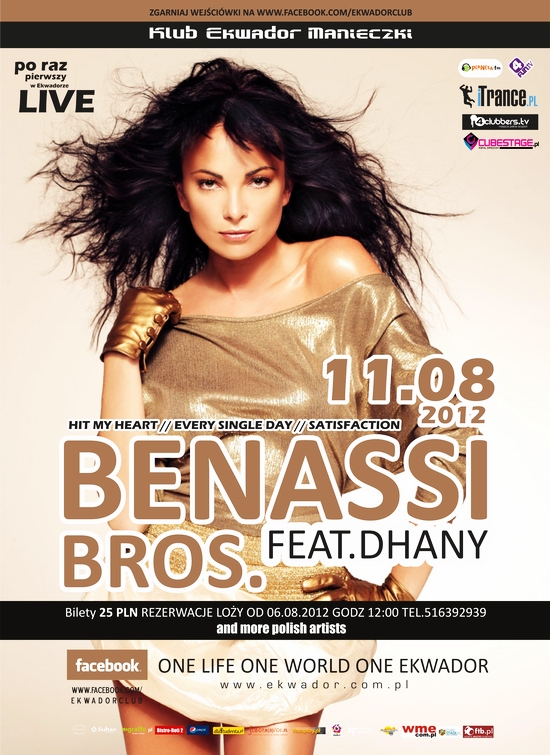 Włoska wokalistka muzyki house, kompozytorka i autorka tekstów. Znawcy kobiecych głosów w branży muzycznej, uważają, że ma jeden z najlepszych głosów soulowych.

Dhany swoją karierę zaczynała w 1993 roku by szybko zagościć w najlepszych polskich klubach. Śpiewając występowała między innymi z grupami funkowymi i acid-jazzowymi. W 1995 roku zaczęła pracować z wytwórnią Off Limits, gdzie zajęła się współprodukcją dance-soulowych singli "Somebody to Touch Me" i "Street Life". Pod koniec ubiegłego wieku artystka wydała trzy solowe single: "Dah Dah Tune", "Quiero Respirar" i "Shut Up".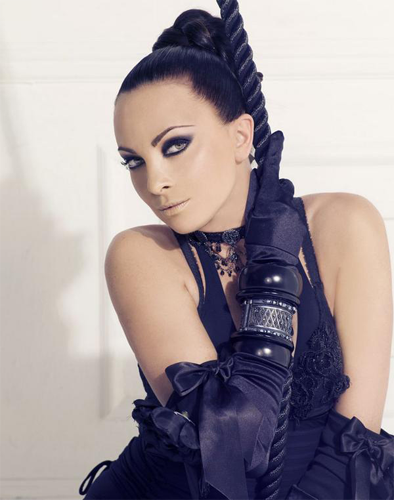 Jednak Dhany zyskała popularność dzięki współpracy ze znanym duetem włoskich producentów Benassi Bross Team, czyli Alessandro i Marco Benassi. Jej wspaniały głos można usłyszeć w takich przebojowych kawałkach tych włoskich producentów jak "Hit My Heart" (2004), "Pumphonia" (2004), "Make Me Feel" (2004), "...Phobia" (2005), "Every Single Day" (2005) Satisfaction" (2005)czy "Rocket in the Sky" (2005).
Jakikolwiek występ live wprowadza niesamowity klimat a do tego kobiecy wspaniały głos który rozniesie się w murach tego miejsca na pewno spowoduje iż te wakacje będą jeszcze bardziej wyjątkowe i niepowtarzalne.
Data imprezy:
11.08.2012 Sobota
start godz. 21:00
koniec 5:00
bilet w kasie klubu 25zł
Rezerwacje loży
Od Poniedziałku 6 sierpnia a godz 12:00
Tel 516 39 29 39
Lokalizacja:
Klub Ekwador
Manieczki
Ul. Wybickiego
www.facebook.com/EkwadorClub