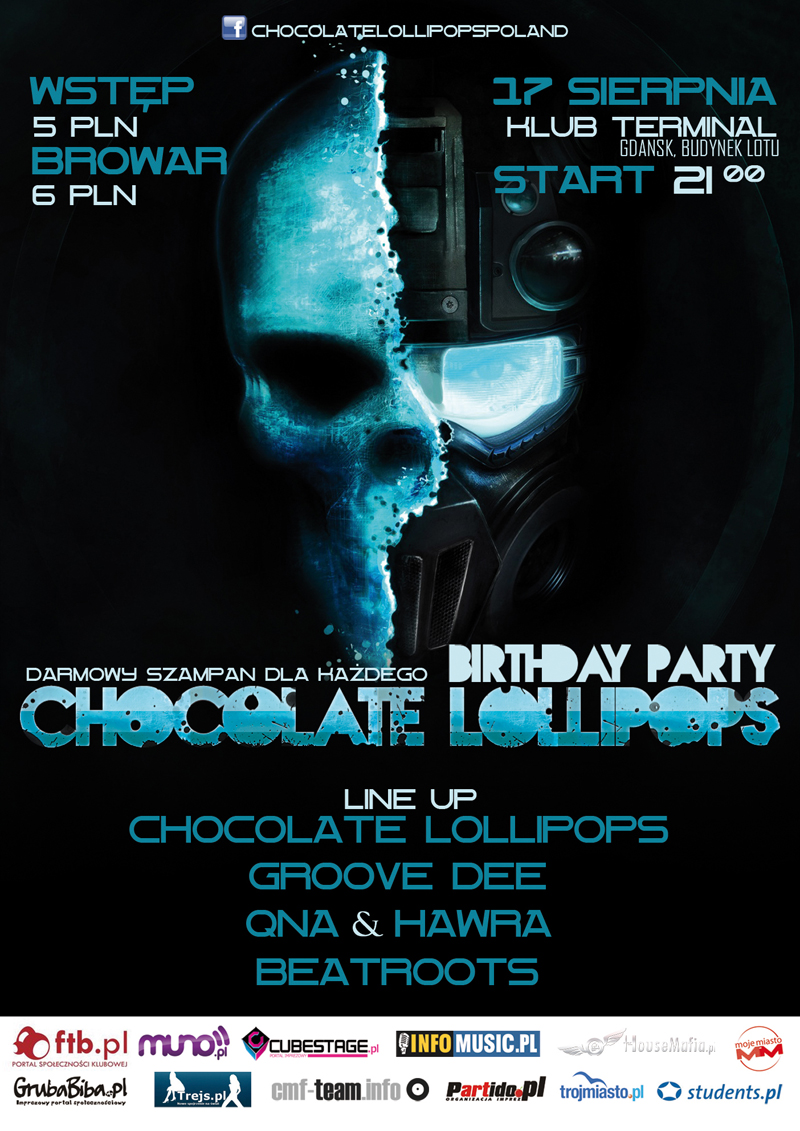 NAZWA WYDARZENIA:
TAJEMNICA DŹWIĘKU pres. CHOCOLATE LOLLIPOPS B-DAY PARTY
DATA WYDARZENIA:
17.08.2012, 21:00
MIEJSCE WYDARZENIA:
Terminal Club, Wały Jagiellońskie 2/4, Gdańsk (Budynek Lotu)
BILETY:
Wstęp: 5 PLN
DJs:
~ Chocolate Lollipops | www.facebook.pl/ChocolateLollipopsPoland
~ Groove Dee | www.facebook.pl/GrooveDee
~ Qna&Hawra |www.facebook.pl/SyndromeOfDisorder
~ Beatroots | www.facebook.pl/BeatrootsPoland
OPIS WYDARZENIA:
Tajemnica Dźwięku to cykl imprez promujących muzykę elektroniczną w Trójmieście w najlepszym wykonaniu! Trzecia edycja tej imprezy w bardzo połamanym klimacie z tego względu, iż Chocolate Lollipops obchodzą pierwsze urodziny swojego duetu, dla którego ostatni rok był pełen wrażeń, świetnych imprez i dobrej muzyki. Piękny rok trzeba uwieńczyć niezapomnianym melanżem!
Ale kiedy? Myślimy, że 17 sierpnia to świetna data- ciepło, ostatnie promienie letniego słońca, co raz bliżej końca wakacji.
Gdzie? Terminal Club w Gdańsku, już nie raz pokazał, że jest świetnym miejscem na tego typu imprezy! Świetne wnętrze, dobre nagłośnienie, masa miejsc na świeżym powietrzu. Czego chcieć więcej?
Ceny? Myślimy, że 5 PLN za wstęp i 6 PLN za browar to nie dużo. Jak myślicie?
Muzyka? Tego wieczoru fani połamanych brzmień będą mieli ucztę dla swoich uszu! Rozgrzewać będą BEATROOTS dawką potężnego electro! Popisali się już nie raz w tych klimatach! GROOVE DEE zapewni masę świetnych brzmień! QNA&HAWRA zaprezentują najmroczniejszą stronę muzyki. Technoid, darkstep, drumstep- słyszeliście o takiej muzyce? Nie? Powiemy tyle: WARTO! CHOCOLATE LOLLIPOPS jako solenizanci zagrają 2 godzinnego seta pełnego świetnej muzyki! Jungle, neuro funk, drumstep, a także i dubstep!
Atrakcje? Nie obędzie się bez darmowego szampana i masy wlep dla wszystkich!
PATRONAT:
~ FTB.pl
~ GrubaBiba.pl
~ Muno.pl
~ Students.pl
~ HouseMafia.pl
~ CubeStage.pl
~ CMF-Team.info
~ InfoMusic.pl
~ Trojmiasto.pl
~ MMmojemiasto.pl