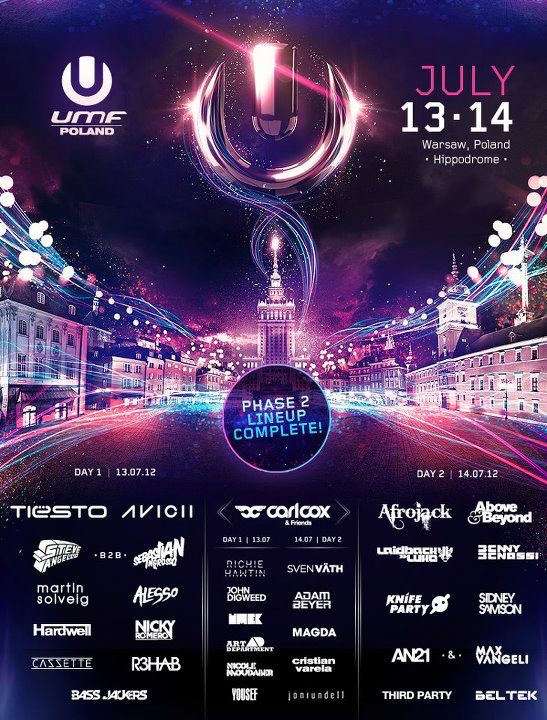 Najpopularniejszy festiwal muzyki elektronicznej na świecie debiutuje w Europie!

Dołącz do nas 13-14 lipca 2012 w Warszawie

Day 1 - July 13

TIËSTO | AVICII
Steve Angello B2B Sebastian Ingrosso
Martin Solveig | Alesso | Hardwell | Nicky Romero
Cassette | R3hab | Bass Jackers
CARL COX & Friends
Richie Hawtin | John Digweed
UMEK | Art Department | Nicole Moudaber | Yousef
Day 2 - July 14
AFROJACK | ABOVE & BEYOND
Laidback Luke | Benny Benassi | Knife Party
Sidney Samson | AN21 & Max Vangeli | Third Party | Beltek
CARL COX & Friends
Sven Väth | Adam Beyer
Magda | Cristian Varela | Jon Rundell plus many more TBA

UMF nareszcie dotarł do Europy. Organizatorzy polskiej edycji właśnie ogłosili line-up na to wydarzenie, które odbędzie się 13-14 lipca w Warszawie. UMF Miami słynie ze swoich imponujących instalacji scenicznych oraz i zapierających dech w piersiach efektów audiowizualnych. Najlepsi dj'e grający w jednym miejscu, na kilku scenach. Gościem specjalnym tegorocznej edycji była Madonna, która pojawiła się na scenie podczas występu Avicii. Tego roku ponad 200.000 fanów każdego podgatunku muzyki elektronicznej, przybyło na ten legendarny festiwal w Miami. UMF Poland szykuje w Warszawie wydarzenie równie niezapomniane jak w USA. Oszałamiająca muzyka, zaskakujący goście, doskonałe imprezy klubowe towarzyszące festiwalowi oraz dwa dni nieprzerwanego tańca!
UMF przybywa do Polski.

Dwudniowe wydarzenie UMF Poland będzie zlokalizowane na Hipodromie (Tor Wyścigów Konnych na Służewcu), który zapewnia dwa razy większą powierzchnię niż Bayfront Park, gdzie UMF Miami odbył się w marcu tego roku. Hipodrom (Tor Służewiec) jest popularnym miejscem, w którym odbywały się największe koncerty w Polsce.
UMF Poland: Jesteśmy gotowi UMF Poland postrzega to wydarzenie, jako początek corocznej europejskiej imprezy, która zdominuje letni sezon festiwalowy. "Jesteśmy całkowicie pochłonięci przygotowaniami, aby osiągnąć ten sam poziom doskonałości jakiego oczekują uczestnicy od UMF Miami- mówi Karlsson- Międzynarodowi artyści, niespodziewani gości, niepowtarzalna atmosfera oraz spektakularne instalacje, to elementy, których na pewno nie zabraknie na tegorocznej edycji UMF Poland".
Obecnie na oficjalnej stronie UMF Poland prowadzona jest przedsprzedaż biletów w promocyjnej cenie. Biorąc pod uwagę, że wszystkie bilety dostępne na UMF Miami rozeszły się w rekordowym tempie, wszyscy chętni powinni kupić bilety najszybciej jak to możliwe.

Czołowy festiwal muzyki elektronicznej na świecie jest świetną okazją, aby doświadczyć mocy i energii płynącej od najlepszych DJ'ow muzyki klubowej. Organizatorem UMF Poland jest ta sama agencja, dzięki której UMF Miami od ostatnich 6 lat jest co roku nagradzany jako Najlepsze Wydarzenie Muzyczne przez jury International Dance Music Awards.
PARTNERZY UMF POLAND:

BLACK Energy Drink LECH HP
PARTNERZY MEDIALNI:
RMF MAXXX Gazeta Co jest Grane Gazeta.pl Muzodajnia VIVA POLSKA STRÖER