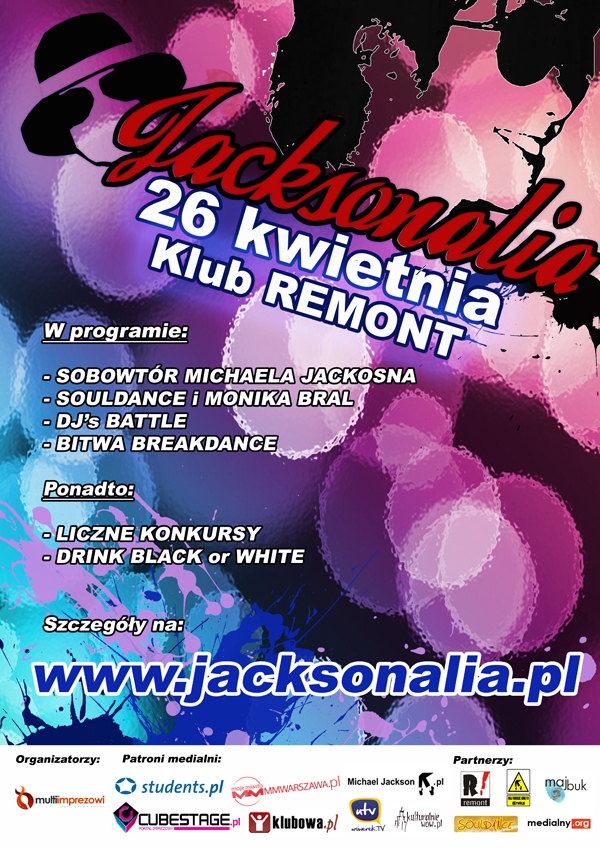 Jesteś fanem Michaela Jacksona? Masz dość tych samych radiowych hitów, granych na każdej imprezie? Agencja eventowa "Multiimprezowi" zaprasza na cykl imprez tematycznych. Już 26 kwietnia w klubie Remont otrzymasz dawkę pozytywnej energii. "Jacksonalia Warszawa 2012" to niepowtarzalne wydarzenie muzyczno-taneczne. Poznaj sobowtóra Michaela i baw się do samego rana w klubowo-jacksonowym klimacie.
Wyjątkowe show taneczne sobowtóra Michaela Jacksona, to prawdziwa gratka nie tylko dla fanów króla pop. Występ oparty jest o precyzyjne opracowania choreograficzne i dodatkowo ozdobiony odpowiednio dobranymi kostiumami.
Imprezę rozkręci profesjonalny nauczyciel JacksonStyle – Monika Bral wraz ze swoim zespołem SOULDANCE.
Ponadto:
- undergroundowa bitwa breakdance;
- DJs BATTLE na najlepszy 0,5h set inspirowany twórczością Michaela Jacksona;
- mini recital wokalny Moniki Reiske;
Oprawę muzyczną zapewni DJ ERWIN, który przez całą noc zagra repertuar MJ-a w różnego rodzaju aranżacjach i klubowych remiksach.
Wygraj darmową wejściówkę! Dowiedz się więcej na: