Święta Wielkanocne w Ekwadorze, kolejny występ LIVE ? Tak. Po raz kolejny zdecydowaliśmy się na coś czego jeszcze w Polsce na żywo nie widzieliście i słyszeliście. Zdecydowany numer 1 ostatniego czasu parkietów większości klubów w Polsce jak i rozgłośni radiowych ze swoim tytułem One Night In Ibiza, twórcy hitu nie pozwolili przejść obok niego obojętnie.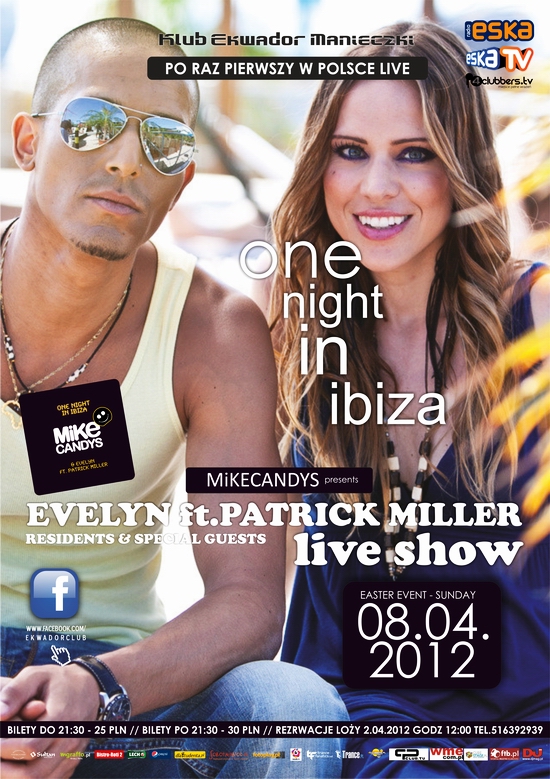 To właśnie 8 kwietnia na specjalnie zbudowanej scenie występ LIVE. Są takie imprezy o których nie trzeba dużo pisać, wystarczy zobaczyć plakat i wszystko staje się jasne. To bardzo ciekawa propozycja dla wszystkich klubowiczów . Przy tych produkcjach nie można stać w miejscu a specjalnie przygotowany set przez Mika Candysa spowoduj iż nie jeden klubowicz będzie miał ciarki. Już dziś zapraszamy Wszystkich do Świętowania tego dnia razem z Nami. Dwie poprzednie imprezy w Ekwadorze udowodniły iż nigdy nie wymarzymy sobie lepszych klubowiczów jakimi jesteście Wy, Rodzina klubu Ekwador. Miło Nam jest też zauważyć powrót starszego pokolenia klubowiczów, a zarazem pracować przy kolejnych projektach wiedząc że ma się tak olbrzymie wsparcie.
Twórcy takich hitów jak One Night In Ibiza, Together Again, Around the World na żywo w Ekwadorze. Tego wieczoru klubowicze do swojej dyspozycji będą mieli 3 sale, każda z odrębnym stylem muzycznym.
Mike Candys presents:
EVELYN & Patrick Miller
Rezydenci + goście spcjalni
Data imprezy:
08.04.2012 Niedziela
start godz. 21:00
koniec 5:00
bilet do 21:30 - 25zł
po 21:30 – 30zł
Rezerwacje loży
Od Poniedziałku 2 Kwietnia godz 12:00
Tel 516 39 29 39
Lokalizacja:
Klub Ekwador
Manieczki
Ul.Wybickiego
www.ekwador.com.pl/forum