Impreza: Protector Ostrów Wlkp. - Retro Party vol. 4 - The Matrix
Data: 19 Listopada
Miejsce: ul. Staroprzygodzka 132
Start: Godzina 21:00
Lineup:
* Erwin Spitsbaard
* Krecik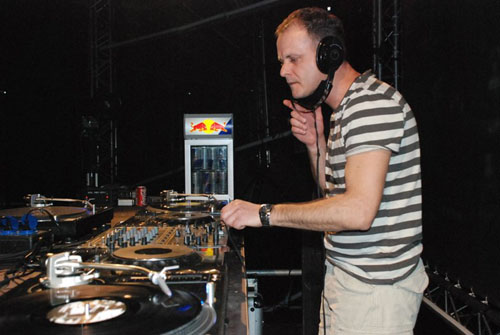 Erwin Spitsbaard (aka The Matrix, Creamteam, Laguna) swoją ogromną pasję do muzyki odkrył w wieku 13 lat, pod wpływem takich gwiazd, jak DJ Ben Liebrand i Ferry Maat (prowadzący audycję w radiu Soulshow). Profesjonalną pracę w klubach rozpoczął mając 20 lat i w latach 90-tych regularnie grywał w takich lokalach, jak De Hoeve, Revolutie, The Basement oraz Goldfinger. Zdobył tam spore uznanie oraz przede wszystkim umiejętności, toteż postanowił wziąć udział w konkursie The Dutch Deejay Champioshi, gdzie na 180 DJi zajął pierwsze miejsce. Od tego wydarzenia bookingi zaczęły napływać z każdej strony – Erwin stał się głównym uczestnikiem takich imprez, jak Dance Valley, Trance Energy, Mysteryland, czy The Vip. W 1999 roku został rezydentem w klubie Nightlive (Maastricht), który wcześniej był miejscowym kościołem. Obecnie funkcję tę pełni w kilku klubach w Holandii, między innymi w A New Sensation (Groesbeek), The Guardian (Almere), Hilversum i Quignon (Utrecht). Oprócz tego występuje w najlepszych klubach w całej Europie, w tym także w Polsce. Ceniony jest szczególnie za styl miksowania, w którym prezentuje bardzo energiczną mieszankę muzyki house i trance. Od 1998 roku Spitsbaard zajmuje się także produkcją własnych nagrań, co zaowocowało wieloma przebojami. Praktycznie każdy klubowicz zna wielkie hity, które wyszły spod ręki Erwina – "Divx" (jako Creamteam), "Unforgiven" (jako Laguna) i wreszcie "Matrix" oraz "Protect the Innocent" (jako The Matrix).

Więcej na:
www.klubprotector.pl