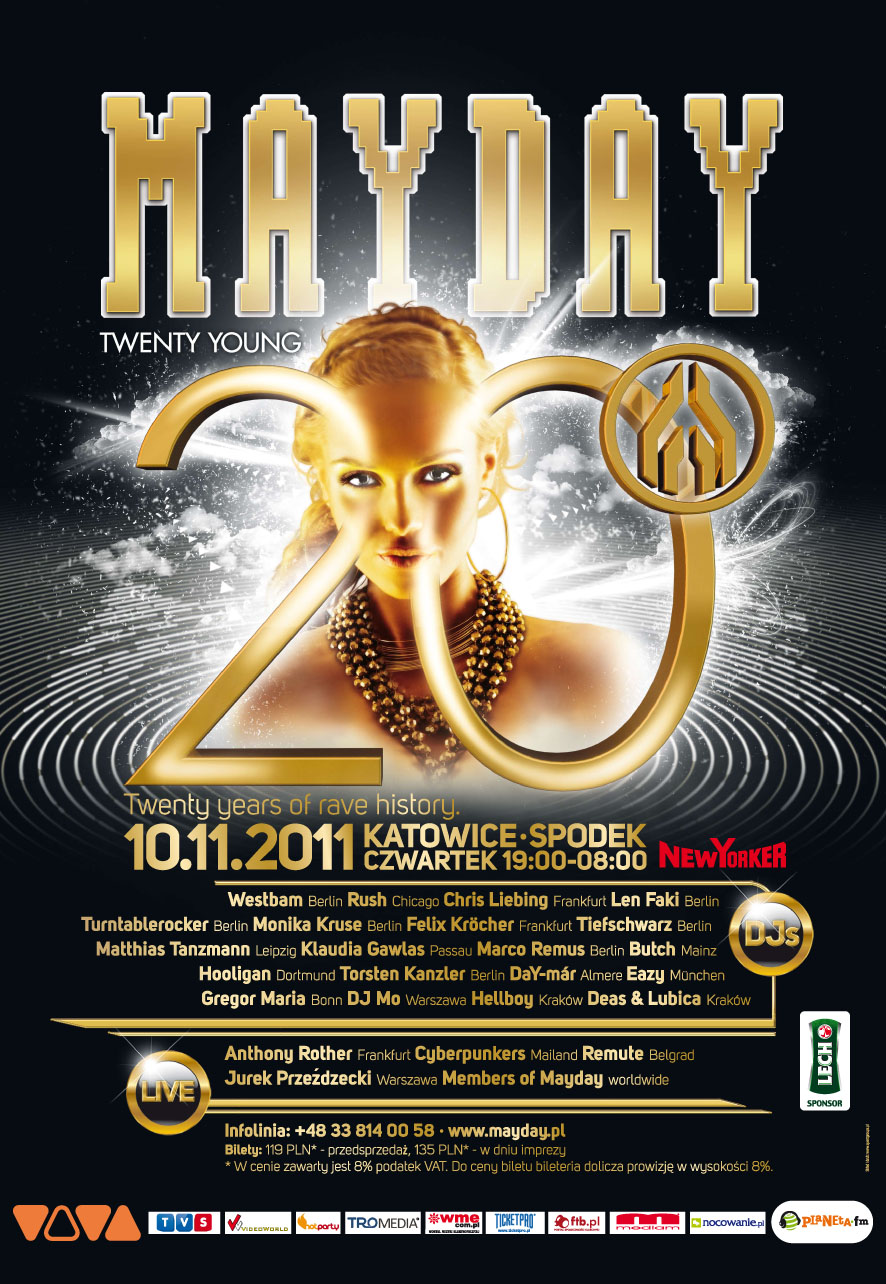 Wszystko zaczęło się od …MAYDAY
MAYDAY z 1991 był pierwszym największym eventem w ówczesnej historii z nowymi dźwiękami oraz otwartą i tolerancyjną publicznością.
W latach '90 MAYDAY napędzał młodzieżową kulturę.
Powstawały labele, czasopisma poświecone muzyce Techno, kluby oraz inne imprezy.
Dla wszystkich stało się jasne: MAYDAY to nie impreza to lifestyle. To marka rozpoznawalna w całej Europie.
MAYDAY jest jak latarnia morska. Wszyscy podążają w jej kierunku.


Polski MAYDAY z 2000 roku to pierwszy MAYDAY poza granicami Niemiec.
Od samego początku wytycza standardy oraz niezmiennie budzi zachwyt.
Jest największy ze wszystkich organizowanych w Europie.
I właśnie teraz w 2011, po 20 latach obchodzimy Wielki Jubileusz narodzin Matki Wszystkich Imprez. Już 10 listopada bramy katowickiego Spodka otworzą się przed Wami szeroko. Przywitają Was twórcy pierwszych brzmień Techno.
To Wy jesteście dla nich inspiracją a oni przeniosą Was w muzyczną przeszłość.
Nowe kanały komunikacji z Wami, strony o tematyce imprezowo-klubowej, setki przeprowadzonych rozmów to wszystko pozwala nam na ciągły rozwój MAYDAY.
W roku ubiegłym powstał "Ballroom". Nowa trzecia scena została entuzjastyczne przyjęta a dźwięki House zachwyciły publikę.
"Showroom" z mocniejszymi dźwiękami i niezmiennie "Arena " z typową dla MAYDAY mieszanką stylów.

Nawet "Spodek" przygotował się na to święto. Świeżo odnowiona fasada i wnętrza - błyszczą nowym blaskiem. MAYDAY "Twenty Young" w Katowicach będzie wielki, imponujący… złoty. Kolejna noc godna zapisania na kartach historii – dokładnie jak wówczas w 1991 roku.

Forward Ever, Backward Never. MAYDAY.
LINE UP
Westbam (Berlin)
Rush (Chicago)
Chris Liebing (Frankfurt)
Len Faki (Berlin)
Turntablerocker (Berlin)
Monika Kruse (Berlin)
Felix Kröcher (Frankfurt)
Tiefschwarz (Berlin)
Matthias Tanzmann (Leipzig)
Klaudia Gawlas (Passau)
Marco Remus (Berlin)
Butch (Mainz)
Hooligan (Dortmund)
Torsten Kanzler (Berlin)
Day-Már (Almere)
Eazy (München)
Gregor Maria (Bonn)
DJ Mo (Warszawa)
Hellboy (Kraków)
Deas& Lubica (Kraków)
LiveActs:
Anthony Rother (Frankfurt)
Cyberpunkers (Mailand)
Remute (Belgrad)
Jurek Przeźdzecki (Warszawa)
Members of Mayday (worldwide)
Bilety
MAYDAY "TWENTY YOUNG" 12 edycja
Twenty Years Of Rave Histoty
10.11.2011 r.
Katowice/ Spodek
Bilety na MAYDAY 2011 :
* na www.mayday.pl
* Bielsko-Biała, Carrefour, INFO SARNI STOK Sarni Stok 2 033 828 30 77
Bytom 41-902 ul. Katowicka 5 FANTAZJA 513 395 226; 032 282 02 27
Gliwice 44-100 ul. Zwycięstwa 1 CZAS tel. +48 32 231 02 4
Jelenia Góra 58-500 ul. 1 Maja 60 DEMO SKLEP MUZYCZNY tel. +48 75 767 64 73
Kielce 25-512 ul. Sienkiewicza 42 FAN tel. +48 41 344 92 94
Kraków 31-042 ul. Rynek Główny 9 FILMOTECHNIKA tel. +48 12 422 89 45
Olkusz 32-300 ul. Krakowskie Przedmieście 3 ABIX tel. + 48 32 754-48-62
Tarnowskie Góry 42-600 ul. Piłsudskiego 6 POD NAZWĄ +48 32 383 12 50
Zawiercie 42-400 D.H. Centrum SKLEP MAYDAY ul. Gen. Sikorskiego 22
* w sieci Ticketpro
Spis wszystkich punktów sprzedaży znajdziecie na stronie:
* w sieci wypożyczalni Video World
Spis wszystkich punktów sprzedaży znajdziecie na stronie:
* na stronach internetowych:
FTB.pl
Wlotki.pl
wlotki.pl/bilety/impreza/6250/mayday-2011.htm
Facebook
www.facebook.com/MaydayPoland?sk=app_148755828494964
Cena biletów:
129,00 zł w przedsprzedaży
146,00 zł w dniu imprezy