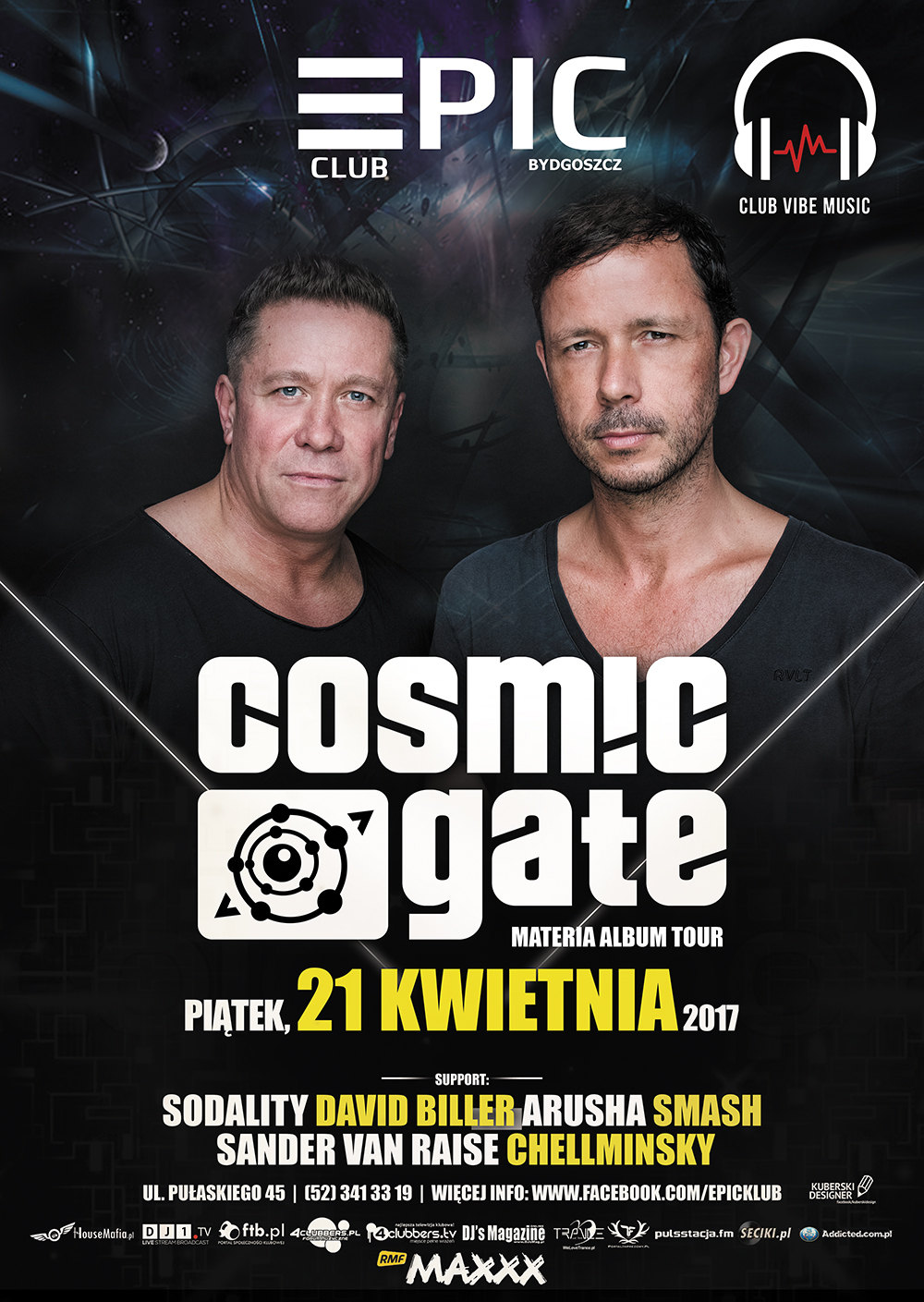 21. kwietnia w klubie Epic w Bydgoszczy odbędzie się impreza organizowana przez Club Vibe Music, na której wysąpi duet Cosmic Gate!
Podczas wydarzenia popularni kosmici promować będą swój nowy album pt. Materia. Nasz portal obejmuje patronat medialny tego wydarzenia, niedługo możecie się spodziewać konkursu w którym do wygrania będą wejściówki do klubu Epic!
Cosmic Gate
Od ich pierwszego bitu , po album Materia, Cosmic Gate udowodnili, że są idealnie dobranym duetem muzycznych umysłów. Nic Chagall i Bossi stali się jednym z odnoszących największe sukcesy duetów muzyki elektronicznej. Ich oryginalne produkcje doprowadziły ich na najwyższe miejsca na listach przebojów. Ich remixy zawierają uznanych kompozytorów z Hollywood, jak James "Avatar" Horner po gwiazdy sceny klubowej jak Armin van Buuren. Muzyczne braterstwo Nic'a i Bossi'ego przyciąga tłumy na całym świecie. Ich imprezy , zarówno w wielkich arenach, stolicach muzyki klubowej jak i na największych festiwalach cieszą się ogromną popularnością. 10 lat ich kariery zaprowadziło ich na szczyt listy DJ's Mag's top 100. Ich uznane przez krytyków albumy, trzęsące murami klubów single (Falling Back, Yai (Here We Go Again), So Get Up, Not Enough Time) oraz klasyki definiujące scenę muzyki klubowej jak Be Your Sound, Fire Wire, Exploration Of Space zapewniły im stałe miejsce w "alei gwiazd" sceny muzycznej.
Najnowszy album Materia jest początkiem nowych produkcji Cosmic Gate. Są wśród nich Fall Into You czy zajmujące pierwsze miejsce na liście Beatport, AM2PM, Edge Of Life i Dynamic. Album odniósł duży sukces, zajmując wysokie miejsce na liście 10 najpopularniejszych hitów iTunes w 9 krajach oraz pierwsze miejsce zarówno w USA jak i w Kanadzie.
Organizator: Club Vibe Music
Epic Club, Bydgoszcz, ul. Pułaskiego 45 ( przy Kamiennej ), 85-619 Bydgoszcz
Bilety: 49 zł w klubie, płatność gotówką
Line up:
Smash
Sander van Raise
Chellminsky
Sodality
Cosmic Gate
www.facebook.com/cosmicgate
www.twitter.com/RealCosmicGate
www.youtube.com/CosmicGateTV