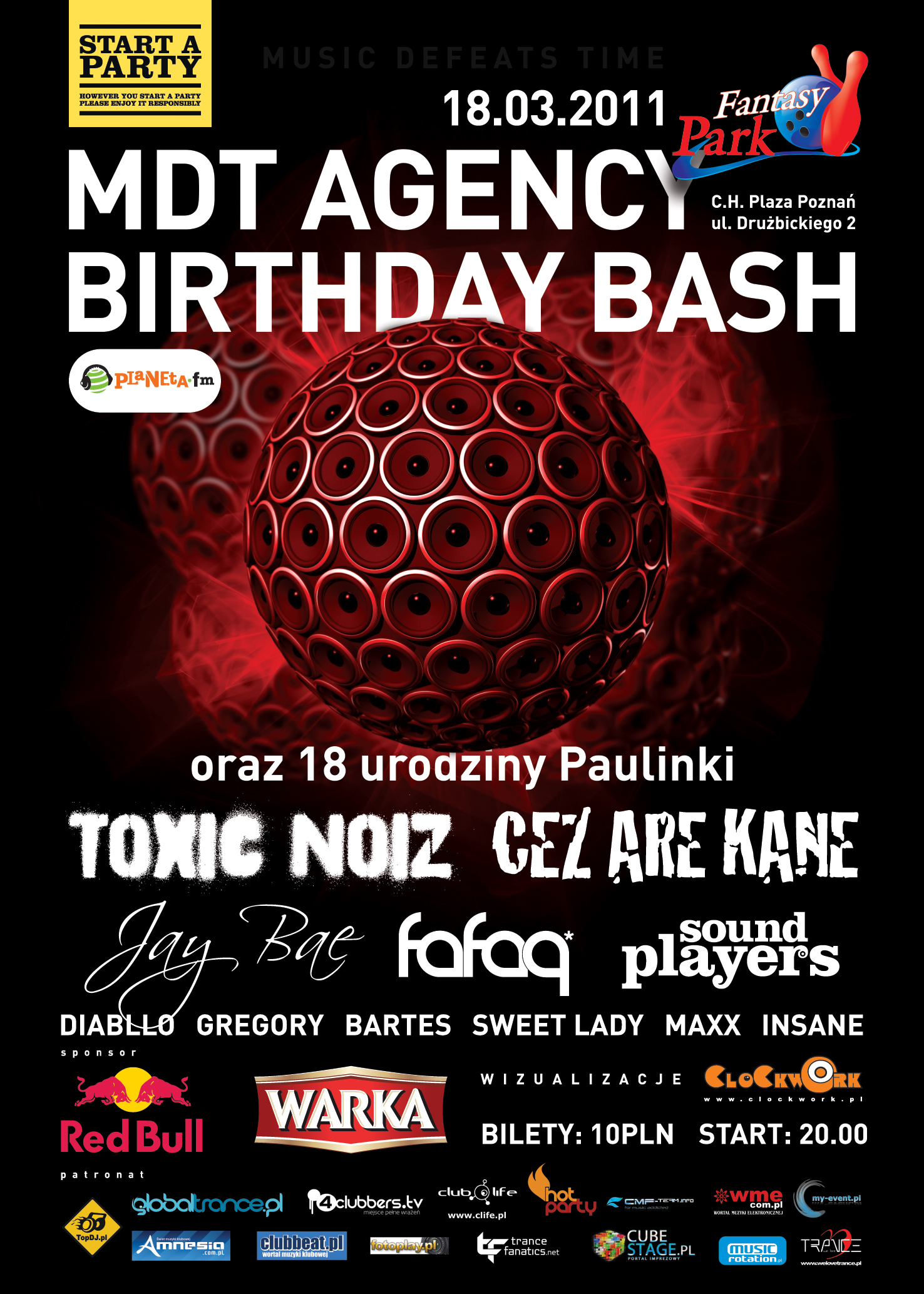 Po udanym święcie muzyki trance w bydgoskiej hali Łuczniczka MDT-Agency ma zaszczyt zaprosić na wspólne świętowanie swoich kolejnych urodzin oraz owocnych lat działalności na rynku eventowym w Polsce. Tym razem spotykamy się w bardziej kameralnym gronie oraz przytulniejszym miejscu, jakim jest Fantasty Park w C.H. Plaza (Poznań).
Fantasty Park to wyjątkowe miejsce, w którym już nie raz odbywały się imprezy z udziałem djów MDT-Agency, zapewnia doskonały klimat oraz szeroki wachlarz dodatkowych atrakcji (bowling, bilard oraz gry wideo), które są doskonałym dopełnieniem całego wydarzenia muzycznego.
Za sterami konsolety pojawi się cała dj'ska strona Agencji MDT, swoją obecność zapowiedzieli również najbliżsi jej przyjaciele. Tak zróżnicowany skład djski zapewni nam niezapomnianą moc wrażeń muzycznych, przepełnioną rozmaitymi dźwiękami klubowymi.
Dodając do tego wszystkiego możliwość spotkania i porozmawiania "face to face" z osobami, które na co dzień stojąc za kurtyną starają się by tworzone przez nich eventy stały się jeszcze lepsze, tworzy nam się nie lada gratka dla każdego klubowicza, który choć w niewielkim stopniu interesuje się tym co robi MDT-Agency.
Nie pozostaje więc nam nic innego jak gorąco zaprosić wszystkich na tę niezapomnianą noc do Fantasty Parku już 18.03.2011.