Nazwa imprezy: Essential Vibes pres. #NOI5E @ Klub GramOFF/ON
Data imprezy: 14.03.2015
Lokalizacja: Ul. Chłodna 35/37, Warszawa
Start: 23:00 | Koniec: ??
Bilety: 20 PLN
Wydarzenie: https://www.facebook.com/events/790296161062609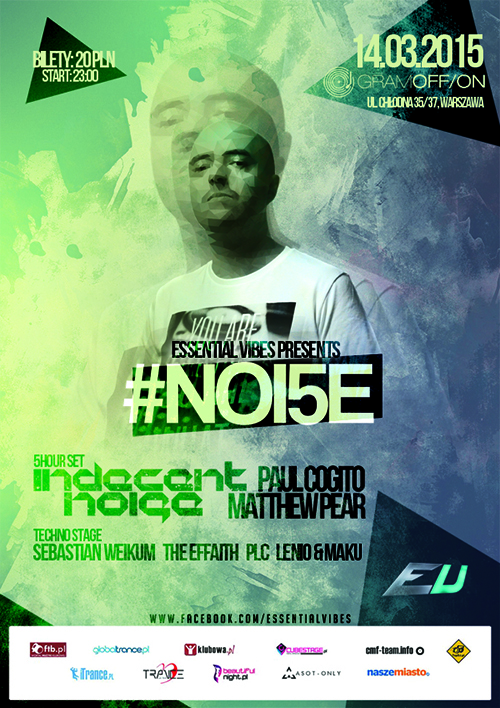 Po kilku miesiącach przerwy kolektyw Essential Vibes ponownie zaprasza na unikalne wydarzenie muzyczne. Tym razem będzie to noc poświęcona naszemu rodzimemu artyście. Wiele razy podkreślaliśmy iż stawiamy nie tylko na zagranicznych muzyków ale i na naszych polskich producentów. Projekt #NOI5E to autorska impreza jednego z największych krajowych muzycznych towarów eksportowych – Indecent Noise'a. Każda edycja od Nowego Jorku przez Mińsk, Londyn, Toronto czy Buenos Aires była niezwykłym sukcesem. #NOI5E to pięciogodzinna podróż przez gatunki takie jak progressive, techno, psy aż po trance. Już 14 marca ta mieszanka wybuchowa zawita również do Warszawy. Dzięki różnorodności muzycznej w tym secie każdy będzie mógł znaleźć coś dla siebie. Dopełnieniem oprawy muzycznej tej nocy będą członkowie kolektywu Essential Vibes czyli Paul Cogito oraz Matthew Pear. Postanowiliśmy również ponownie uruchomić drugą scenę na której będzie dominowała muzyka techno. Wystąpią na niej Sebastian Weikum, The Effaith, PLC oraz debiutanci: Lenio & Maku. Wszystko to odbędzie się w świetnie ulokowany klubie GramOFF/ON przy ulicy Chłodnej w Warszawie. Będzie to bardzo ważna impreza z punktu organizacyjnego. Od jej frekwencji będzie zależała przyszłość naszego kolektywu i możliwość sprowadzania waszych ulubionych artystów. Plany na nowy sezon mamy bardzo ambitne - o ich realizacji decydujecie tylko i wyłącznie WY i wasza frekwencja. Zapraszamy serdecznie i do zobaczenia na parkiecie!
Main Stage:
Indecent Noise (5h set)
Paul Cogito
Matthew Pear

Techno Stage:
Sebastian Weikum
The Effaith
PLC
Lenio & Maku