Nazwa imprezy: Sunrise Festival 2015
Data imprezy: 24-27.07.2015
Lokalizacja: Amfiteatr - Kołobrzeg, ul. Fredry 1
Bilety: www.biletysunrise.pl
Będziemy na bieżąco Was informować na temat imprezy Sunrise Festival 2015.
Do zobaczenia w Kołobrzegu ;)
"…Wspomnienia to najważniejsze co nam pozostaje zapamiętujemy te najbardziej wzruszające, płynące z głębi serca, zapisane do końca życia… Każda noc i dzień pozostawiają nam kolejne, niezwykłe i jedyne …wspomnienia" - Dj Kris
Częściowy line-up na Sunrise Festival 2015 w Kołobrzegu:
Tom Swoon ubiegły rok swojej kariery może zaliczyć do tych z serii – przełomowe. Wydał mnóstwo fantastycznych utworów, które cieszą się ogromną popularnością wśród dj-ów, a lista koncertów powiększyła się o kolejne odległe miejsca od rodzinnego Goleniowa. Tom Swoon na Sunrise Festival wystąpi ponownie na parkingu w piątek 24 lipca!
BLINDERS to kolejny z naszych polskich artystów, który podbija świat swoimi wystrzałowymi utworami. Swoje progresywne brzmienia prezentuje m.in dzięki wytwórni Nickiego Romero czy Sandera van Doorna, a ostatni singiel "Sirene" to jeden z najczęściej pojawiających się utworów a plejlistach dj-ów z całego świata. Blinders na Sunrise Festival zaprezentuje swojego seta w sobotę 25 lipca.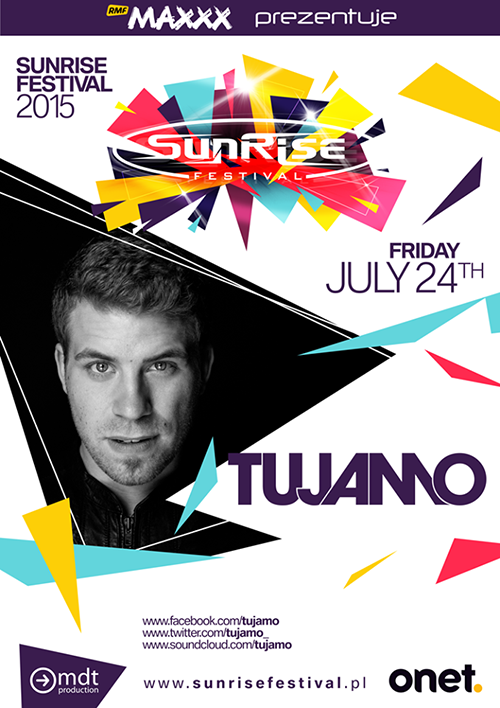 Tujamo ostatni rok może zaliczyć do najbardziej udanych. Dzięki determinacji i stałym dążeniu do celu udowodnił, że house można połączyć z bigroomem w znakomity sposób. Jego baunsujące utwory sprzedają się najlepiej na świecie, czego efektem jest 5 ostatnich tytułów, które podbiły listę beatportu. Jego wizyta na Sunrise w roku ubiegłym nie doszła do skutku ze względu na infekcję ucha. W tym roku Tujamo zapowiedział, że klimatu w Amfiteatrze nie odpuści za żadne skarby. Przygotujcie się na bardzo bujającego seta w piątek 24 lipca
Julian Jordan jest jednym z czołowych producentów młodego pokolenia z Holandii. Swoją karierę na dobre rozpędził kilka lat temu fenomenalnym nagraniem stworzonym z Martinem Garrixem i Sanderem van Doornem. Jego muzyka to gwarantowana energia, której nie może zabraknąć na scenie na parkingu w piątek 24 lipca.
My Digital Enemy to kolejni debiutanci na naszym festiwalu. Po ich zmysłowe house'owe utwory siegają dj-e z całego świata. Lubią eksperymentować z dobrymi melodiami i house'owym groovem co doskonale słychać m.in w "Changes". Ich występ przewidziany jest oczywiście na scenie w Amfiteatrze, w piątek 24 lipca.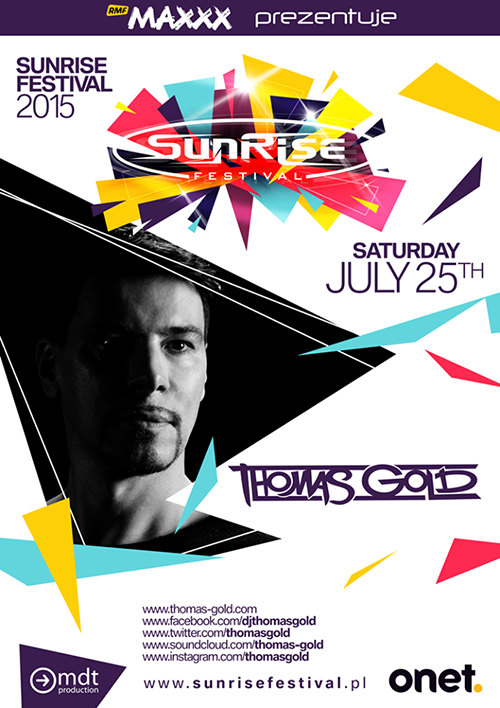 Thomas Gold to dj i producent pochodzący z Berlina. Na swoim koncie ma niesamowite klubowe przeboje takie jak "Alive" z Dirty South czy "Sing2Me" wydane w Axtone. W swojej karierze występował w najróżniejszych miejscach na świecie. W lipcu przyleci do Polski. Na Sunrise Festival. Będziecie mogli go usłyszeć w sobotę 25 lipca!
Carnage to jeden z tych dj-ów, który doprowadza ludzi do prawdziwego szaleństwa na dancefloorze. Lubi eksperymentować z muzyką, łączyć gatunki, czego dowodem jest Trapowy remix Hardwella "Spaceman". Na Sunrise Festival Carnage zawładnie konsoletą w piątek 24 lipca. Będzie electro, będzie bigroom i trap. Szykuje się zwariowany set!
Steve Aoki to chyba największy showman muzyki elektronicznej na świecie. Słynie z niezwykle efektownych występów i energetycznych dźwięków. Jego utwory to połączenie electro house z elementami dubstepu i progressive. Do największych przebojów Aokiego możemy zaliczyć chociażby niesamowity remiks Kida Cudiego "Pursuit of Happiness" czy "A Light That Never Comes" z Linkin Park. Na Sunrise Festival Steve wystąpi po raz pierwszy w sobotę 25 lipca. Przygotujcie się na niesamowity występ!
Dj Kris to żywa legenda polskiego clubbingu. Swoją przygodę z miksowaniem rozpoczynał w latach 90. Zawsze grał dla ludzi i zarażał ich swoją pozytywną energią. Utwory, które przemycał do swoich setów stanowiły absolutną nowość dla roztańczonej publiczności. Dziś to klasyki na półkach największych koneserów muzyki tanecznej. Dzięki swojej determinacji pokazał, że w polskich dyskotekach można grać inną muzykę niż disco i w kołobrzeskim Amfiteatrze może powstać festiwal na skalę światową. Niedziela należy do Krisa. Zapraszamy na The History of Sunrise Festival 26 lipca.
Peran van Dijk to jeden z tych artystów, którego muzyka wzbudza niesamowite wspomnienia. W końcu "Good Time" i "We Want To Be Free" to jedne z największych klasyków Sunrise Festival. Pierwsze słowa do mikrofonu wypowiedziane przez Perana właśnie na naszym festiwalu zna prawdopodobnie cała Polska. Z pozdrowieniami i zaproszeniem z Amsterdamu - dla Was od Perana -– to będzie noc wielkich wspomnień!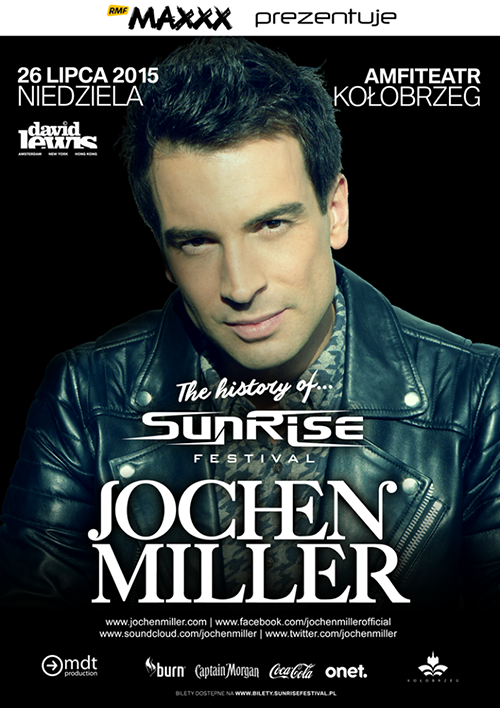 Jochen Miller to dj, który na scenie klubowej jest od ponad 15 lat. W trakcie swojej kariery muzycznym zdążył wystąpić w każdym zakątku świata, z naszym festiwalem na czele. Jego hity w postaci "Lost Connection" czy "Brace Yourself" zabrzmią w secie pełnym klasyków Millera. To będzie piękna godzina wspomnień. Przygotujcie się na energetyczny występ w niedzielę 26 lipca!
DJ Gregory to showman polskiego clubbingu jakich mało. Mistrz konsolety o nieprzewidywalnych możliwościach. Od Gregorego bije pozytywna energia, a każde miejsce w którym się pojawi rozkręci na MAXXXa. Specjalny set, pełen housowo-trancowych wspomnień w wykonaniu Gregorego tylko na The History of Sunrise Festival.
Krzysztof Chochlow znany również jako DJ KC to jeden z najbardziej utalentowanych producentów w naszym kraju. Na rynku klubowym jest od wczesnych lat 90 i ma się świetnie do dzisiaj. W bogatej dyskografii Krzysztofa kryją się m.in takie utwory jak "We Like The House" czy "Release", które na sto procent usłyszymy na potężnym nagłośnieniu w Amfiteatrze. KC wystąpi w Kołobrzegu drugi raz. W niedzielę na The History of Sunrise Festival.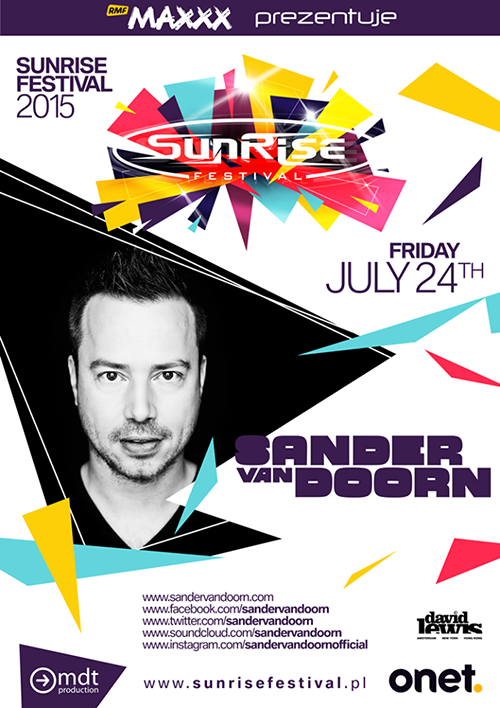 Sander van Doorn to legenda muzyki tanecznej. Jego utwory rozpoznajemy po niesamowitej energii i i fakcie, że za każdym razem brzmią jeszcze lepiej. Jego kariera trwa w najlepsze, a dowodem tego są ostatnie wydawnictwa takiej jak "Rage" czy "THIS" z Oliverem Heldensem. Sander na Sunrise Festival powraca w piątek 24 lipca. Przygotujcie się na mocne uderzenie!
Tom Staar to jeden z najbardziej utalentowanych brytyjskich producentów muzyki house. Swoje brzmienie odnalazł w mocnym tanecznym groovie, a utwory takie jak "Totem" czy "Jericho" spowodują, że w Amfiteatrze kołobrzeskim będzie jeszcze piękniej. Na Sunrise Festival 2015 Tom Staar zadebiutuje w sobotę 25 lipca. Swojego seta zagra w duecie z Kryderem!
Kryder od kilku lat sukcesywnie buduje swoją markę. W studio stawia na przyjemne melodie i mocny house'owy groove. Jego kariera rozpędziła się na dobre po wydaniu genialnych remiksów dla Afrojacka i Swedish House Mafii. Kryder w Amfiteatrze kołobrzeskim zadebiutuje w sobotę 25 lipca. Swojego seta zagra w duecie z Tomem Staarem!
Firebeatz to holenderski duet producentów i dj-ów. Na rynku muzycznym są od wielu lat. Popularność zyskali dzięki takim utworom jak "Dear New York" czy "Helicopter" z Martinem Garrixem. Ponadto współpracowali m.in z Tiesto i Calvinem Harrisem. Jeśli w muzyce szukacie energii, to rozwiązaniem jest zdecydowanie duet Firebeatz. Na Sunrise Festival wystąpią w sobotę 25 lipca.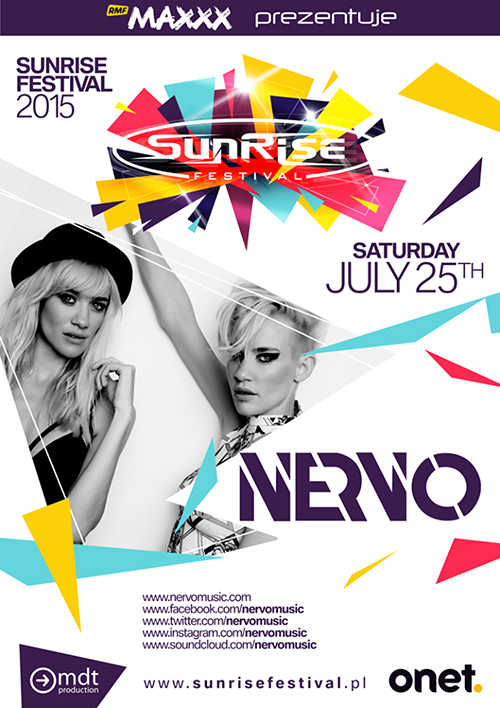 Nervo to duet pięknych bliźniaczek urodzonych w Australii. Podbiły serca ludzi na całym świecie w dziedzinie muzyki i mody. Wolne chwile poświęcają na pisanie nowych utworów, czego efektem jest ubiegłoroczny hit "Revolution". Po fenomenalnym występie na poprzednich dwóch edycjach Sunrise Festival, przyszedł czas na kolejne spotkanie NERVOnation. W sobotę 25 lipca w Kołobrzegu.
Don Diablo to holenderski dj i producent którego wizytówką jest mocny taneczny beat w housowym wydaniu. Jego utwory i remiksy stanowią często punkt kulminacyjny setów najlepszych dj-ów na świecie. House time is anytime. Dlatego w tym roku w Amfiteatrze po raz pierwszy wystąpi DON Diablo. W piątek 24 lipca.
Fedde Le Grand został okrzyknięty nieoficjalnym rezydentem Sunrise Festival. Uwielbiacie jego muzykę i uwielbiacie jego sety. On Sunrise w Kołobrzegu zna jak własną kieszeń. W tym roku nie mogło go zabraknąć, no bo w końcu jak nie Fedde, to kto? Musi być grubo. FLG będzie naszym goście w piątek 24 lipca. Przygotujcie się na świetną zabawę, którą dodatkowo podkręć MC GEE!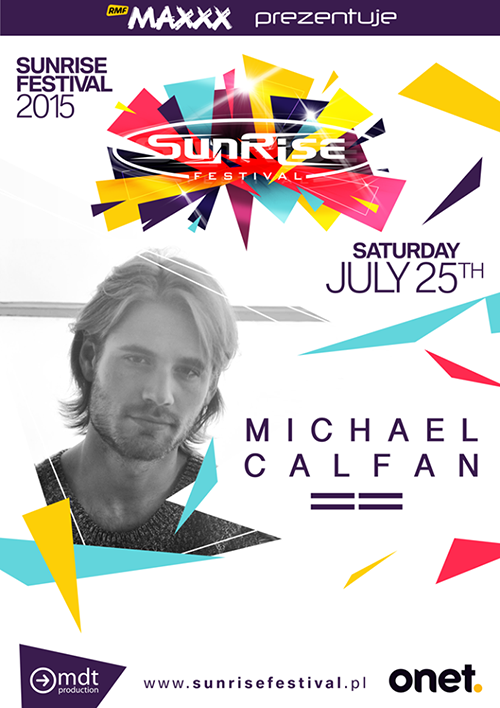 Michael Calfan to kolejny z francuskich producentów, który wyszedł przed szereg ze swoją muzyką. Karierę zaczął od świetnego Ressurection, a ostatnie osiągnięcia w postaci najlepiej sprzedających się utworów w sieci za sprawą "Prelude" i "Treasured Soul" sprawiły, że jego obecność w Amfiteatrze jest wskazana. Calfana usłyszycie w sobotę 25 lipca
Oliver Heldens to wielkie objawienie na rynku muzyki house. Swoim niekonwencjonalnym rozwiązaniem wskrzesił garage i wprowadził house do mainstreamu. Numery takie jak "Gecko", "Koala" czy fenomenalny remix "Can't Stop Playing" sprawią, że na Amfiteatrze będzie jeszcze piękniej. Oliver Heldens zadebiutuje w Kołobrzegu w piątek 24 lipca.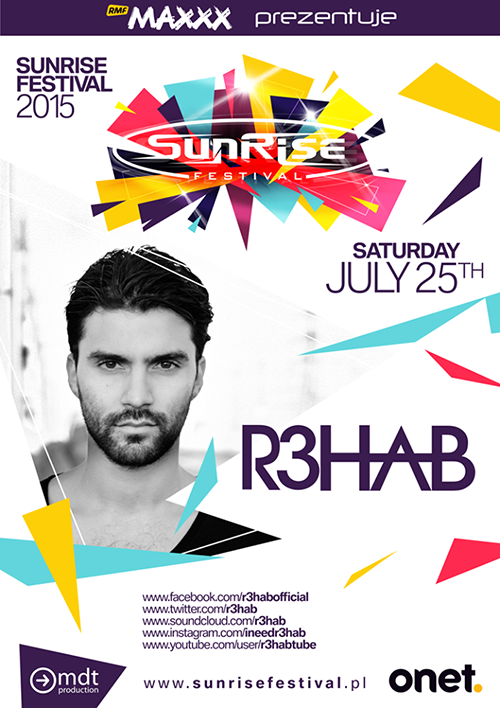 R3hab`a wszystkim szanującym się imprezowiczom, uwielbiającym tę ciemniejszą stronę mocy – przedstawiać chyba nie trzeba. Jego utwory były odtwarzane w ponad 100 milionach wyświetleń w internetowych serwisach muzycznych, a którykolwiek z nich sprawi, że na parkingu atmosfera będzie podgrzana do czerwoności. This is how we party. Właśnie w Kołobrzegu. Na secie R3haba w sobotę 25 lipca!