Nazwa imprezy: AMSTERDAM DANCE MISSION 2014
Data imprezy: 24.05.2014
Lokalizacja: Klub Ekwador - Manieczki, Ul. Wybickiego
Start: 21:00 | Koniec: 05:00
Bilety: 25 PLN
Wydarzenie: www.facebook.com/events/1412646672343202/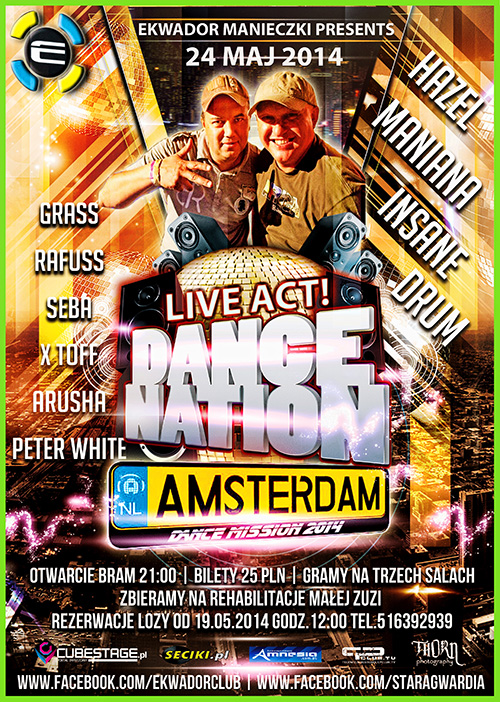 Ekwador melduje swoją gotowość na zupełnie nowy sezon!
Lepsze otwarcie, zrywamy kajdany i pozbywamy się balastów, które blokowały nas przez ostatnie lata!
Skaczemy w przepaść, w szczelinę muzyki i tanecznych uniesień, które są naszym światem, naszą rzeczywistością!
Nie strzępimy języka, nie obiecujemy złotych gór, dajemy z siebie to w czym jesteśmy najlepsi - oddajemy Wam skrzydła, byście kolejny raz unieśli się w przestworza i szybowali w stylu Ekwadoru.
Nie jesteśmy nieomylni, ale uczymy się na błędach i słuchamy Was - tętna naszego klubu, klubowiczy - najwspanialszych w tej części Europy. Jesteśmy sercem klubowej rozrywki Polski, ale to wy pompujecie w nas krew, dajecie życie, a my odwdzięczamy sie miłością, bezpieczeństwem, zabawą i muzyką.
AMSTERDAM DANCE MISSION 2014 nie otwiera nowych drzwi. Tym muzycznym wydarzeniem z maksymalną siłą wykopujemy stare nawyki, stare zasady i z pełną mocą ruszamy do muzycznej szarży by kolejny raz edukować Polskę! Sięgamy do korzeni, ale jednocześnie chwytamy nowoczesność! To będzie naszą domeną w nadchodzącym sezonie!
Dance Nation to dopiero początek, który zjednoczy cała rodzinę Ekwadoru. Przypomimy o sobie tym, którzy o nas zapomnieli. Zjednoczymy tych, którzy zawsze chcieli nas odwiedzić - kolebkę trance i wspaniałej zabawy! Oddamy się euforycznemu tańcu i ekstatycznej zabawie do bladego świtu, tylko po to, aby o wschodzie Słońca powiedzieć: Cholera, to była zajebista noc! Chcę ją powtórzyć!
Z misją miłości i muzycznego zjednoczenia Dance Nation wspomoną największe legendy Ekwadoru: Hazel, Maniana, Drum i Insane. Tej jednej nocy, oni wszyscy będą razem z nami w jednym celu - by narobić muzycznego bałaganu w świadomości wszystkich ekwadorian!
Przybądźcie licznie, bo tej nocy nie bierzemy żadnych muzycznych jeńców!
Tej nocy, AMSTERDAM DANCE MISSION 2014, będzie naszym wspólnym osiągnięciem!