Nazwa imprezy: A.T.O.M. pres. DUSS
Data imprezy: 12.04.2014
Lokalizacja: Klub 8 Bitów - Poznań, ul. Garbary 72
Start: 22:00
Bilety: DO 00:00 - 10 PLN | PO 00:00 - 15 PLN
Styl: Techno/Minimal/TechHouse/Deep House/DnB
Wydarzenie: https://www.facebook.com/events/1432895663615017/
A.T.O.M. - edycja piąta. Poprzednie edycje imprezy cieszyły się olbrzymią frekwencją i pozytywnym odbiorem. Gościem piątej edycji będzie jeden z najbardziej obiecujących duetów polskiej sceny klubowej DUSS, który tworzy dwóch doświadczonych DJów - DJ W (DoubleU) oraz Sebastain S. Na trzech scenach support zapewni aż 17 lokalnych DJów, doskonale znanych stałym bywalcom klubu.
ATOM - nazwa wzięła się nie bez powodu, na imprezie każdy artysta zaprezentuję się w swoim mrocznym wcieleniu- energii na pewno nie zabraknie - Będzie ATOM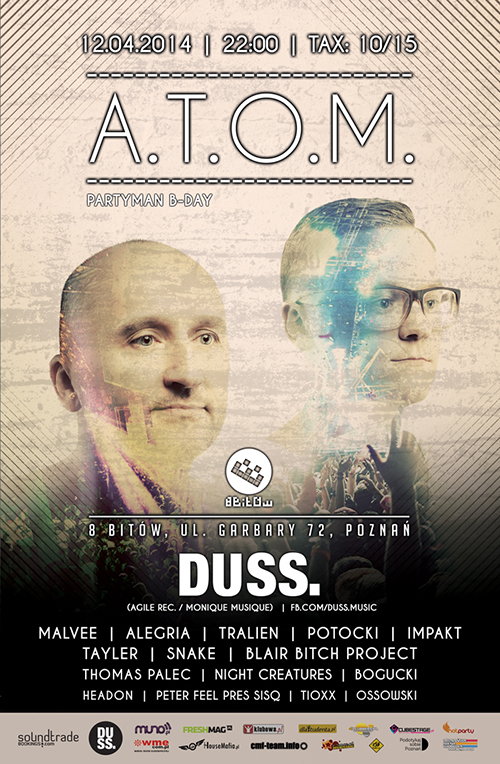 MAIN (Techno):
► DUSS (Agile Rec. / Monique Musique)
https://www.facebook.com/DUSS.Music
► Malvee (La Noche De Eivissa)
https://www.facebook.com/malveeofficial
► Tralien (A.T.O.M.)
https://www.facebook.com/tralienofficial
► Potocki (UnBeatable Collective)
https://www.facebook.com/panicsystem
► Thomas Palec (A.T.O.M.)
https://www.facebook.com/thomaspalecofficial
BAR (House/Techno):
► Tayler (AudioPole)
https://www.facebook.com/AudioPole2011
► Blair Bitch Project (Mikey One vs S.K. aka oLLiE)
https://www.facebook.com/BlairB.Project
► Night Creatures (TechSoul Rec)
https://www.facebook.com/pages/Night-Creatures/157023771123923
► HeadOn (AnimaMusica)
https://www.facebook.com/djheadon
► Bogucki (NuLife.pl)
https://www.facebook.com/bogucki.music
► Tioxx (Czekolada, Poznań)
https://www.facebook.com/TioxxOfficial
► Ossowski
https://www.facebook.com/wojtek.ossowski
PALARNIA (DnB/Techno):
► Alegria (DrumObssesion)
https://www.facebook.com/alegriaofficial
► Impakt (DrumObssesion)
https://www.facebook.com/drumobsession
► Snake (UnBeatable Collective)
https://www.facebook.com/pages/Snake/353715841423468
► Peter Feel pres. SISQ (Maintain Replay Records)
https://www.facebook.com/peterfeelmusic
DUSS (BIO):
Odcisnęli swój wyraźny ślad na takich wielkich imprezach jak Cocoon w Londynie, Mayday czy Electrocity. Ponadto ich produkcje zostały zakontraktowane do takich wydawnictw jak Agile (label Uto Karema) czy Monique Musique. A to dopiero początek!
Duss czyli DJ W (DoubleU) oraz Sebastian S to powstały całkiem niedawno projekt techno , ale pozwólmy przemówić faktom. Do tej pory występowali na takich imprezach jak oficjalna impreza Cocoon London w Anglii czy unikatowe Electrocity Festival (scena Dubfire'a – Sci+Tec). Ponadto jako jedyny polski artysta wystąpili w 2013 roku na głównej scenie Mayday. Każdy kto widział ich występujących na żywo wie, jak nietuzinkowymi są artystami.
Duss, bez wątpienia, sukces wpisany ma w swój życiorys. Ich ostatnie produkcje zostały zakontraktowane do takich solidnych marek wydawniczych jak Agile Recordings (label zarządzany przez Uto Karema) i Monique Musique. Duet w zanadrzu chowa jeszcze więcej niespodzianek, które wyjdą na światło dzienne wkrótce.