Nazwa imprezy: TRANSMISSION 'The Spiritual Gateway' 2014 - Słowacja
Data imprezy: 15.03.2014
Lokalizacja: Bratysława - Slovnaft Arena
Start: 20:00 - 06:00
Cena: Normlany: 39 Euro (cena będzie stopniowo wzrastać) - VIP: 85 euro
Wydarzenie: https://www.facebook.com/events/1466034433622930/
Po 7 latach i 10 edycjach TRANSMISSION na czeskim rynku, United Music z dumą ogłaszają wyjście swojej marki poza granice kraju. W sobotę, 15 marca 2014 roku słowacka stolica Bratysława będzie miała zaszczyt gościć pierwszą zagraniczną edycję TRANSMISSION, gdy największy halowy event centralnej i wschodniej Europy odbędzie się w Slovnaft Arenie.
Pierwsza edycja TRANSMISSION odbyła się 18.02.2006 i szybko rozrosła się z 3.500 do 11.000 gości, gdy przeniosła się do swojej obecnej lokalizacji czyli O2 Areny w 2007 roku. Poprzednia, 10 edycja TRANSMISSION w praskiej O2 Arenie w sobotę, 30.11.2013 to już liczba 15.000 klubowiczów z ponad 50 krajów – bilety wyprzedane całkowicie. Pomysł rozrósł się do eventu najwyższej światowej klasy, dobrze znanego na międzynarodowej scenie muzyki tanecznej i łatwo może stawać w szranki z zachodnioeuropejskimi eventami. Teraz pora by TRANSMISSION wyszło za granicę.

Przez lata United Music stało się najbardziej liczącym się organizatorem eventów w Czechach. Martijn van den Berg (manager projektu TRANSMISSION na zagranicę) tak mówi o wyjściu eventu poza Czechy: "Po 10 edycjach w Pradze i olbrzymim wzroście zainteresowania naszą marką za granicą, uznaliśmy, że jesteśmy na tyle mocni, by rozpocząć podbój zagranicznych rynków. A ponieważ Słowacja jest naszym bezpośrednim sąsiadem i z tego właśnie kraju przybywa do nas mnóstwo gości, logicznym jest, że pierwsza zagraniczna edycja odbędzie się właśnie tam. Słowacja to tylko pierwszy krok i w tej chwili rozmawiamy także z promotorami z wielu innych krajów, gdzie mogli byśmy trafić z TRANSMISSION. Skupiamy się na Europie, ale nie twierdzimy, że pewnego dnia nie opuścimy kontynentu. W ciągu najbliższych kilku miesięcy planujemy przedstawić listę kolejnych krajów. Ale jednocześnie stoimy przy bardzo krytycznym spojrzeniu jeśli chodzi o wybór odpowiedniego miejsca i promotora w danym kraju, by mieć pewność, że naszym gościom zaproponujemy ten sam poziom co w Pradze."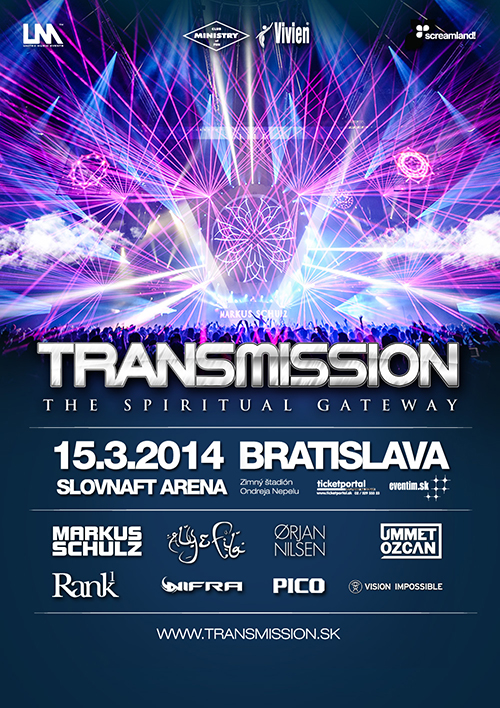 TRANSMISSION wyróżnia się spośród innych eventów klubowych, gdyż jako jedyny oferuje tematyczną opowieść, prowadzoną przez całą noc. Fragmentami opowieści są intra poszczególnych Djów, stworzone przez wielokrotnie nagradzaną ekipę Visiom Impossible. Kolejnym elementem opowieści jest Transmix – nagrany wcześniej mix klasyków, napakowany do granic możliwości laserowym oświetleniem i efektami pirotechnicznymi. Nieodłączny element każdego eventu to także najwyższej klasy oprawa wizualna przez całą noc.
Goście przybywający na pierwszą edycję TRANSMISSION w Bratysławie powrócą do klimatów "The Spiritual Gateway", z którymi pierwszy raz zetknęli się w styczniu 2013 w Pradze, i które cieszyły się bardzo pozytywnym odbiorem. Produkcją zajmie się osobiście United Music, a strutura nocy będzie bardzo podobna jak show w Pradze, czyli m.in.: 16 laserów, warm-up wykonany przez lokalnego DJa, Transmix, nagłośnienie Funktion One z Wielkiej Brytanii oraz visuale Visiom Impossible.
Pełny line-up TRANSMISSION w Bratysławie będzie liczył 7 artystów i zapowiada się bardzo obiecująco: nieoficjalny rezydent TRANSMISSION Markus Schulz jako headliner imprezy już po raz 9; pochodzące z Egiptu legendy ALY & FILA, którzy powracają na TRANSMISSION po 6 latach, dla miłośników bardziej "elektrycznego" brzmienia Ummet Ozcan oraz Orjan Nilsen, Rank1 w specjalnym secie z klasykami oraz słowackie gwiazdy Nifra i Pico jako dopełnienie line-upu.
Dla gości z za granicy przygotowano kilka opcji transportu oraz pakietów podróżnych, które można znaleźć na stronie oficjalnego partnera imprezy Festicket.com. Tak więc zamiast jednego eventu w roku, otrzymujecie kolejną edycję mniej niż 2 miesiące po poprzedniej, 15 marca. Będzie to kolejna okazja by w pełni cieszyć się tym niesamowitym eventem wspólnie z 10.000 innych klubowiczów.

Partnerem i promotorem TRANSMISSION na terenie Słowacji jest Screamland, nowa marka i współpracownik takich firm jak Ministry of Fun i Vivien.
"Muzyka Was tu sprowadziła. Muzyka jest duchem, który łączy nas wszystkich. Muzyka jest "duchową bramą!""
United Music i Screamland czekają na Was w sobotę, 15 marca 2014, by wspólnie z Wami cieszyć się pierwszą słowacką edycją TRANSMISSION!

BILETY I PAKIETY PODRÓŻNE:
Bilety zwykłe w cenie od 39 euro (cena będzie z czasem wzrastać) oraz bilety VIP w cenie 85 euro są dostępne na stronach internetowych http://www.vivien.sk/ http://www.eventim.sk/ www.ticketportal.sk
Oficjalny partner dla podróżnych Festicket.com oferuje bogaty wybór pakietów bilet + hotel przez stronę: http://bit.ly/TMBratPackages