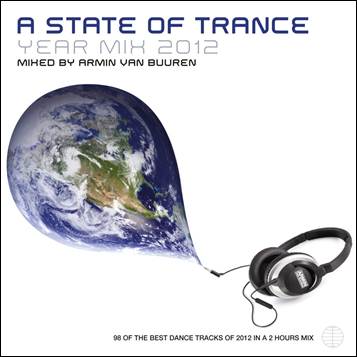 Premiera: 29.01.2013
Label: Armada Music B.V.
Numer katalogowy: 88765442652
Wydanie: 2CD Jewelbox
Opis:
Kolejne podsumowanie najpopularniejszej audycji radiowej na świecie. Każdego roku Armin Van Buuren prezentuje dwie płyty, po brzegi wypełnione najlepszymi klubowymi utworami ostatnich 12 miesięcy, wybranymi przez słuchaczy kultowej marki "A State Of Trance". Seria "Year Mix" wystartowała w 2005 roku i od tamtego czasu jest stałą pozycją wśród topowych składanek z muzyką elektroniczną. Uwielbiana przez fanów, czego dowodem jest ponad 150 tysięcy sprzedanych egzemplarzy. Kompilacja "A State Of Trance Year Mix 2012" to zestaw 98 utworów, dwie godziny niepowtarzalnych muzycznych wspomnień. Tylko tutaj prawdziwa plejada największych gwiazd sceny EDM, od Garetha Emery, Andy'ego Moora, Orjana Nilsena, Ferry'ego Corstena i Johna O'Callaghana po Paula Van Dyka, Markusa Schulza, Rank 1, Dash Berlin czy samego Armina Van Buurena! Unikalny mix od wielkiego artysty i mistrza w swoim fachu, pozycja obowiązkowa dla każdego fana klubowych brzmień na najwyższym poziomie.
Tracklista:
CD 1:
01. Intro - The Year Of Two
02. Omnia & Ira - The Fusion
03. Jaytech feat. Steve Smith - Stranger (Kyau & Albert Remix)
04. Cathy Burton & Omnia - Hearts Connected
05. Arty, Nadia Ali & BT - Must Be The Love
06. Gareth Emery - The Saga
07. Rank 1 & Jochen Miller feat. Sarah Bettens - Wild And Perfect Day
08. Andy Moor feat. Sue McLaren - Trespass (Antillas & Dankann Club Mix)
09. Velvetine - The Great Divide
10. Alexander Popov - When The Sun (Eximinds Remix)
11. Paul Van Dyk feat. Arty - The Ocean
12. Dash Berlin feat. Chris Madin - Silence In Your Heart (Club Mix)
13. Dash Berlin feat. Emma Hewitt - Like Spinning Plates (Alexander Popov Remix)
14. Dash Berlin feat. Sarah Howells - Go It Alone (Club Mix)
15. Andain - Turn Up The Sound (Gabriel & Dresden Remix)
16. Rex Mundi - Bella Monaco
17. Andrew Bayer & Matt Lange feat. Kerry Leva - In And Out Of Phase (Club Edit)
18. Sunlounger & Zara Taylor - Try To Be Love (Roger Shah Naughty Love Mix)
19. The Blizzard - Piercing The Fog
20. Headstrong feat. Stine Grove - Love Until It Hurts (Aurosonic Progressive Mix)
21. Chicane & Ferry Corsten - One Thousand Suns (Soundprank Remix)
22. Cosmic Gate & Emma Hewitt - Calm Down (Omnia Remix)
23. Armin Van Buuren feat. Ana Criado - I'll Listen
24. Aly & Fila meet Roger Shah feat. Adrina Thorpe - Perfect Love
25. Ana Criado & Omnia - No One Home
26. Lange - Destination Anywhere
27. Ben Gold feat. The Glass Child - Fall With Me
28. Aruna - Save The Day (Myon & Shane 54 Summer Of Love Mix)
29. Ferry Corsten feat. Betsie Larkin - Not Coming Down (Dash Berlin 4AM Remix)
30. W&W - Moscow
31. W&W - Shotgun
32. Heatbeat - Chow Mein
33. W&W - Invasion (Club Mix)
34. Orjan Nilsen - Endymion
35. Orjan Nilsen - Copperfield
36. Orjan Nilsen - Burana
37. Andy Moor - K Ta
38. Andrew Bayer feat. Molly Bancroft - Keep Your Secrets (Myon & Shane 54 Summer Of Love Mix)
39. Markus Schulz feat. Seri - Love Rain Down (Myon & Shane 54 Summer Of Love Mix)
40. Ben Gold - Where Life Takes Us
41. Dennis Sheperd & Talla 2XLC - Two Worlds
42. Fady & Mina - Kepler 22 (Andrew Rayel Aether Remix)
43. Tritonal - Slave (Tritonal & Ben Gold Club Dub)
44. Omnia - Infina
45. Heatbeat - Rocker Monster
46. Armin Van Buuren - We Are Here To Make Some Noise
47. Rank 1 - 7 Instead Of 8
48. Armin Van Buuren feat. Ana Criado - Suddenly Summer
49. Gareth Emery feat. Christina Novelli - Concrete Angel
CD 2:
01. Ferry Corsten feat. Aruna - Live Forever (Shogun Remix)
02. Tenishia - Where Do We Begin (Andrew Rayel Remix)
03. Emma Hewitt - Miss You Paradise (Shogun Remix)
04. Dash Berlin feat. Jonathan Mendelsohn - World Falls Apart (Club Mix)
05. Super8 & Tab feat. Jan Burton - Black Is Back (Classic Vocal Mix)
06. MaRLo - Megalodon
07. Ralphie B - Icarus
08. Lemon - We Can't Fly (Solarstone Pure Mix)
09. Andrew Rayel - Aeon Of Revenge
10. Orjan Nilsen - Legions
11. Shogun - UFO
12. Beat Service - Fortuna
13. Markus Schulz feat. Ana Diaz - Nothing Without Me (Beat Service Remix)
14. Abstract Vision & Elite Electronic - Kinetic
15. Skytech - What's Wrong (Skytech Stadium Mix)
16. Armin Van Buuren pres. Gaia - J'ai Envie De Toi
17. Faruk Sabanci - Elveda
18. Wiegel Meirmans Snitker - Nova Zembla (Armin Van Buuren Remix)
19. Andrew Rayel - 550 Senta (Aether Mix)
20. Andrew Rayel feat. Jano - How Do I Know (Club Mix)
21. A.R.D.I. - Premonition
22. Gareth Emery - Tokyo (Ben Gold Remix)
23. Protoculture - Perpetual Motion
24. Markus Schulz vs. Ferry Corsten - Loops & Tings
25. Alexandre Bergheau - Colors Of Persia
26. Eco - A Million Sounds, A Thousand Smiles
27. Bobina - The Space Track (Andrew Rayel Stadium Remix)
28. Aligator feat. Daniel Kandi - The Perfect Match (Club Mix)
29. Jorn Van Deynhoven - Headliner
30. Solarstone & Clare Stagg - The Spell (Solarstone Pure Mix)
31. Armin Van Buuren feat. Jan Vayne - Serenity (Andrew Rayel Aether Remix)
32. SoundLift - Revenge (Original 2012 Mix)
33. Running Man - Amnesia (SoundLift's Emotional Take)
34. Aly & Fila vs. Bjorn Akesson - Sand Theme
35. Aly & Fila vs. Jwaydan - Coming Home
36. Photographer - Airport
37. SoundLift - Alexandria
38. Paul Van Dyk feat. Plumb - I Don't Deserve You (Giuseppe Ottaviani Remix)
39. Sebastian Brandt - Mana
40. Simon O'Shine - Your Distant World
41. Solarstone with Aly & Fila - Fireisland (Aly & Fila Uplifting Mix)
42. Arctic Moon - Starships Over Alice
43. Full Tilt feat. Katrina Noorbergen - Letting Go (Jorn Van Deynhoven Remix)
44. Armin Van Buuren & Orjan Nilsen - Belter
45. Orjan Nilsen - Amsterdam
46. KhoMha - The Dark Knight
47. Indecent Noise feat. Ridgewalkers - Full Moon Fever (Power Dub)
48. John O'Callaghan - Stresstest (John Askew Remix)
49. Outro - Every End Is A New Beginning