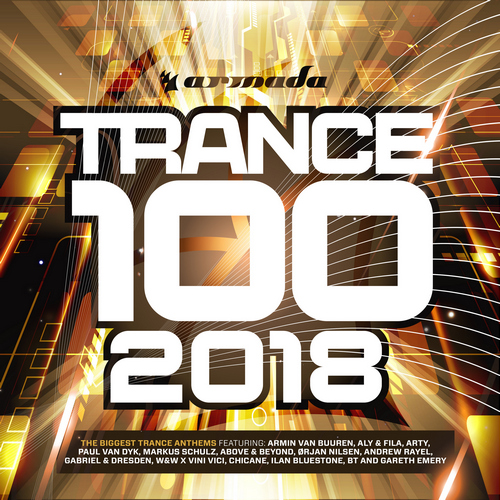 Premiera: 16.02.2018
Label: Armada Music B.V.
Numer katalogowy: 19075823112
Wydanie: 4CD Multibox + wersja cyfrowa
Opis:
Jedna z najpopularniejszych klubowych serii na świecie, powraca w kolejnej odsłonie! Zestaw 100 najlepszych utworów trance, na czterech płytach CD. Gwiazdorska obsada i topowe hity, gwarantujące emocje na najwyższym poziomie. Potężny box "Trance 100 - 2018" to Chicane, Gabriel & Dresden, Armin Van Buuren, W&W, Paul Van Dyk, Markus Schulz, Above & Beyond, Super & Tab, Dash Berlin, Kyau & Albert, BT, Alexander Popov, Aly & Fila, Orjan Nilsen, Ruben De Ronde, Niels Van Gogh, Ben Gold, Marco V, First State, Gareth Emery, MaRLo, Solarstone i wielu, wielu innych. Ponad 240 minut energetycznych brzmień, które doskonale sprawdzą się na każdej imprezie. Dawka elektroniki, jakiej nie znajdziecie na żadnym innym wydawnictwie. To właśnie te produkcje, najczęściej usłyszycie na koncertach, w audycjach radiowych czy też w klubach. Unikalna kolekcja przebojów, którą w 2018 roku po prostu warto mieć przy sobie.
Tracklista:
CD 1:
01. Armin Van Buuren feat. Josh Cumbee - Sunny Days (PureNRG Remix)
02. W&W x Vini Vici - Chakra
03. Aly & Fila with Ferry Tayle - Concorde
04. Paul Van Dyk - I Am Alive
05. Markus Schulz - The New World (Mark Sherry Remix)
06. Gaia - Crossfire
07. Above & Beyond feat. Richard Bedford - Northern Soul
08. Orjan Nilsen - Hi There Radio
09. Alpha 9 - Burning Heart
10. Sultan + Shepard feat. Nadia Ali & IRO - Almost Home (Mark Sixma Remix)
11. Andrew Rayel & Bogdan Vix and KeyPlayer feat. Roxana Constantin - Soul On The Run (Progressive Mix)
12. David Gravell - On The Move
13. Avancada vs. Darius & Finlay - Xplode (Grahham Bell & Yoel Lewis Remix)
14. Super8 & Tab feat. Envy Monroe - True Love
15. Mark Sixma & Emma Hewitt - Missing (Andrew Rayel & Mark Sixma Remix)
16. Dash Berlin feat. Roxanne Emery - Shelter (Yoel Lewis Remix)
17. ilan Bluestone feat. Koven - Another Lover
18. Kyau & Albert feat. Jeza - Bring You Back (Beatsole Remix)
19. Ruben De Ronde & Donata - Stand In My Way (FEEL Remix)
20. Ben Gold - Kingdoms
21. Marco V - Aranck
22. Protoculture - Sunspire
23. Jorn Van Deynhoven - Rising High
24. Heatbeat - Ecuador
25. Jones & Stephenson - The First Rebirth (Talla 2XLC Uplifting Remix)
CD 2:
01. Gabriel & Dresden feat. Sub Teal - White Walls
02. Sultan + Shepard - Bloom (Intro Mix)
03. Chicane - Gorecki (Jody Wisternoff & James Grant Remix)
04. Craig Connelly pres. Dovestone - Hello
05. Arty - Twilight Tonight (Steve Brian Remix)
06. Lumïsade - Orange Theme
07. Estiva - Raket
08. BT - Four
09. Genix & Sunny Lax - Arrival
10. Grum & Josep - The Love You Feel (CYA Remix)
11. Fatum - Sugar Free
12. Alpha 9 - Blossom
13. Rodrigo Deem - Tearsdrop
14. Jeremy Vancaulart & Assaf feat. Diana Leah - Two Hundred (Stay With Me)
15. Denis Kenzo & Claire Willis - U & I
16. Maor Levi - Aurora
17. Super8 & Tab - Pressure
18. Tomas Heredia - Moonstone
19. KhoMha feat. Emma Chatt - Other Side Of Me
20. DIM3NSION & Rama Duke - Here With Me
21. Alexander Popov & Tenishia feat. Thomas T - Play Your Cards
22. Joseph Areas - Void Of Self
23. Rodg feat. Patrick Baker - Nothing To Prove (Assaf Remix)
24. Heaven's Cry vs. Julie Thompson - Parachute
25. Roman Messer feat. Roxanne Emery - Lullaby
CD 3:
01. Aly & Fila vs. Scott Bond & Charlie Walker - Shadow
02. Armin Van Buuren - Be In The Moment (ASOT 850 Anthem)
03. Orjan Nilsen feat. R-Lend - Without Kontakt
04. First State & Vigel - Resurrected
05. Shane 54 and Jonathan Mendelsohn - Return To Love (Cubicore Remix)
06. Andrew Rayel - Mass Effect
07. Omnia & Cathy Burton - Searchlight
08. Feel & Alexandra Badoi - Born To Love
09. Darren Tate vs. Jono Grant - Let The Light Shine In (Luke Bond Remix)
10. Beatsole - Before I Wake
11. The Green Martian - Industry (The Space Brothers Remix)
12. Radion6 - A State Of Mind
13. Alexander Popov - Awake The Flow
14. Assaf - Sweet Sorrow
15. Duderstadt - Muhanjala (Davey Asprey Remix)
16. Sheridan Grout - Escape
17. Yang & Cari - U.R.
18. Natalie Gioia & Eximinds - Saving Me From Night
19. Denis Kenzo - Somnambulist
20. Rub!k - CFEN
21. Attila Syah - Alcyone
22. ReOrder & RAM - Opus Dei
23. St. John vs. Locust - Mind Circles (Steve Allen Remix)
24. Roman Messer - Forever
25. Niels Van Gogh - Pulverturm
CD 4:
01. Paul Van Dyk & Jordan Suckley - The Code
02. Dogzilla - Without You (Will Atkinson Remix)
03. Ben Gold x Omnia - The Gateway (Allen Watts Remix)
04. Heatbeat & Alex M.O.R.P.H. - Shenlong
05. RAM & Arctic Moon with Stine Grove - A Billion Stars Above
06. Shinovi - Feel The Drums
07. Marco V vs. Signum - Lost World Anthem 2017
08. Shogun - Skyfire (Steve Allen & Devon Colombage Remix)
09. MaRLo feat. Emma Chatt - Leave My Hand (ReOrder Remix)
10. Talla 2XLC - It Makes Me Wonder (Steve Allen Remix)
11. Driftmoon & Allen Watts - Banshee
12. UCast - It's A Trap
13. Coming Soon!!! x WAIO - Create The Machine
14. Solarstone & Scott Bond - Red Line Highway (Factor B's Back To The Future Remix)
15. Chris Schweizer - The Wolf
16. Beatsole - Shimla
17. Standerwick - Into The Deep
18. Saad Ayub & Ronski Speed - Crazy Whispers
19. Exis feat. Enya Angel - Free
20. Andy Moor & Ashley Wallbridge feat. Meighan Nealon - Faces (Indecent Noise Remix)
21. Alchimyst feat. Staccato - Deva
22. The Space Brothers - Shine (Jorn Van Deynhoven Remix)
23. Evan Pearce - The Code
24. Indecent Noise pres. Raw Tech Audio - Here We Go
25. Gareth Emery feat. Christina Novelli - Concrete Angel (Coone & Code Black Remix)
Trailer:
JUŻ WKRÓTCE:
Various Artists - Dance For Spring 2018
Galactic Marvl - Hello My Friends
Pablo Nouvelle - Wired