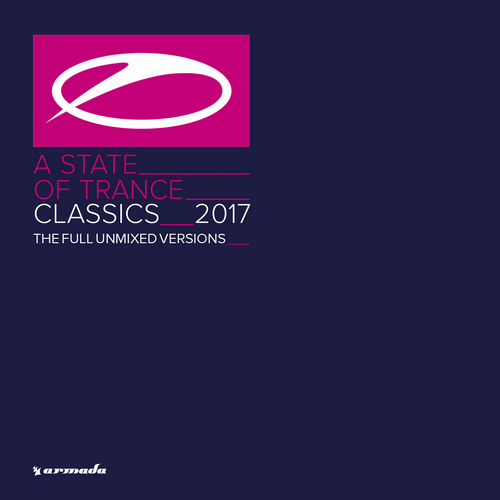 Premiera: 20.10.2017
Label: Armada Music B.V.
Numer katalogowy: 88985485352
Wydanie: 4CD Multibox + wersja cyfrowa
Opis:
To już 16 lat, odkąd show "A State Of Trance" przyciąga przed komputery i odbiorniki radiowe miliony słuchaczy z całego świata. Cotygodniowa audycja Armina Van Buurena, stała się wręcz zjawiskiem kultowym, które przerodziło się w markę, zajmującą się produkcją odzieży i innych akcesoriów, wydawaniem muzyki oraz organizowaniem wielkich imprez. Przez cały ten okres, utytułowany Holender wypromował mnóstwo ponadczasowych utworów, zaliczanych dziś do klasyków muzyki elektronicznej. Aby je podsumować, każdego roku ukazuje się specjalny box, zawierający 36 najważniejszych produkcji, w oryginalnych pełnych wersjach po remasteringu. Tym razem, mamy dla Was m.in. "Sun & Moon" trio Above & Beyond, "We Belong" Ferry'ego Corstena, "Don't Stop" ATB, "Nothing But You" Paula Van Dyka, "Helsinki Scorchin'" Super8 & Tab, "Shivers" Armina Van Buurena, "Symfo" Rank 1 czy "Don't Give Up" z repertuaru Chicane i Bryana Adamsa. Całość otwiera nieśmiertelny "Children", będący hołdem dla Roberta Milesa. Świetny zestaw, który powinien znaleźć się w kolekcji każdego wielbiciela klubowych brzmień!
Tracklista:
CD 1:
01. Robert Miles - Children (Dream Version)
02. Above & Beyond feat. Richard Bedford - Sun & Moon (Club Mix)
03. Gareth Emery feat. Christina Novelli - Concrete Angel
04. Markus Schulz feat. Carrie Skipper - Never Be The Same Again (Markus Schulz Coldharbour Club Mix)
05. Morgan Page feat. Lissie - The Longest Road (Deadmau5 Remix)
06. Ferry Corsten feat. Maria Nayler - We Belong
07. Cosmic Gate - Analog Feel
08. Mauro Picotto - Back To Cali (Megamind Mix)
09. ATB - Don't Stop (C.L.U.B.B. Mix)
CD 2:
01. Paul Van Dyk feat. Hemstock & Jennings - Nothing But You (PVD Club Mix)
02. Armin Van Buuren feat. Susana - Shivers
03. York - On The Beach (Mauro Picotto's CRW Remix)
04. Jurgen Vries feat. Shena - Wilderness (12'' Vocal Mix)
05. Signum - The Timelord
06. Alex M.O.R.P.H. feat. Sylvia Tosun - An Angel's Love (Vocal Mix)
07. Mike Foyle - Firefly
08. BT feat. JES - The Light In Things (tyDi Remix)
09. Yves Deruyter - Born Slippy (Vocal Club Mix)
CD 3:
01. Rank 1 - Symfo (Sunrise Festival Theme 2009)
02. Super8 & Tab - Helsinki Scorchin'
03. Roger Shah & Signum - Healesville Sanctuary (Roger Shah Mix)
04. Kamaya Painters - Northern Spirit
05. Airwave - Venus Of My Dreams
06. Sonorous - Second Sun (Mirco De Govia Remix)
07. Active Sight - Out Of Our Lives
08. Emma Hewitt - Colours (Armin Van Buuren Remix)
09. RAM - RAMsterdam (Jorn Van Deynhoven Remix)
CD 4:
01. Chicane feat. Bryan Adams - Don't Give Up
02. Cerf, Mitiska & Jaren - Beggin' You (Armin Van Buuren Remix)
03. Orjan Nilsen - Between The Rays
04. Midway - Cobra
05. DJ Ton TB - Dream Machine
06. Svenson - Sunlight Theory
07. M.I.K.E. - Voices From The Inside
08. Dogzilla - Dogzilla (Simon Patterson & Richie Kayvan Remix)
09. Robert Nickson - Circles
Trailer:
JUŻ WKRÓTCE:
Robert Nickson, Solarstone & Factor B - Pure Trance, Vol. 6
Roger Shah pres. High Noon At Salinas - Beach Grooves, Vol. 1
Markus Schulz pres. Dakota - The Nine Skies
Armin Van Buuren - A State Of Trance Year Mix 2017