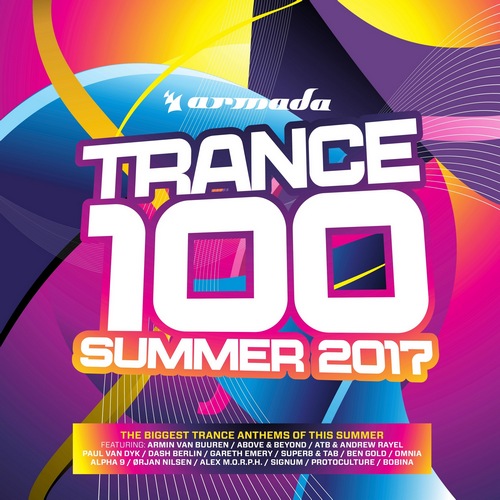 Premiera: 11.08.2017
Label: Armada Music
Numer katalogowy: 88985465342
Wydanie: 4CD Multibox + wersja cyfrowa
Opis:
Wydawnictwa z serii "Trance 100", to unikalne kolekcje najlepszych klubowych hitów. 4 płyty, na każdej po 25 topowych produkcji, co łącznie daje ponad 240 minut muzyki! Potężna porcja elektronicznych brzmień, jakiej nie znajdziecie na żadnej innej składance. Teraz ten wyjątkowy zestaw, ukazuje się w limitowanej wersji, skompilowanej specjalnie na wakacje. 100 utworów, gotowych do zaspokojenia potrzeb, nawet tych najbardziej wymagających fanów. Jednak taki box, nie miałaby sensu bez gwiazdorskiej obsady. Armin Van Buuren, ATB, Paul Van Dyk, Kyau & Albert, Above & Beyond, Gareth Emery, Dash Berlin, Super8 & Tab, Orjan Nilsen, Ben Gold, Andrew Rayel, Ashley Wallbridge, Ilan Bluestone, Robert Nickson i Alex M.O.R.P.H., to główni bohaterowie w swoich mistrzowskich rolach. Jeżeli nadal nie jesteście usatysfakcjonowani, to dodamy jeszcze Signum, Andy'ego Moora, KhoMhę, RAM, Protoculture czy Alexandra Popova.
Tracklista:
CD 1:
01. Armin Van Buuren - My Symphony (The Best Of Armin Only Anthem)
02. ATB & Andrew Rayel - Connected
03. Alpha 9 - The Night Is Ours
04. Dash Berlin feat. Christina Novelli - Listen To Your Heart (Club Mix)
05. Above & Beyond feat. Zoë Johnston - No One On Earth (Gabriel & Dresden Remix [Above & Beyond Respray])
06. Andrew Rayel & Emma Hewitt - My Reflection
07. Protoculture - The Descent
08. Paul Van Dyk - Touched By Heaven
09. Gareth Emery feat. Christina Novelli - Concrete Angel (ReOrder Remix)
10. Ratty - Sunrise (Indecent Noise's Dreamstate Remix)
11. Allen Watts - Arizona
12. Ben Gold & Standerwick - Vendetta
13. MaRLo & First State - Falling Down
14. Jurgen Vries - The Theme (Radion6 Remix)
15. Alexander Popov - Eyes To Heaven
16. ilan Bluestone & Giuseppe De Luca - Frozen Ground
17. Andy Moor & Lange pres. Stadium4 - Unity
18. David Gravell - Children
19. Standerwick feat. Jonathan Mendelsohn - Streets Of Gold
20. Kyau & Albert - Trace
21. Orjan Nilsen feat. Rykka - The Hardest Part
22. Bobina - Lazy World 2017
23. Super8 & Tab feat. Jonny Rose - Falling Into You
24. Ruben De Ronde X Rodg X Louise Rademakers - Riptide
25. Omnia & DRYM - Enigma
CD 2:
01. Joonas Hahmo X K-System - Yámana
02. Estiva - Blossom
03. Alpha 9 - Higher Place
04. Ruben De Ronde X Rodg X Orjan Nilsen - Booya
05. Somna feat. Matthew Steeper - My Shelter
06. LTN & Julie Thompson - Devil & Deep
07. Wrechiski - Brief Encounter
08. Alexandre Bergheau - Summer's Gone (Yoel Lewis Remix)
09. Digital X & Sylvia Tosun - The Beginning
10. Yoel Lewis - Tuviana
11. Denis Kenzo & Hanna Finsen - Dancing In The Dark
12. Conjure One feat. Leigh Nash - Under The Gun (Kago Pengchi Remix)
13. Artento Divini - Octa
14. KhoMha - Dance Electric
15. Ashley Wallbridge - Naughts & Crosses
16. Kyau & Albert with Francesco Sambero feat. M. Wood - Gamla Stan
17. Armin Van Buuren - Communication (David Gravell Remix)
18. Davey Asprey - Fallout
19. Assaf feat. Nathan Nicholson - Lost Souls (Radion6 Remix)
20. Fabio XB pres. Liuck feat. Eric Lumiere - More To Life (Luke Bond Remix)
21. Alexander Popov & LR - Clarity
22. David Gravell - Energy
23. Ahmed Romel vs. A & Z - Revive
24. Robert Nickson feat. Cat Martin - Every Sun (Factor B's Perfect Sunrise Remix)
25. RAM feat. Cari - Soulfood
CD 3:
01. Armin Van Buuren & Garibay feat. Olaf Blackwood - I Need You (Standerwick Remix)
02. Andrew Rayel & Christina Novelli - Lighthouse
03. Denis Kenzo feat. Sveta B. - Just To Hear
04. Danis - Lost (Marcus Santoro Remix)
05. Protoculture & Tenishia - Eos
06. Super8 & Tab - Cosmo
07. Jason Ross - Onyx
08. Fatum - Draco
09. Assaf feat. Diana Leah - Weapons
10. Mark Sixma & Betsie Larkin - Invincible
11. Tommy Johnson - Safe Haven
12. Andy Moor & Ashley Wallbridge - FaceOff
13. Tom Fall - Kaamos
14. Steve Dekay & ARCZI - Calipso
15. Radion6 - World Of Tomorrow
16. Ben Gold - More Than Anything
17. Dan Thompson - Neptune
18. Whiteout - Forces
19. Heatbeat pres. Stacker - Omellete Paradise
20. Mark Sixma pres. M6 - Heartbeat
21. Jeremy Vancaulart feat. Holly Drummond - Let Go (Assaf Remix)
22. Manuel Rocca & Illitheas - Enchanted
23. DARVO - Kyokushin
24. Chris Schweizer - Loaded
25. Spoiled and Zigo - More And More
CD 4:
01. Alex M.O.R.P.H. & Kim Kiona - Coming Home
02. Signum - Euphoric Hope
03. UDM - Land Of Dream
04. Mhammed El Alami & Ben Samy - Ocean Dream
05. DT8 Project - Destination (James Dymond Remix)
06. ReOrder & Driftmoon - #Slovakboys
07. Ben Gold - Pilot
08. Shinovi - Indian Summer
09. Berg - Randa
10. Amba Shepherd - Wide Awake & Dreaming (Uberjak'd Remix)
11. Exis - Mantra
12. Cold Rush vs. F.G. Noise - Raven
13. Sneijder & Christina Novelli - Love Of My Control (Sam Jones Remix)
14. Ben Nicky - Cobra
15. Heatbeat & Jordan Suckley - Brutal
16. Talla 2XLC & Allen Watts - Helix
17. DRYM feat. Jennifer Rene - Smile (Amir Hussain Remix)
18. Frainbreeze feat. Cari - Stronger (Steve Allen & Enzo Remix)
19. Luciano Martinez - Mute
20. Sean Mathews & Andres Sanchez - Never Be
21. Scott Bond & Charlie Walker vs. Trouser Enthusiasts - Sweet Release
22. STA - Enigma (Melodic Mix)
23. Allen & Envy and Mhammed El Alami - Perception (Steve Dekay Remix)
24. Andrew Rayel - Tacadum
25. Heaven's Cry - Till Tears Do Us Part
Trailer:
JUŻ WKRÓTCE:
Various Artists - Dance For Fall 2017
Kyau & Albert - Matching Stories
Cosmic Gate - Materia Chapter One & Two
Erick Morillo - Subliminal Sessions 2017